Stetson Wins Big in Season Opener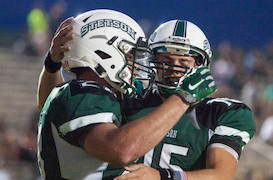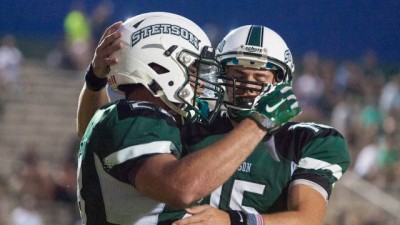 Record-Setting night: Hatters 42 – Webber 13.
Cole Mazza rushed for three touchdowns and Ryan Tentler threw for 229 yards and one touchdown as Stetson opened the 2015 season with a commanding 42-13 victory over Webber International (1-1) Saturday night at Spec Martin Stadium.
A.J. Washington and P.J. Franklin also rushed for touchdowns as the Hatters (1-0) set a school record for most points scored in the modern era.
"Cole had a very good game," Stetson head coach Roger Hughes said.  "He is a big, tough runner and he can carry people with him. I thought our offensive line did a great job of opening those holes. I thought Ryan did a nice job of checking the plays and pulling the ball on his reads and when he needed to pull it. When the numbers matched up inside the box, he executed well.
"Overall, I am pretty pleased for a first game."
Stetson's offense moved the ball all night on the Warriors defense, totaling 472 yards of total offense. Mazza scored the Hatters' first three touchdowns of the game, breaking through from 5, 15, and 6 yards respectively to spot Stetson an early 21-0 lead. Mazza finished the game with 99 yards on 21 carries.
"The physicality of the game started off on our side," Mazza said.  "I think we showed it throughout the whole game. The offensive line has matured and we have upperclassmen now, so we are more confident behind them."
Stetson carried a 21-6 lead into halftime before breaking the game open with three second half scores. Tentler connected with Jonathan Strahl from seven-yards out on the opening drive of the second half.
"The offensive line really set the tone," said Tentler, who completed 23-of-his-33 passes.  "We had a get-together during the week with the offensive line and running backs, and that really connected our group."
In the fourth quarter, Washington gallopped in from 16 yards out and Franklin added a four-yard run for his first career touchdown to cap the Hatters scoring.
Stetson's defense was equally impressive, forcing three turnovers and holding Webber to just 2-for-8 on third down conversions. The Warriors totaled just 210 yards of offense on the night.
"I was very impressed with our defense," Hughes said.  "That was probably the biggest worry I had because (Webber) had 400 yards of offense last week.  Their backs are good, they do a good job with the option.  Their quarterback can run well."
The Hatters will face Mercer next Saturday at 6 p.m.
Record Night 
Stetson's 42-point performance surpassed last year's 41-point outing at home against Butler.  The last time Stetson scored more than 42 points in a game was in 1956 against Havana (W 62-0).
More on Mazza 
Cole Mazza's three-touchdown game tied a career-high. He also rushed for three touchdowns against Davidson on Oct. 25, 2014. He now has 10 touchdowns in his last six games.
Consistency at Quarterback 
Ryan Tentler has thrown at least one touchdown pass in nine of his last 10 games.
Season Openers 
The Hatters have now won their season opener in all three seasons since the program resumed play in 2013.
The Payne Train 
Donald Payne collected six tackles on the night and picked off a pass late in the second quarter.  It was his seventh career interception.