Aspiring writers from Stetson meet with controversial author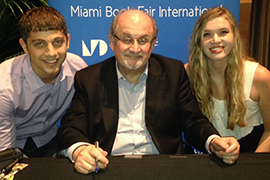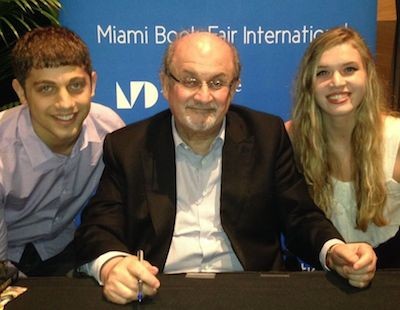 "Just like writing about the future is a way of talking about the past, fairy tales are a way of talking about the real world," said Salman Rushdie while presenting his new novel, Two Years, Eight Months and Twenty-Eight Nights during an event at Miami Dade College in mid-September. Rushdie is the dedicated author of 12 novels, one short story collection and several works of nonfiction. Rushdie also unknowingly put his life on the line after publishing his most controversial book, The Satanic Verses, in 1989, which resulted in book bans and burnings, bookstore bombings and a death sentence that put the author into hiding for a decade.
Despite all the deterrents, nothing could stop him from living his passion as a highly successful writer whose books have been revered and translated into many languages. His courage is what helped him earn the admirable title of being one of the greatest living writers of our time.
The evening began with an excerpt from his most recently published novel, Two Years, Eight Months and Twenty-Eight Nights, which is a tale that blends history, mythology and a love story to shed light on a world much like our own that has "plunged into an age of unreason." After the reading, the audience was welcome to ask him any question, no matter how bold. Some asked about the new book, but the majority of the participants were fascinated by Rushdie himself and wanted to know more about his personal life.
While answering one question, Rushdie recounted a conversation with Martin Amis, a fellow writer and friend, who told Rushdie that he had "vanished into the front page," meaning all the publicity he was receiving focused on the controversy surrounding his work instead of the work itself. In 1989, the Ayatollah Ruhollah Khomeini of Iran issued a fatwa which ordered Muslims to kill Rushdie because of the publication of The Satanic Verses. While he received a lot of attention because of this book, Rushdie became popularized as the man who was in danger of being killed as opposed to the man who created a book with deep beauty and value to offer to the world.
George Salis '15, B.A. in English and Psychology, had the opportunity to ask Rushdie a question. "Recently you said The Satanic Verses could not be published in the current political and social climate," Salis said. "Since the 'Rushdie Affair,' as it's called, have you ever felt a trembling of the pen? Have you ever felt the need to second guess or censor yourself?"
Rushdie answered each question thoroughly and honestly, and oftentimes he spoke for several minutes without a pause. "Writers are quite well-lived people and they write what they want to write that is in their hearts. They can't write what's in someone else's heart," Rushdie began. "But I think that there is an atmosphere of fear and that it becomes much harder to do so, yet I actually have much stronger criticism of self-censoring writers because it is a choice," Rushdie continued. "I think it is shameful. If you look at the history of literature, writers have been persecuted in all different ways, times and countries. My view is that this is what we do and there are risks. If you don't want the risks, then do something else."
Throughout the entire evening, everyone in the audience shared a silent but special connection with each other. They felt as though they were all cherishing a fragile treasure that easily could have been destroyed. Luckily for the world, Rushdie and all other great writers never truly die. Rushdie's magical presence will never disappear because he will live inside his pages as a storyteller long after he is gone.
Rushdie wrote in The Satanic Verses, "Language is courage: the ability to conceive a thought, to speak it, and by doing so, to make it true."
by Nicole Melchionda