An Evening of Improv to feature The Titanic Players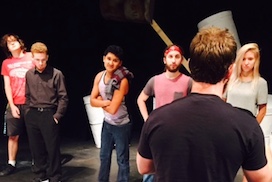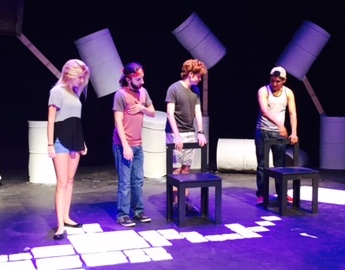 Stetson University presents An Evening of Improv, Thursday through Saturday, Nov. 19-21, at 8 p.m., and Sunday, Nov. 22, at 3 p.m., in Stetson Theatre Arts' "Second Stage" located inside the Museum of Art, 600 N. Woodland Blvd., adjacent to the DeLand campus.
The art of improvisational performing, 'improv,' is very short-lived, existing in a universe of fresh and quick scenes and situations that will never be shown again. Improv allows performers to explore the endless universes with the audience through rich characters that develop complex plot structures and contemplate meaningful themes through spontaneous storytelling.
Unlike slapstick and silly games, these three teams, known as The Titanic Players, will be performing long-form improv. This form of improv allows performers to delve into the intricacy of real human interactions. "The audience takes a journey with the performers, traveling from grounded, naturalistic characters to the absurd and surreal landscapes rising from the improvisors' shared imagination," says Kevin Kearney, director.
The teams hope to provide a highly entertaining show with heavy audience participation, but they also want to further the public's ideas of improvised theatre.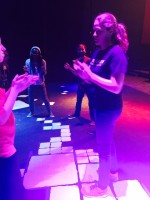 The Titanic Players at Stetson is a group that has been expanding rapidly, now performing on campus on a weekly basis. Titanic currently has three separate teams practicing long-form improvisation. Graduates of the group have been sent to Chicago, where they have been placed on teams at professional improv theaters. The upcoming show at Stetson will feature three unique forms, or approaches, to long-form improvisation, as well as some more familiar improv games featuring ample audience participation.
The Titanic Players is the nation's largest collegiate improvisation organization. With headquarters in Chicago, Stetson's chapter is the first in Florida, and the farthest from the midwest. Titanic alumni have gone on to successful careers at CBS, NBC, and shows such as The Office, Saturday Night Live, Community, Reno 911!, Arrested Development, and the Unit, as well as national and international improv theatres, including The Annoyance Theater, Boom! Chicago, ComedySportz, ImprovBoston, ImprovOlympic, The Magnet Theater, The Second City, Theater Sports, and Upright Citizen's Brigade Theater.
The students featured in the upcoming performances include:
No Refunds: Dylan Mullins, Peter Nyong'o, Kevin Serrano
For Display Only: Luis Garcia, Connor Harting, Alyssa Husbands, Alex Shelb, Mimi Shimkovska, Andrew Townes, Melissa Trible
Incubators (New Team): Damien Bleus, Anders Hammerstrom, Sam McIntire, Medorie Petersen-Woodburn, Tony Pizzo, Kathrine Pulling, Amanda Ravenelle, Paxton Reil.
Admission for this production is $12 for adults, and $10 for seniors and students. (Stetson students, faculty and staff are admitted free with a valid ID.) Tickets will be available at the door and reserved tickets must be picked up 30 minutes prior to the start of the show. Box office will be open one hour prior to curtain. For information or reservations, call Stetson Theatre's "Second Stage" box office at (386) 822-8700.
Visit Stetson's Department of Creative Arts for more information about the university's Theatre Arts Program and the full theatre production schedule for 2015-16.
By Grace Aguda