Hatters Give Record-Setting Homecoming Performance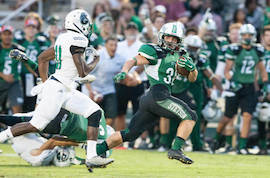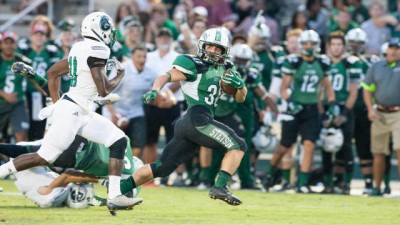 The Stetson Hatters set program highs for point, rushing yard and rushing touchdowns on Saturday afternoon at Spec Martin Stadium in a 60-21 victory over Ave Maria in front of a Homecoming crowd of 3,825.
The Hatters (3-7) piled up 353 rushing yards in the game, averaging 7.7 yards per carry. Four different Stetson players found the end zone on the ground to go along with an interception return for a score and one passing touchdown as the Hatters scored the most points in a game since a 60-0 victory to open the 1949 season.
Ave Maria, a member of the NAIA Sun Conference, fell to 4-7 to close the season. The win for Stetson was the fourth in a row on homecoming as the Hatters also improved to 4-0 all-time against Sun Conference teams.
Junior running back Cole Mazza, who has been slowed for most of the year with a foot injury, scored on touchdown runs of 5, 16 and 12 yards and finished with 73 yards on 11 carries. The Hatters also got second half scoring runs from Craig Carrington (1 yard), Chance Jackson (45 yards) and Jason Willix (3 yards).
Hatters junior quarterback Ryan Tentler led all rushers with 93 yards on six carries while also completing 9-of-11 passes for 138 yards, including a 27-yard scoring strike to Chris Crawford.
On defense, the Hatters got a 30-yard interception return for a touchdown by Eric Martin in the first quarter, one of three interceptions in the game against the Gyrenes, who were able to complete just nine of 26 pass attempts for 92 yards against the Stetson defense. The Hatters recorded five sacks in the game and had 11 tackles for loss.
On special teams, Stetson connected on a pair of field goal attempts, with James LaGamma hitting from 23 yards and Grant Amick connecting from 44, and also blocked a punt to set up the touchdown run by Willix.
Stetson will close out the 2015 season next Saturday at home against Pioneer Football League rival Davidson. That game is scheduled for a 1 p.m. start.