College of Law's Inns of Court banquet honors disability champion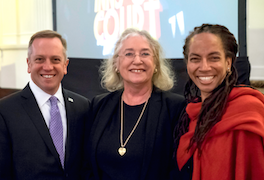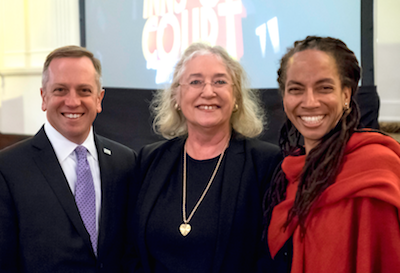 Maryellen McDonald, the executive director of Disability Rights Florida who has improved the conditions of institutionalized disabled Floridians, was presented with Stetson University College of Law's prestigious William Reece Smith Jr. Public Service Award during the annual Inns of Court banquet on Jan. 26 in St. Petersburg.
Michael Perlin, an internationally recognized expert in mental health law who has spent his career championing the rights of people with mental disabilities, presented the William Reece Smith Jr. Distinguished Lecture. Perlin is Professor of Law, Emeritus at New York Law School.
Stetson established the William Reece Smith Jr. Award in 1990 to honor outstanding contributions to public service, the justice system and the community. The late legendary Florida lawyer William Reece Smith Jr., a member of Stetson's Hall of Fame who served Stetson for decades as a distinguished professorial lecturer, member of the Board of Overseers and university trustee, was the award's first recipient and its namesake.
The Inns of Court banquet has its roots in the English mentoring program for barristers. Today's Inns of Court program presents students at Stetson law school with an opportunity to interact with prominent lawyers on current topics in the law and ethics.
Visit Stetson University College of Law.