Stetson University Grads Find Success After College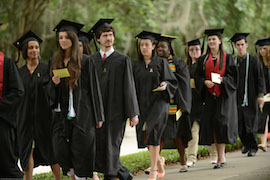 New survey shows 91 percent of Hatters employed or continuing their education
A college education is one of the most important investments a student can make. New data show a Stetson University education could be an even wiser move.
After surveying 542 graduates, Stetson University found 91 percent of the 2015 graduating class are employed or continuing their educations.
"We are incredibly proud that Hatters have turned a strong liberal arts education into tangible skills that employers are actively seeking," said Tim Stiles, executive director of Career and Professional Development at Stetson University. "We are equally proud of our faculty who worked hard to ensure a Stetson degree means success long after students finish their last exams here."
The figures from the recently released 2015 cohort of undergraduate degree recipients found that 58 percent of Stetson graduates landed full- or part-time employment, and another third are continuing their education.
The positive, growing job market in Florida contributed to the substantial gains. Of the 58 percent who chose the job market, 81 percent remained in the Sunshine State, accepting employment in Florida.
Of respondents who are working after graduation, 87 percent indicated their primary post-graduation occupation to be very related or somewhat related to their career goals. More than half of graduates indicated they had completed an internship while working on their Stetson degree, and nearly a third of those were offered full-time employment as a result of their internships.
Graduates accepted offers in various career paths including flight attendant for Allegiant Air, teacher for the Volusia County School District, software engineering specialist for General Electric and second lieutenant in the U.S. Army.
"These figures reveal Stetson's value to the community as not just a place to learn, but as a place that prepares today's students for lives of significance beyond the classroom," said Stiles.
The economy also figured positively on the increased percentage of recent graduates who perceived they could afford to continue their education. For respondents going on to graduate school, 18 percent are pursuing education related to the legal profession, 11 percent related to psychology, 10 percent related to the health professions, and eight percent in each of three areas: education, business and biological sciences.
The survey also noted an evolving view of success. This group of talented youth offered several anecdotes, equating success with narratives such as "achieving my goals while maintaining my integrity and happiness," and "doing something you are passionate about and that makes you happy."
The 2015 cohort includes individuals who received bachelor's degrees in July 2014, December 2014 and May 2015. The new Stetson Outcomes Survey (formerly the Stetson First Destination Survey), administered for the first time to the 2015 cohort, is a more comprehensive, scientific, and lengthy survey than previous years.