Pollination Buzz and other Dizzying Demonstrations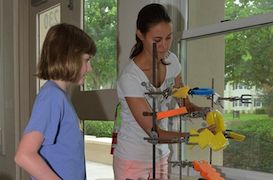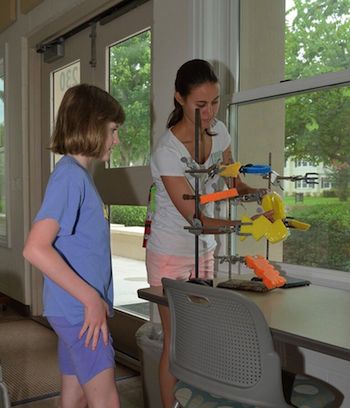 Science Saturday at the Gillespie Museum – March 12
Stetson University's Gillespie Museum will host a range of activities for young scientists in two disciplines, Environmental Studies and Physics. The hands-on workshops will be held from 10 a.m.– 1 p.m., on Saturday, March 12. Visitors may drop by at any time to boost their science IQs.
In the Rinker Environmental Learning Center, adjacent to the museum, learning stations will offer demonstrations and some planting in the pollinator garden. Young scientists will dip into a in the ping pong pollinator pool, create their own pollination models and step into the flower lab. These activities have been created by students in an environmental communications course taught by Rebecca Watts, Ph.D., associate professor of communication and media studies. The students will translate their examination of media coverage about pollination to teach how this environmental service works and why it is important to food production and to healthy ecosystems.
In Sage Science Center, students from the Society of Physics Students (SPS) will offer a dazzling display of physics experiments, including a demonstration of the wavelengths of sound, using a standing-wave flame tube; a Magdeburg Hemisphere vacuum tug-of-war; and some of the dazzling effects of liquid nitrogen. Their advisor, Kevin Riggs, Ph.D., professor of physics, explains, "The 'Physics Extravaganza' program is designed to show that physics is a 'hot' topic (flame tube) that is really 'cool' (liquid nitrogen). The demonstration show will have opportunities for audience participation, but 'no pressure' (vacuum tug-of-war)."
Scientists and their families are asked to start at the Gillespie Museum, 234 E. Michigan Ave., DeLand. Museum guides will lead visitors to activities at both sites. The Gillespie's collection and earth science displays will also be open for informal tours.
Science Saturdays are held monthly at the museum, giving Stetson faculty and undergraduates an opportunity to teach scientific principles and current practices to young scientists. The programs are free and open to all. Children under 16 must be accompanied by an adult. For more information: 386.822.7330 or [email protected].