Stetson University in the News, March 4-10, 2016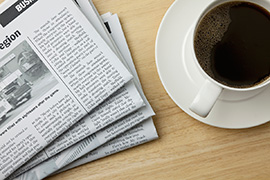 Top Stories:
• K.C. Ma, Ph.D., Roland George Chair of Applied Investments Director, was quoted in an article, "From Rise to Slide: Citigroup Stock's Wild Ride," published in MSN, Yahoo! Finance, and 4 other news outlets on Mar. 7.
• Paul J. Croce, Ph.D., published an article, "Should we really turn college education over to the free market?" at HistoryNewsNetwork (HNN) on Mar. 8.
• Patrick Coggins, Ph.D., professor of education, professor of history and director of American Studies, was quoted in an article, "Canada no stranger to racial discrimination, profiling," published by DiverseEducation, on Mar. 9.
• On March 7, The Atlanta Journal Constitution quoted Law Professor Charles Rose in an article titled "Picking a jury will be particularly tough in Hulk Hogan sex tape case against Gawker." The article was picked up by the International Business Times, Palm Beach Post, Austin American Statesman and MyDaytonDailyNews and others. Professor Rose is also quoted in the March 3 Tampa Bay Times article, "Jury choice tricky for Hogan lawsuit."
• The March 3 Harvard Crimson quoted Law Professor Peter Lake in the article, "Experts Put New SAT to the Test, Examining Changes and Implications."
• The March 10 Weekly Challenger features Stetson Law's diversity week programming in the article, "What society can learn from the military about diversity."
• Dean and Professor of Law Christopher Pietruszkiewicz is quoted in the March 9 Daily Business Review article, "Hey, Florida, How About That Uniform Bar Exam?"
• The success of Stetson's VITA Program was featured in the article, "Stetson, B-CU students gain real-world experience while helping taxpayers for free," in the Daytona Beach News-Journal, March 6.
Other News:
• Boys and Girls Club honors Stetson sophomore Melissa Boyes, named 2016 Boys and Girls Club Program Staff Member of the Year at Spring Hill Club in DeLand, as reported in the Daytona Beach News-Journal, March 5.
• According to the March 9 US Official News article, "Florida: Inside the Struggle Between Plutocracy and Democracy," Law Professor Ciara Torres-Spelliscy is participating in the conference, Plutocracy and its Consequences: The Fight for Democracy.
• The March 6 Daytona Beach News-Journal and other media outlets ran the news that Stetson's Vis team is headed to compete in Vienna.
• On March 3, New Channel 10 and other outlets reported that Stetson is hosting a free symposium with speakers from Curacao, Puerto Rico, the Virgin Islands, and the east and west coasts of the U.S. on March 18 in Gulfport.
• The news that Stetson student moot court teams advanced to the National Finals of the ABA competition, won Best Oralist in the international moot court competition, ran in multiple outlets on March 9.
• On March 3, the Legal Monitor Worldwide and a dozen media outlets reported that Stetson University in Florida and Chatham University in Pennsylvania have partnered to offer students an accelerated program to earn a law degree in only six years.
• The March 8 Capital Soup reported that Stetson's trustees approved more than $26 million in capital improvement projects.
• The March 6 Jamaica Observer reported that former Stetson Law distinguished international fellow AJ Nicholson declined reappointment to the senate.
• Law's Stan Arthur, manager of video production, Frank Klim, executive director of communications, and Brandi Palmer, manager of media relations, are mentioned in the March 8  Tampa Bay Business Journal's People on the Move section for their work on an Association of Marketing and Communication Professionals gold award-winning video, "Addressing Human Trafficking: Stetson Law Advocates," featuring interviews with Stetson Professor of Law Luz Nagle, students Stan Abramenko and Karun Rivero, and alumna Jenay Iurato '00.
• Law Assistant Dean of Admissions and Student Financial Planning Laura Zuppo and Assistant Director for Admissions and Diversity Initiatives Carmen Johnson are mentioned in the March 10 Weekly Challenger article, "St. Pete Sigmas Sponsor Final Session for the Gentleman's Institute Alpha Class," about Phi Beta Sigma and Delta Sigma Theta coordinating high school students visiting Stetson law school on March 5.
• The home of Professors Michael Rickman and David Dysart is part of an article about renovation of historic homes, in the Daytona Beach News-Journal, March 9.
Alumni in the News:
• On Mar. 8, WorkCompWire reported that Stetson alumna Linda Cheatham was nominated for a second term on the North Carolina Industrial Commission.
• Stetson graduate Matt Nadeau has been elected as treasurer of the Associated Builders and Contractors Young Professional Group, as reported by Patch on Mar. 7.
• On Mar. 8, Stetson graduate Mike Grebosz has been named assistant city manager for the city of DeLand, as reported by the West Volusia Beacon.
• Law alumni Rene Frazier and Ed Narain are mentioned in the Florida Politics article, "HD 59 aspirant Rene Frazier says she can bring people together if elected to serve in Tallahassee."
• On March 7, the Tampa Bay Newswire reported that TBBCA Board Director, Law alumna Jamie Moore Marcario, will lead a new 'Altered Book Art' project co-sponsored by TBBCA with partners Greenberg Traurig and Glazer Children's Museum.
• According to the March 9 Bradenton Herald, Bradenton judge and Law alumna Diana Moreland is up for Second District Court of Appeals vacancy.
• The March 7 South Florida CityBizList announced that Law JD/MBA alumnus Craig Mayfield has joined Bradley Arant as partner in the firm's Tampa office.
• According to the March 3 Legal Theory Blog entry, "Fontugne on Hobby Lobby," Law alumna Elisabeth Fontugne has posted the first in a series of articles.
• According to the March 2 Press Release Point, Law alumnus Mark A. Boyle, a partner with the law firm of Boyle, Gentile & Leonard, P.A., in Fort Myers, is speaking at The Knowledge Group's event.