Stetson's VITA Program Celebrates $1 Million in Tax Refunds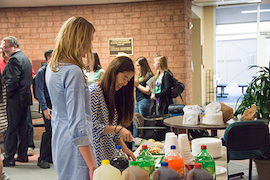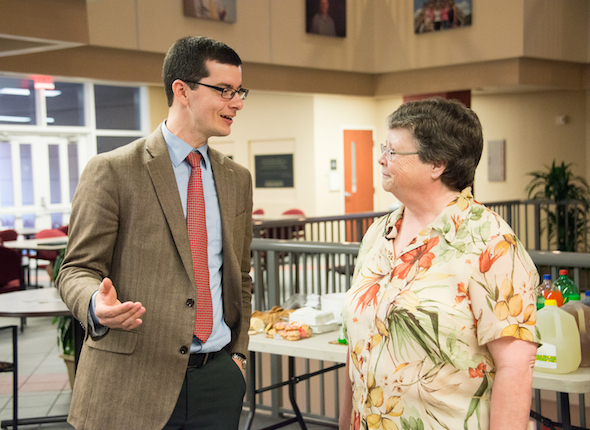 $1 million and nearly 1,000 returns filed for members of the local community.
Stetson University students who volunteer as income tax preparers for local families, reached a major milestone on the evening of Wednesday, March 9, 2016: $1 million in total tax refunds.
Through the Internal Revenue Service's Volunteer Income Tax Assistance (VITA) Program, Stetson students are trained to become IRS-certified tax preparation agents who help prepare and file tax returns for families with an income limit up to $54,000.
After six years of operation, the VITA Program just reached its one-millionth dollar in total tax refunds during the Wednesday night session.
The students' work with local families exemplifies the win-win partnerships that are at the core of any community partnership with Stetson University. Students gain invaluable educational opportunities to learn about the challenges facing low-income families while honing their finance and accounting skills, and families save at least $150 in tax preparation fees that can be put instead toward living expenses.
"Stetson is committed to finding opportunities to align student learning with community impact," said Kevin Winchell, associate director of Stetson's Center for Community Engagement. "VITA is one of Stetson's signature programs showing the tremendous potential for students to meet meaningful needs in our community, such as poverty reduction, while getting hands-on opportunities to learn and become experts in their academic fields of study."
The success of the VITA Program is grounded by deeply committed faculty in the Department of Accounting, in Stetson's School of Business Administration, who oversee the training and day-to-day operations of the program. Bonnie Holloway, a visiting lecturer in accounting, serves as the VITA site coordinator, and last year led the team to complete 232 returns that totaled approximately $190,300 in tax refunds for local families.
"In just the first four-and-a-half weeks of our 10-week filing season this year," Holloway said, "VITA has filed 169 returns and generated refunds of $194,700. But since its beginning in 2011 [for the 2010 filing season], Stetson's VITA program has filed 914 returns with total refunds of $1,002,436. Stetson has also provided volunteers for the VITA site at the Chisholm Center here in DeLand."
Each year, approximately 30 students volunteer in the program as tax preparers at the site, located in the Lynn Business Center, 345 N. Woodland Blvd., on Stetson's DeLand campus. This year, accounting seniors Yulia Denisyuk and Geoff Gose, and accounting sophomore Sonia Chang, took on strong leadership roles as assistant site coordinators for VITA. Both Denisyuk and Chang are also members of the Stetson University Bonner Program.
"I'm extremely happy to see more students getting involved in VITA this year," said Chang. "Getting to one million dollars was challenging, but we are already working hard to get the next million to benefit families and the economy here in west Volusia County."
Sponsored by the United Way of Volusia-Flagler counties, Stetson's VITA Program has 38 certified VITA student volunteers this year and three student assistant site coordinators.
The students are also supported by a member of Stetson's Accounting Advisory Board who donates his time and expertise to serve as a mentor to the student tax preparers.
The good work of our students and of the VITA program at Bethune-Cookman University in Daytona Beach, was featured in a recent article by Erica Breunlin in the Daytona Beach News-Journal.
Check out this blog, First Taste of VITA, for a first-hand perspective from a senior accounting major working with this program.
Video by David Maisel, Matt Osborne
(Pictured in the large photo on the front page, l to r: Business Dean Neal Mero; VITA student volunteers: Savanna Wharton-Lake, Amber Frato and Jackie Drummond; VITA Assistant Site Coordinators: Sonia Chang and Yulia Denisyuk; Site Coordinator Bonnie Holloway; Sheila Jackson, United Way; Giang (Jen) Trinh, VITA volunteer; Geoff Gose, VITA assistant site coordinator; and VITA volunteers: William Gillett and Bernadette Salzano.)