Students thank donors for supporting their education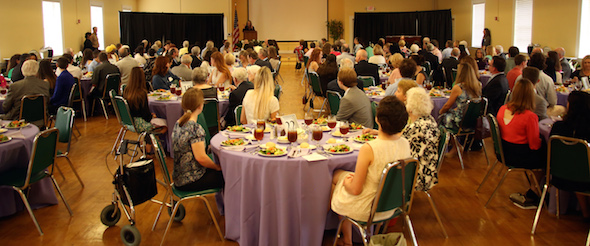 The Stetson Room buzzed with the chatter of more than 150 students, alumni and supporters of the university as they gathered recently for the 11th Annual Benefactor Luncheon. Each spring semester, the Office of Donor Relations (previously the Office of Stewardship) invites scholarship donors to campus to connect with their scholarship recipients, many for the first time.
Several of the scholarship donors in attendance were once Stetson students themselves. With the successes that they enjoy from having earned a Stetson education, they graciously pay it forward by empowering the next generation of students.
For many of these students, receiving a donor-funded scholarship means much more than a credit toward the tuition bill. For Savanna Wharton-Lake, for instance, a senior international student from Trinidad and Tobago, having the support of scholarship donors gave her the chance to continue her education when it seemed there was no other way.

"Retaining my 40 credit hours a year with added responsibilities and commitments, including participating on the Division I Rowing Team for one semester and working more than 10 hours per week, the challenges and obstacles only grew," Wharton-Lake said. "At times it felt as though giving up was the best option," she shared with guests.
"As personal, academic and family troubles started to arise, better days and miracles were all that I could have asked and prayed for. I made a commitment to myself that I would try as hard as I possibly could to put myself through university without burdening my family, and as that became less and less of a reality, I knew I had to do something."
After meeting with Rosalie Carpenter, the previous dean of students, Wharton-Lake learned that she qualified to receive scholarship support from two families of donors.
"I can safely say that I have one less worry, thanks to my donors," she said. "I could not have reached this far without you. Yes, I have put in the work. But without your help, this right here, right now, would not have been possible."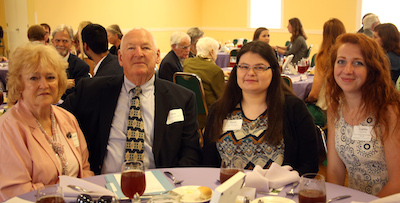 Words of appreciation came not only from students, but from faculty, staff and alumni, alike. Ronald Clifton, Sr. '63, M.A. '65, shared his passion for the power of education through his own story of establishing and directing the Stetson University Center at Celebration, and the decision that he and his family made to create the Clifton Family Scholarship to support Stetson students who transfer from Florida community and state colleges.
In addition to the alumni and other guests in attendance, President Wendy B. Libby, Ph.D., Dean of Students Lynn Schoenberg and trustees of the university joined in celebrating the significant opportunities that donor-funded scholarships allow Stetson students to experience.
A final crescendo of appreciation resounded through the room as The Stetson Men's choral group, led by Tim Peter, D.M.A., director of choral activities, serenaded the luncheon guests. Schoenberg led one last round of applause in recognition of the donors' dedication and their strong support of students pursuing their dreams during their time at Stetson, and beyond.
By Reba LaRose '15