Tim Wise: Turning White Privilege Into Racial Responsibility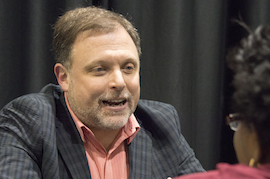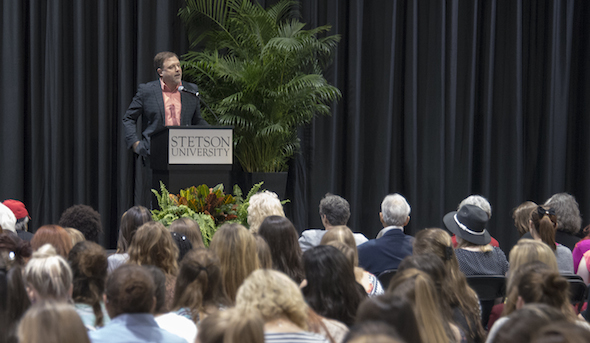 As the university moves to rededicate itself to issues of diversity, workshops, open forums and flash panels have been held to facilitate dialogue about race.
These events have drawn passionate crowds, largely made of minority students and faculty, resulting in constructive criticism of a national conversation. However, there is large group missing from the metaphorical dinner table—the majority of the student body.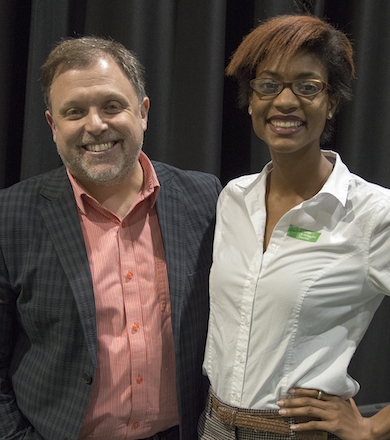 As a predominantly white campus, most students do not take part in racial dialogue. Those who seek to educate themselves about diversity tend to already be educated about diversity. However, a recent Foundations of Excellence (FOE) event aimed to halt the "choir preaching" by drawing Panhellenic Greek life participation. Speaker Tim Wise, anti-racism activist and author of White Like Me, addressed a concept foreign and familiar to those in attendance—white privilege.
Often recruited as a reactionary effort to racist instances within campuses, Wise has spoken at numerous universities on white privilege and bigotry.
"When you've written a book and have it assigned as punishment—that's when you know you've really arrived," said Wise.
However, Wise's engaging, provocative, humorous and thought-provoking speech was anything but punishment. His speech was not a reactive, but proactive means of addressing an elephant in the room when it comes to education on diversity issues.
"It's not about white-guilt," said Wise. "Guilt will not liberate anybody from anything. It's not even about white people. It's about a system of white supremacy that has turned us against one another. It's not about guilt. It's about responsibility."
Wise stressed that members of the audience are not under any obligation to agree with his statements; only that they take the time to listen and commit to continuing dialogue about racial inequity.
Wise opened his address with the need for conversation, reiterating the value of meaningful dialogue— even at the cost of making white people feel uncomfortable.
"Many times, people don't come to these events because they are under the impression that we don't have to have this conversation anymore—that we've attained a level of post-racial society."
However, most people of color know a "post-racial society" does not exist.
"People say that having these conversations will make things worse. If we just not talk about racism, racism would go away," said Wise. "Yes, because we all know that social problems are the result of discussions about social problems."
Wise sardonically pointed out that this fallacy in logic is seen immediately when applied to other issues.
"That's like blaming the speedometer for your speeding ticket," said Wise. "We need to let go of the idea that the more we talk about it the worse it gets."
Wise spoke about the problematic rhetoric of well-intentioned white people who try to separate themselves from racist implications.
"We take this view that we have attained this pinnacle of 'color blindness,'" said Wise. "Thinking, 'there may be other people put there who are racist but not me. I have black friends. I dated an Asian woman once. I have a dream catcher. And now I have come to the conclusion that my great-great grandmother was a Cherokee princess."
Refusing to acknowledge racial bias prevents white people from becoming unproblematic allies.
Wise illustrated that even when white people are willing to acknowledge personal bias, there is a tendency to refuse to recognize the systemic problems.
"We might be willing to attack the individual racist. We could punish them, we could make them read my book," said Wise. "But that doesn't necessarily get at the systematic, institutional, structural problems."
Racial inequity is more than personal prejudice. If that were the case, education could easily conquer bigotry. The larger issue is the way policies, practices and procedures reinforce that inequality.
We need to be able to look at institutions and recognize their problems, and to do that we must be able to critique the patriotic rhetoric of history.
"We have this fiction that we've been told," said Wise. "This incredibly a-historic view that the past is the past—this patriotic history. It's not just how the past affects the present; it's how we remember the past. Or misremember it."
From immigration to police brutality, polarizing political issues are rooted in this nation's development.
As Wise pointed out, if we do not understand this nation's history of racism, we cannot understand the racial disparities we see today.
By focusing on racial imbalances, Wise facilitated meaningful thinking about discrimination without vaguely addressing issues of diversity "lumped" together. Intolerance of religion, discrimination based on sexuality and gender, increased xenophobia of immigrants and other important social justice problems should be held to the same level of individual importance and esteem as Wise's address on race relations.
Student leaders and faculty involved in the Multicultural Student Council (MSC) organization often hold events as powerful and moving as Tim Wise's speech, but are met with limited campus-wide student support.
"The real leaders on this subject are the folks of color who live with racism every day, who speak out about it every week, and yet are often ignored," said Wise. "Those of us called white need to learn to listen and follow them when it comes to creating racial equity."
Wise addressed the predominantly white audience with a pointed sentiment.
"I hope that the next time there is a program on this campus in which a person of color is above you at this podium and not a white man, you will all be there just as readily as you were this evening."
by Veronica Faison