Hatters Complete Sweep of Citadel With 11-5 Win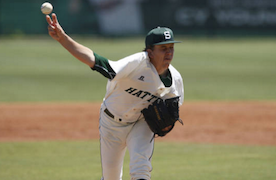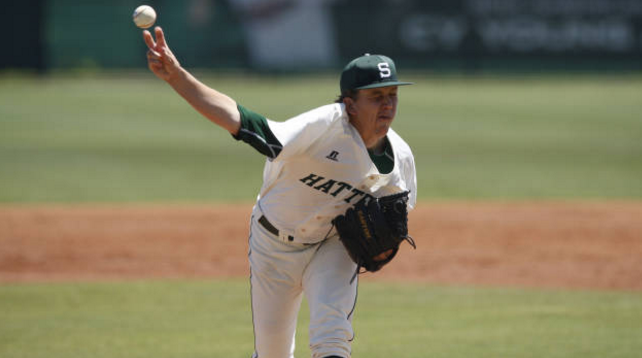 The 3,500th game in Stetson baseball history may not have been exactly the way Hatters coach Pete Dunn drew it up, but Sunday's 11-5 victory over The Citadel to complete a weekend sweep of the Bulldogs was just as sweet all the same.
Stetson improved to 15-13 overall with the win while dropping the Bulldogs to 12-17.
The Hatters sent freshman right-hander Logan Gilbert (2-0) to the mound on Sunday for his first weekend start of the year and, despite some rough going early, the results were positive. He allowed just one unearned run on one hit over five innings with a walk and six strikeouts to get the win.
"Logan struggled at times, but he battled his way through it," Dunn said. "Obviously, his fastball is his bread and butter, but he is trying to develop his breaking ball and he is trying to develop his off-speed pitches. You just can't go out there and throw fastballs all the time if you are going to get better.
"There were a couple of times early that I questioned because he needed to throw a strike on a 2-2 count and tried to throw the breaking ball and missed. It is a learning experience and sometimes you scuffle when you are learning and that happened some today."
Fortunately for Gilbert, the Hatters were able to take major advantage of an early defensive mistake by the Bulldogs to score five runs in the first inning off Citadel starter Jacob Watcher (4-2). Four of the runs in the opening frame were unearned.
Stetson had already tied the game at 1-1 on Kirk Sidwell's single to drive home Matt Morales but, with two outs, Austin Hale reached when the throw from shortstop William Kinney was dropped by first baseman Ben Peden. Jack Machonis followed with a two-out single to score two runs and then Will Mackenzie delivered another two-run single for a five-run inning.
"Taking advantage of that error in the first inning to get those extra runs in the first was huge," Dunn said. "It was a 1-1 game when they committed that error occurred on what could have been the third out of the inning. If it had still been a 1-1 game when Logan was scuffling, it might have been more of a battle. Hopefully it made him feel more comfortable to have the lead."
The Hatters continued to score runs throughout the game, plating at least one run off each of the first five Citadel pitchers on the afternoon.
Cory Reid had a two-run double and then scored on a ground ball in the fourth to make it 8-1. Machonis and Mackenzie had back-to-back doubles in the fifth to score another. After the Bulldogs scored a pair of runs in the sixth and one in the seventh off reliever Jack Perkins, the Hatters answered again with two runs in the home half of the seventh.
"We still have a long way to go offensively because we still have some guys who are really scuffling," Dunn said. "Machonis is swinging it pretty good now and is back to almost .300. Mackenzie is starting to hit better even though his average is still low.
"We have told him that he can't look at that. Maybe he won't hit .300 for the year, but he can hit .300 from here on, and that is the most important thing. Sometimes you dig yourself into a hole early – like Mackenzie and Reid did – and they think they have to get a hit every time up. They just have to put together a solid second half and then continue into post season."
Machonis finished the game on Sunday with three hits and three runs scored while both Reid and Mackenzie had a pair of hits.
Besides Gilbert and Perkins, Stetson got both freshman Joey Gonzalez and sophomore Ben Onyshko some work on the mound on Sunday. Both, along with most of the rest of the Stetson staff, will likely be available for Tuesday's home game against South Florida.
"We have a big game here on Tuesday and I hope we feel we have to get some redemption because we played so poorly against them the first time," Dunn said of Stetson's 3-2 loss to the Bulls on March 15. "Every game you play, whether it is mid-week or whatever, we feel like our pitching will keep us in the games. The biggest challenge is getting the bats going and we have to be a lot better in the short game."
The game on Tuesday is slated for a 6:30 p.m. start and will be the last home game for the Hatters for a while. Stetson will open conference play with consecutive road series against the preseason co-favorites in the Atlantic Sun Conference, Florida Gulf Coast (April 8-10) and North Florida (April 15-17). The Hatters will also play a pair of games at Florida State (April 19-20) before returning home to host USC Upstate on April 22.