First-place team: Stetson wins Dean Jerome Prince Memorial Evidence Moot Court Competition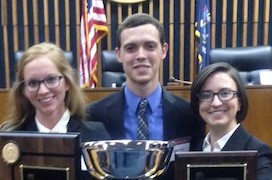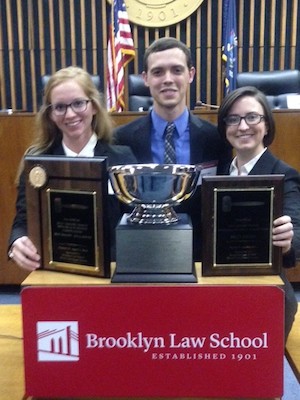 Stetson University College of Law students won the 31st Annual Dean Jerome Prince Memorial Evidence Moot Court Competition on April 2 at Brooklyn Law School in New York.
The Stetson team of Brittany Cover, Kristina Hartman and Jeremy Rill won rounds against teams from the University of Florida, Wayne State, Michigan State, Louisiana State, Georgetown and the University of Tennessee. Rill served as Student Government Association president in 2011-12 as an undergraduate at Stetson University.
Stetson's team also won the award for the Best Brief, and Rill was named Best Oralist in the final round. Thirty-six teams participated in the competition.
The competition provides law students from across the nation the opportunity to write and argue evidentiary issues at the intersections of technology, constitutional law and the Federal Rules of Evidence.
"Once again our students have proved that they have developed the practical skills they will need to be attorneys," said Professor of Legal Skills and Associate Director of the Center for Excellence in Advocacy Brooke Bowman, moot court advisor at Stetson. "We are proud of our students and Stetson's continued dedication to preparing our students to be top-notch advocates."
Professors Bowman and Roberta Flowers coached the team.