School of Music Upcoming Events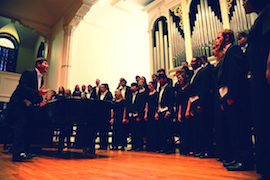 The following concerts will be presented by the Stetson University School of Music, from Apr. 5-16:
Women's Chorale
Andrew Larson, conductor
Stetson Men
Timothy Peter, conductor
Ticketed Event
Tuesday, April 5, 7:30 p.m., Lee Chapel, Elizabeth Hall 
The exciting sounds of men's voices together and women singing together will culminate in a combined piece at the end of the concert. The Stetson Men will perform Gaudeamus Igitur arranged by Axel Theimer; Du bist die Ruh by Franz Schubert; Dúlamán arranged by Desmond Earley; Cantique de Jean Racine by Gabriel Fauré; Mary's a Grand Old Name by George M. Cohen; Go, Lovely Rose by Z. Randall Stroope; and I'm Gonna Sing When the Spirit Says Sing arranged by Howard Helvey. The Women's Chorale will perform  Overture to Die Zauberflöte by Wolfgang Amadeus Mozart; Sous le dôme épais by Leo Delibes; Die Mainacht by Johannes Brahms; White Birds by Daniel J. Hall; Quella fiamma by faculty member Andrew Larson; How Can I Keep From Singing? by Rev. Robert Lowry; and Way Down Upon The Swanee River (Old Folks at Home). The program will conclude with Draw the Circle Wide by Mark A. Miller.
University Symphony Orchestra
Anthony Hose, conductor
Ticketed Event
Friday, April 8 – 7:30 p.m., Lee Chapel, Elizabeth Hall 
The first work on this program is Rossini's thrilling overture, The Thieving Magpie, which has proved a favorite with audiences for nearly two centuries. It is followed by Dvořák's great Symphony No. 7 in D minor, a composition which summarizes the extraordinary dramatic talent of this great late romantic composer and provides many virtuosic moments for the musicians. George Gershwin's American in Paris ends the program and is a chance for saxophones and the percussion section, including taxi horns, to join the symphony orchestra in one of the greatest compositions of the 20th century and a work that established Gershwin as a great American composer.
Concert Choir
Timothy Peter, conductor
Ticketed Event
Friday, April 15 – 7:30 p.m., Lee Chapel, Elizabeth Hall 
The Concert Choir, led by Timothy Peter, will present a diverse concert program featuring compositions by William Byrd, Felix Mendelssohn, Maurice Duruflé, Pablo Casals, Eric Whitacre, Stacey Gibbs, and Stetson School of Music faculty members Sydney Hodkinson and Janis Kindred.
Please join us for a reception in Presser Hall 132 following the concert.
University Symphonic Band
Douglas Phillips, conductor
Ticketed Event
Saturday, April 16 – 7:30 p.m., Lee Chapel, Elizabeth Hall
Please join us for the Stetson Band's final concert of the academic year and a diverse program of music. The concert opening will feature 22 brass musicians and two timpanists in Richard Strauss' thrilling Vienna Philharmonic Fanfare followed by the composer's enchanting Serenade, Op. 7 for thirteen winds. Following these two chamber music selections, a wind ensemble of 42 musicians will perform the English composer Kenneth Hesketh's exuberant work, Masque. The full forces of the 100 member Stetson University Symphonic Band will then take the stage for Czech-born composer Karel Husa's Smetana Fanfare, followed by Bob Margolis' showpiece for the modern symphonic band entitled Terpsichore (after Michael Praetorius). The evening of music will conclude with the stirring "Finale" from Symphony No. 1 by the Russian composer Vasily Kalinnikov.
Admission with Stetson ID is complimentary. For ticketed events, general admission tickets are $10 for adults, $8 for senior citizens and $5 for area students. Tickets can be purchased at the door or online at Ticketreturn.com. You can print your tickets at home or have them waiting for you at the concert.
For more information, contact the Stetson University School of Music, or call 386-822-8950.