A Shining Star: Whitney Meyers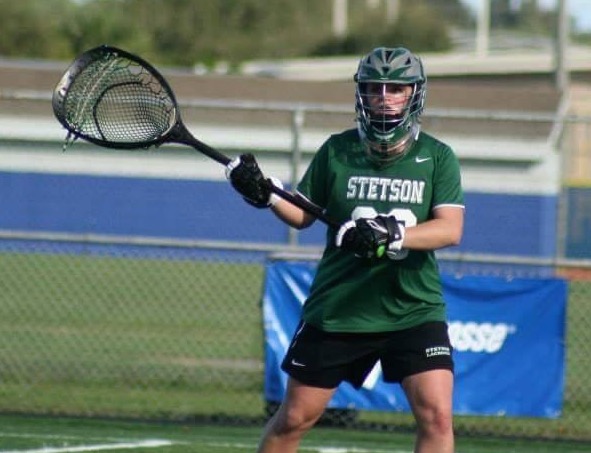 Four years ago, Whitney Meyers was the first official recruit and signee for Stetson University's inaugural 2012 lacrosse team.
It was a leap of faith she has never regretted.
"At the time when I signed to play for Stetson there was one coach, no teammates, no locker room, and no field," explained the Ponte Vedra Beach, Fla., native. "But now, it is very rewarding to see how far the program has come and to know that I was a part of establishing it, creating the culture and leaving my mark at the school."
And leaving her mark she has, as lacrosse was just the tip of the iceberg for Meyers' success during her stay at Stetson.
In addition to her role as captain of the Stetson Women's Lacrosse team, Meyers is a member of Phi Beta Kappa Honor Society, University Honors Program, Delta Delta Delta Sorority (where she also served as academic chair) and student intern/volunteer at the University of Florida Health Shands Hospital in Jacksonville.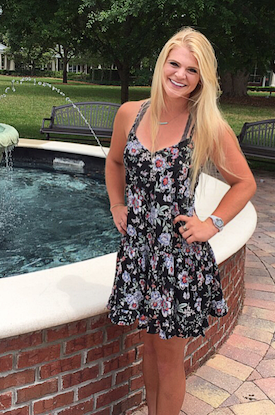 She's also certified in Biotechnology and Laboratory Techniques from the University of Florida, which is considered a biotechnician assistant credential.
Looking back, some of Meyers' fondest collegiate memories involve her sorority philanthropy events, including raising money for St. Jude Children's Hospital.
"I was lucky enough to have the opportunity to visit St Jude Hospital in Nashville, and knowing that our sorority at Stetson is able to make an impact on the patients and their families' lives is very rewarding," she said.
During her freshman year, she organized a community service project through the Honors Program that involved the Stetson lacrosse team going to DeLand's Chisholm Community Center on a regular basis, where they taught boys and girls how to play lacrosse and learn the benefits of exercising and eating healthy foods.
"It was a huge success!" the integrative health science major explained. "It was great to give back to the community, have the support of the lacrosse program and make a difference in the kids' days. They enjoyed it so much that the children were asking for our autographs at the end which was a really heartwarming and humbling moment."
To further cultivate her passion for science and her love of children, Meyers was accepted into Duke University's prestigious Accelerated Nursing Program for the fall, where Meyers plans to earn her doctorate in nursing practice (DNP) with a specialty in acute care pediatrics.
"Stetson has prepared me for the next step in my life by teaching me how to be confident in my decisions, voicing my opinion, speaking clearly and effectively in front of others, and holding myself more maturely. I think these are critical skills that will be important to possess in graduate school and in my future profession," explained Meyers.
"I will miss walking through campus and the feeling that overcomes me while doing so. Stetson is like a little oasis and I've always felt at home on campus. It is a very diverse yet close-knit community which I think is a rare but special combination to find in a school."
By: Trish Wieland