Cottages, greener campus will greet returning students in August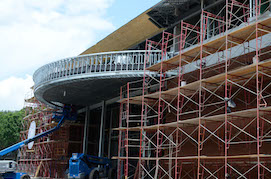 Some Stetson students returning to college life in August will find themselves enjoying the cottage life.
Other students will be welcomed by larger, cooler and "greener" residences, flood-free parking on the west side of campus, and the new Marshall and Vera Lea Rinker Welcome Center.
All are part of construction and renovation projects scheduled to be completed before students return to campus on Aug. 19.
Here's a look:
* WELCOME: The new Marshall and Vera Lea Rinker Welcome Center – a three-story, 28,000 square-foot complex in the middle of Stetson's historic district – will welcome prospective students and alumni, and will centralize a number of services for current students. The facility will house the Office of Admissions, Career and Professional Services, Student Financial Planning and the Registrar and Bursar's offices.
* THE COTTAGE LIFE: "This fall for the first time we have "cottages" available for student housing," said Al Allen, associate vice president of Facilities Management. "We have been purchasing single-family homes adjacent to campus over a long period of time. We've mostly been leasing them to staff, but as our enrollment has increased, we need to use these properties for student housing."
The university is calling them "cottages" to reflect their ambience, Allen said.
The four cottages include residences at 205 E. University Ave. (which will house four students), 220 E. University Ave. (seven students), 245 E. Michigan Ave. (five students) and 208 E. Pennsylvania Ave. (seven students).
One of the cottages will be used by the Lambda Chi fraternity.
"We will go through the houses and renovate and spruce them up as needed, as well as furnish them," Allen said. Residency at the cottages is based on student seniority.
* LIVING LARGE: "Three years ago we purchased Stetson Cove apartments and renovated them, and those have met with great success with students," Allen said. "We know students like living in those apartments because they're large – large enough for families. This year we purchased two more apartment complexes adjacent to campus on the north side."
Colonial Oaks, at 275 Stetson Ave., will house 48 students. Stetson House Apartments, at 285 Stetson Ave., will house 36 students.
"We completely refurbish our apartments when we buy them," Allen said. Renovations include new roofs, air conditioning, plumbing, flooring, bathrooms and more.
More student housing will be available at Plymouth Apartments, which the university is leasing. Those apartments, at the corner of Plymouth and Amelia avenues, were fully renovated before being leased, Allen said.
* GOING GREEN: The new metal roofs going atop Flagler Hall, Sampson Hall and Conrad Hall will be "green" – as in environmentally green.
"All those buildings are in our historic district and each one exceeds 100 years old," Allen said. Because of their location in Stetson's historic district, the university received a grant for 50 percent of the funding from the state of Florida.
Also, the project "is fully supported by the city of DeLand's Historic Preservation Commission," Allen said.
The new metal roofs will replace the current shingle roofs.
"Shingle roofs last only about 15 years in Florida, and when you take them off they sit in landfills forever," Allen said. "Metal roofs reflect heat better and, equally important, they last 50 years and then you recycle them. It's a very green approach."
* THE BIG CHILL: The air conditioning system that serves the bedrooms in Emily Hall is being replaced. Emily Hall houses 220 second- and third-year students.
The air conditioning in University Hall is being "enhanced," Allen said. Also, the building's bathrooms are being renovated and carpet will be replaced with hard flooring. Carpet also is being removed from Conrad Hall and Chaudoin Hall. The change will help in the fight against allergies, Allen said.
"By the end of this summer we will no longer have any carpet in any of our resident hall rooms," he said.
* RAIN, RAIN, GO AWAY: West side parking, which includes 100 spaces used by commuter students, faculty and staff, is going to lose its reputation as a flood zone. The parking area is behind what is now the HR Building as well as Allen Hall, Wesley House and Cummings Gym.
"Rain water just races across the parking lot and across Minnesota Avenue, floods Minnesota and then floods the other parking lot," Allen said. "We're going to create storm water retention ponds" to alleviate the problem.
The university will work on the project with Wesley House, a United Methodist campus ministry.
"They own some of that land – they gave us an easement essentially," Allen said. "So we're going to fund the improvements and provide long-term maintenance."
The project will use concrete instead of pavement. "Concrete is much cooler," Allen said. "Asphalt is essentially a petroleum by-product. Concrete is much more expensive but it also lasts 50 years."
by Rick de Yampert