Stetson University Commencement to Set New Record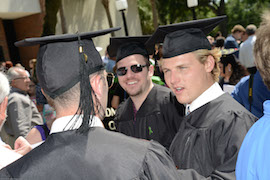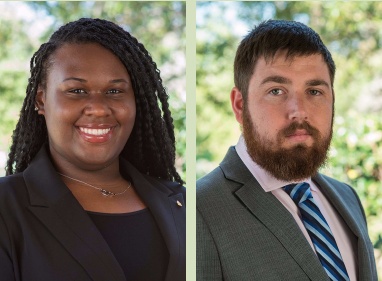 Stetson University's 2016 Commencement Ceremony on Saturday, May 7, will be its 130th and is expected to set two new records. The university is graduating its largest class with 830 graduates, which comprises 674 undergraduate and 156 master degree candidates. Stetson also will hold its first outdoor ceremony since the 1970s at Spec Martin Memorial Stadium.
The speakers at Stetson University's commencement will be two students chosen through a nominating process by students and faculty, and this year the speakers are Daniel Humphrey, from Reading, Ohio, and Jordan Alexandria Cockfield of Lake Worth, Fla.
During the ceremony Stetson University recognizes two outstanding faculty with the Hand Award for Community Impact. The Hand Award celebrates the achievements of faculty serving the needs of both the Stetson community and the community beyond the campus.
Stetson will also announce the winner of the William Hugh McEniry Award for Excellence in Teaching, considered Stetson's most prestigious award for faculty, and the recipient of the Etter McTeer Turner Award, presented to the student who shows outstanding academic achievement, leadership, personal character, integrity and service to the community.
Stetson University's 2016 Commencement Ceremony is scheduled for 8:30-11:30 a.m. on Saturday, May 7. It will be followed by receptions at the campus for the College of Arts and Sciences, School of Business Administration and School of Music.
On Friday, May 6, Stetson University will hold three separate ceremonies at Lee Chapel in Elizabeth Hall:
·       Annual ROTC Commissioning Ceremony — 10 a.m. This year, six graduates will receive their commission into the U.S. Army.
·       Undergraduate Awards and Recognition Ceremony — 3 p.m. Each year, the university recognizes the outstanding achievements of its graduates, and the highlights are the Algernon Sydney Sullivan Award for the student who best represents a nobility of character and dedication to service, and the John Hague Award for Distinguished Teaching in the Liberal Arts and Sciences given to the faculty member that represents excellence in teaching and devotion to scholarship.
·       Graduate Hooding Ceremony — 7 p.m. This event recognizes achievement of those graduates of Master of Science, Master of Education, Education Specialist, Master of Business Administration and Master of Accounting programs.