Stetson Selected for First NCAA Beach Championship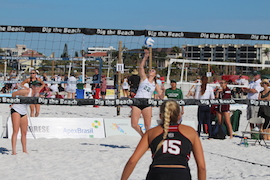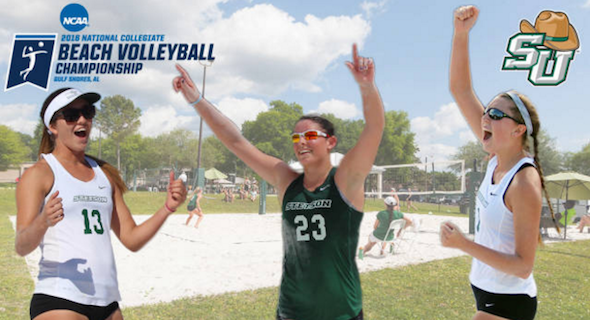 The Hatters have been selected as one of eight teams to participate in the inaugural NCAA Beach Volleyball Championship in Gulf Shores, Ala. Stetson, the No. 8 seed, will face No. 1 seed Florida State in the first round of the championship at 10 a.m. ET on Friday, May 6.
The double elimination tournament continues through Sunday, May 8.
"It is a great feeling knowing we get to continue our season," Stetson head coach Kristina Hernandez said. "I know we were a little disappointed last weekend after the A-Sun Championship, so this gives us a new life, and we get to keep competing.  It is also the first NCAA National Championship, and I am glad we get to be a part of that."
Stetson (28-7) has been ranked in the AVCA Top 10 Coaches Poll all season long, reaching a season-best No. 8 ranking from March 7-14 and again from April 11-24. The Hatters set a school-record with 28 dual match victories including seven wins against ranked opponents.
"It is so hard to put this feeling into words," junior Kaylee Anderson said.  "It is something we have been working for all year, even since my freshman year.  Being able to do this with such a young team is a huge accomplishment, and I am so excited."
Stetson and Florida State (29-1) will be meeting for the first time this season, although both teams participated in the Stetson Spring Break Invitational on March 25-26 in DeLand.
"It is an awesome draw for us," Hernandez said.  "We haven't had the opportunity to play them this year.  We have seen them and been in a lot of the same places, so I know our kids are excited to play them.  In the past couple of years, we have had the same draw with USC.  Now going in and having a different opponent, and having it be a big state rival for us will give us a different kind of motivation. I like it."
The Stetson-FSU winner will advance to play the winner of the Hawaii-UCLA match at 4 p.m. Friday, while the loser faces an elimination match at 2 p.m. Friday.
Also joining the field are USC, Pepperdine, Arizona, and Georgia State.
Turner networks will televise the event, with truTV providing live coverage on Friday, May 6, and Saturday, May 7, from 3-6 p.m. ET and the championship round airing on TBS on Sunday, May 8, at 2 p.m.
Live streaming coverage of every court in each match of the tournament will be available on NCAA.com.
Notes: Stetson competed for the AVCA Collegiate beach volleyball championship in each of the previous two seasons. Those tournaments were also played in Gulf Shores, Ala. … The Hatters are currently ranked No. 9 in the AVCA poll and No. 10 in the DiG Magazine poll … No. 1 seed Vendy Strakova and Sara Putt were named Atlantic Sun Pair of the Year. They are 32-2 in dual match play entering the NCAA Championship … The Hatters starting line-up typically features at least five freshmen … No. 5 seed Jamie Walsh and Alexa Richardson have won 13 matches in a row, including the April 2 match vs. USC.