The Volusia County Water Summit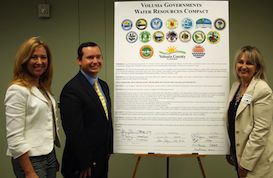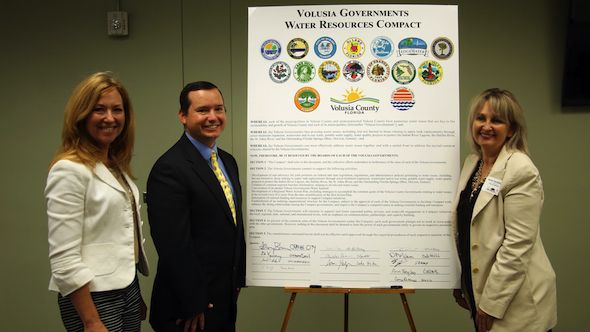 The Volusia County Water Summit at Stetson University on Saturday, April 30, 2016, presented a deep dive into the issues impacting water resources in Volusia County, a discussion of a variety of options and paths to address those issues and the signing of a compact between the cities making up Volusia County to work together and with one voice in creating water action plans.
The Summit was sponsored by Stetson University's Institute for Water and Environmental Resilience, represented by Executive Director Clay Henderson, the Florida League of Cities, represented by Matt Surrency, president of the league and mayor of Hawthorne, Fla., and Deltona City Commissioner Heidi Herzberg, president of the Volusia League of Cities, and Florida State Representative Kristin Jacobs.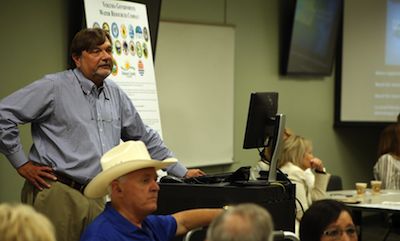 Stetson University President Wendy B. Libby, Ph.D., welcomed a diverse group of nearly 100 city, county and state representatives, students, citizens and local and state agencies. Libby discussed some of Stetson's efforts on water stewardship and its water usage reduction by nearly two million gallons between 2011 and 2015 and its support for reclaimed water for any landscape irrigation.
Rep. Jacobs discussed her work in developing the four-county Southeast Florida Regional Climate Change Compact that allowed leadership in that area to speak with a single voice to state and federal officials and how developing a compact in Volusia County could lead to more effective leadership in tackling water issues in this area.
"Volusia County is literally an island sitting atop the Volusia-Floridian Aquifer," said Henderson with the Institute for Water and Environmental Resilience.
"And nearly all of Volusia's waters are defined as "impaired" under the Clean Water Act.
Volusia County may be unique in its place in Florida's water management with the St. Johns River to the West, part of the 156 miles of the Indian River Lagoon to the East and it is home to some of Florida's top springs, including Blue Spring.
Henderson said run off, wastewater discharges and septic tanks are adversely affecting water quality with Chloride concentrations in the water climbing year over year.
Kirsten Work, Ph.D., a professor in Stetson University's Biology Department, has been studying Blue Spring for several years. She says there are three things that are stressing the springs in Florida, water quality, quantity and the impact of exotic species. Work said her studies indicate that discharge, or overall water flow, from the Blue Spring is down, nitrate concentrations are up and exotic species, such as Blue Tilapia and Armored Catfish, are increasing.
Work discussed how population changes and land use impact the springs. From 1975-2010 there have been significant increases in Nitrate from farming and lawns and there is now a very high density of septic tanks in the DeLand, Orange City and Deltona areas. This is seeping into the springs and lakes in this area.
Her recommendations to help the springs are to reduce water withdrawals, reduce impervious surfaces (parking lots), reduce use of fertilizers and reduce the number of septic tanks (99,542 in Volusia County).
Jason Evans, Ph.D., assistant professor of environmental science and geography at Stetson, spoke to the impact that rising sea waters are having, including record high tides and tide levels since 2006. Evans said his work indicated that many times the rising sea levels have an adverse impact on aquifers, as well as sewage systems, through the introduction of seawater. Evans says in Miami Beach, the city is spending $500 million to elevate critical roads and facilities.
Nick Abrahams, with the St. Johns River Water Management District (SJRWMD), said the cities should see them as a resource. The SJRWMD covers nearly 12,000 square miles and is managing nearly $80 million in funding for projects tied to its core mission, water supply, quality, natural systems and flood protection. The SJRWMD can help move projects through federal and state agencies and guide them to shovel-ready status.
Dave Herbster, with the Florida Department of Environmental Protection, said his agency conducts nearly 2,000 inspections a year and manages nearly 60,000 monitoring reports. He said the DEP can provide frameworks to address environmental problems and can assist with grants and legislative appropriations.
Facilitator Marilyn Crotty, with the Florida Institute of Government, led the discussion that followed, and included questions from the assembled municipalities about the lack of action to date. Crotty said the purpose of the compact is to establish long-term commitment to take action together, but the cities and county would still have autonomy.
by Bruce Chong