Stetson University In the News – May 13-19, 2016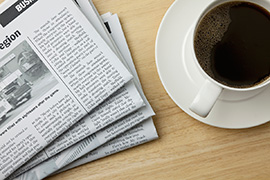 Top Stories:
• "Ukraine's Eurovision win shows that art follows invasion," in CNN.com, May 16, was written by Stetson's Mayhill C. Fowler, Ph.D., assistant professor of history, who is also author of a forthcoming book, Beau Monde at Empire's Edge: State and Stage in Soviet Ukraine.
• K.C. Ma, Ph.D., director of Stetson's Roland George Investments Institute, is quoted in the article, "Stock Market Showdown: Ford Versus GM," in Finance.yahoo.com, in Canada, May 12. Also picked up in U.S.News.com, Yahoo!NewZealand, Yahoo!News(AU), YahooFinance, sg.finance.yahoo.com, msn.com.
• Bloomberg  and the Orlando Sentinel quote Law Professor Louis Virelli in the article, "Transgender bathroom policy ignites protests." Professor Virelli did an interview with Bay News 9 airing on May 17 about the Supreme Court sending the Affordable Care Act birth control provision back to the lower courts.
• Law Professor Peter Lake is quoted in the May 9 Politico article, "Feds sue North Carolina over transgender law." Law Professor Lake spoke with the Harvard Crimson for the May 11 article, "Clubs weigh legal options." Professor Lake spoke with Aminewswire for the May 13 story, "Senators seek law to boost college sexual assault reporting."
• "Stetson's Bailey recalls 50 years in political science department," about T. Wayne Bailey, Ph.D., professor of political science, was featured in Daytona Beach News-Journal, May 13.
• "Central Florida couple uses CIA training to rescue 149 Iraqis from ISIS," reported in DailyCommercial, May 14, featured faculty expert Margaret Venzke, Ph.D., professor of history.
• "Power of Positive Thinking Skews Mindfulness Studies," in GenerationNext.com, May 14, quotes faculty expert Chris Ferguson, Ph.D., associate professor and co-chair of Stetson's Psychology Department.
• The Blog "When Media Scholars and Anti-Media Advocacy Groups Get Too Close," also written by Chris Ferguson, Ph.D., posted in HuffingtonPost.com, May 12.
• "Stetson study links racial segregation with health disparities," in the Daytona Beach News-Journal, May 12, features the cancer research led by Asal Mohamadi Johnson, Ph.D., assistant professor of integrative health science at Stetson.
• "50 Of The Most Historically Notable Colleges In America," written by Best College Reviews.org, on May 17, listed Stetson University as #32, of the Top 50 Colleges on the National Historic Register, noting, "The school seeks to 'serve future generations with compassion, significance, and respect' by preparing students 'ready to create a better world.'" Covered in many media outlets, including TickerTech.com, ITNewsOnline, Markets.IBTimes.com, May 17.
• "Top 10 Culturally Dynamic Universities," featured in College Magazine, May 16, listed Stetson as one of the country's top universities stating, "Head over to Stetson if you plan to change the world."
• The article, "Stetson University — Executive Vice President and Provost," in The Journal of Blacks in Higher Education, on May 17, announces the search for Stetson's next Chief Academic Officer. It also praises Stetson's diverse campus, core values and "transformative education." 
• Law Associate Dean Susan Rozelle spoke with WUSF NPR for the May 9 story, "Miami Judge Says Florida's New Death Penalty Guidelines Are Unlawful."
• Law Professor Ciara Torres-Spelliscy is quoted in the May 10 SCOTUSblog Tuesday Roundup highlighting controversy over the Supreme Court nomination process in the wake of Justice Scalia's death.
• "A Recipe from Chefs Taste Challenge 2015 Winner Hari Pulapaka," <Ph.D., associate professor of math>, was published in Food & Beverage, "Farm to Table Experience," May 2016 issue.
• "La.-Monroe hires David Saur to women's basketball staff," reports that Saur was previously at Stetson, where he helped lead the program to the WNIT 2013-15. Picked up by the A.P., this ran May 12, in most major news media outlets, including MiamiHerald.com and USA Today Online, and more than 50 others.
Other News:
• According to a news article that ran in several news outlets, Stetson and the University of Tennessee are partnering to offer free webinar training on May 25.
• Law Professor Stacey-Rae Simcox is quoted in the May 9 Florida Record story, "New VA policy would confirm a veteran's death before stopping benefits."
• Law Professor Roberta Flowers spoke with Fox 13 for the May 12 story, "FOX 13 Investigates: Son felt powerless to stop elderly father's gifts to caregiver."
• Elder Consumer Protection Fellow Brandon Robinson spoke with MoneyGeek for the article, "The Servicemember's Guide to Military Scams: How Veterans, Active Duty Members and Military Families Can Avoid Fraud."
• The opening public reception for the American Painting and the Florida School of Art, was included in the Daytona Beach News-Journal, May 12, "3 Things to Do Friday."
• "'Lagoon Czar' nominees are rolling in," in Stuart News, May 15, mentions Clay Henderson, executive director of Stetson's Institute for Water and Environmental Resilience.
• "Adrenaline and academia – Leadership Orlando explores Volusia County," on News 96.5 on May 18, discussed a recent class tour of Stetson, noting the beautiful campus and esteemed academics.
• "TV critic to address local FPRA chapter" in Daytona Beach News-Journal, May 13, and Orlando Sentinel, May 16, promotes alumnus Andy Dehnart's talk to organization. Dehnart is visiting assistant professor of journalism at Stetson.
• The benefit concert presented by Stetson's Concert Choir, Timothy Peter, D.M.A., director, in Alexandria/Mount Vernon, was promoted in Alexandria Gazette Packet, RedBrickTown.com and other outlets, May 13.
• Stetson University Community School Young Singers Concert, was included in the calendar events in the WestVolusiaBeacononline calendar events, and in the May 13 Orlando Sentinel.
• Stetson University was mentioned in "Satellite Camps," in The Patriot-News, May 12.
Alumni in the News:
• "UF business school director to step down, continue focus on leadership and ethics education," posted by Business Report of North Central Florida, May 17, commemorates Stetson 1991 alumnus Brian Ray, Ph.D.
• Alumna Alexandria Hill, finance graduate, was interviewed on First Coast News at 11, WJXX-TV, as a successful millennial.
• According to the May 13 Tampa Bay Newswire, Law alumna Rachel B. Goodman graduated from Tampa Connection, a program that helps guide executives into key leadership roles while helping meet Tampa's growing social, health and education needs.
• The May 11 Tampa Bay Newswire reports that Law alumna Michele Leo Hintson spoke on "What is Covered:  Potential Avenues of Recovery By the Surety Against the CGL Policy" at a continuing education seminar hosted by U.S. Specialty Insurance Company.
• Law alumnus Anthony Velardi wrote the May 18 Ledger article, "THE LAW: Protect yourself from radon."
• Alumnus Dr. Ron Crews, executive director for Chaplain Alliance for Religious Liberty, will speak at United Churches memorial service, as reported in Public Opinion, May 13.