Creating a Dynamic Environment for Research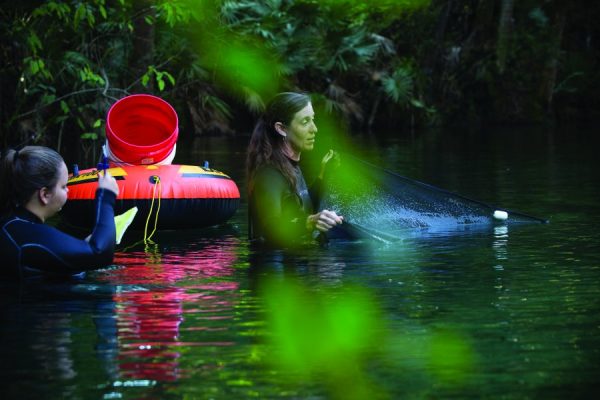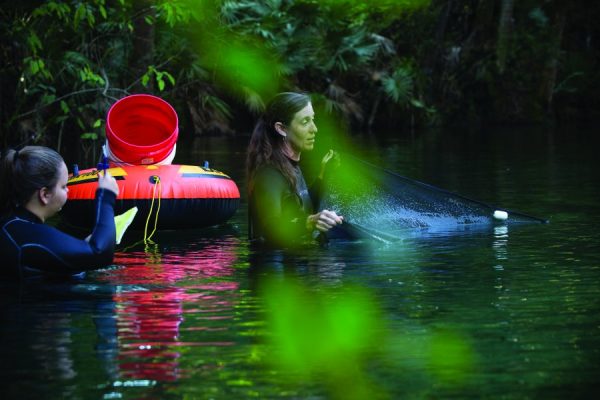 Terry Farrell, Ph.D., professor of biology at Stetson University, noticed something unusual at a science conference in South Carolina. John Massey, a Stetson sophomore, presented his research there. But that's not the unusual part.
After the student's presentation, Farrell saw Massey talking with a professor from another university.
"That professor was asking for John's advice about the best software package to use for his own data analysis," Farrell recalls. "You are a great research mentor when your sophomore students are advising Ph.D.s."
Massey is a student of Alicia Slater, Ph.D., associate professor of biology at Stetson. Slater has an interesting approach to involving her first-year students in her research, an uncommon practice at any university. She paired her first-year students with more experienced ones in her lab. In this way, they learn early on what it means to be a research scientist. They take advantage of this time of wonder.
Like many other Stetson professors, Slater shows her students how a research scientist approaches problems and develops solutions.
Incidents like these are common at Stetson. They take place across the curriculum and across the university in a multitude of ways. Teacher-scholars at Stetson create a dynamic learning environment for all. By keeping sharp in their areas of expertise and collaborating with students to do so, they inspire and mentor their students into the future.
As they combine the enormous responsibilities of being a great teacher while at the same time being exceptional at research and creative activity, Stetson teacher-scholars contribute mightily to the advancement of our society.
How Stetson does this is a model for small liberal arts universities, which have come under fire for not offering a practical education for careers. But because of the skills they learn through scholarly activity and research collaboration with faculty, Stetson graduates hit the ground running in whatever profession they choose.
What follows is one ways this happens:
AN ENVIRONMENTAL PRIORITY
Two heads bob in the water. What are they up to? It's easy. They're looking for invasive catfish that have taken over Blue Spring and are troubling the manatees, those lumbering creatures that look something like a walrus without the tusks. The manatees have returned to Blue Spring since primordial times seeking a peaceful slumber until spring. But there's no rest with catfish nipping at them.
That's where biology Professors Melissa Gibbs, Ph.D., and Kirsten Work, Ph.D., and their students come in. Through their research, Gibbs and Work actually watched the invasion of the armored catfish occur. Their students get excited about the research, too.
"I enjoy watching their 'aha' moments," Gibbs says. "I see them translate science internships into jobs and see them present their graduate thesis work at national meetings."
For example, biology and environmental sciences double major Keneil Codner has worked with Gibbs and Work to research the invasive armored catfish. Every month, Gibbs, Work, Codner and other students snorkel up the spring run and remove as many catfish as they can find. Then they bring them back to the lab, where they explore several questions about the catfish's reproduction and development.
Moreover, Gibbs believes that being an excellent teacher and scholar go hand in hand.
"I don't think you can be an excellent teacher without also being a scholar," she asserts. "We are trying to teach our students how to be scientists, so we need to be up to date in our field."
"I can't imagine being a professor without also maintaining a research program," Gibbs adds. "I love research and love teaching, but I don't want to just do one without the other. For me, they complement one another."
Gibbs notes that another benefit is that she and other faculty build strong relationships with their students.
Executive Vice President for Academic Affairs and Provost Beth Paul, Ph.D., agrees. "Teacher-scholar synergy is heightened at Stetson, given our emphasis on close student- faculty alliances and collaborative learning approaches," says Paul. Student closeness with their faculty mentors "provides them with a powerful apprenticeship that helps them learn in transformative ways."
Gibbs also points out why Stetson has begun a major commitment to water studies, a centerpiece of its environmental studies program. "You look at a map of Florida, and there is water all over the place," she says. "When you look at institutions that study water, it is usually marine-related. We need fresh water for the health of the wildlife and the environment, so having a healthy ecosystem is not only important for a biologist, it is important for everyone."
Research on armored catfish, then, is only one of many Stetson water initiatives. The university recently hired Wendy Anderson, professor and chair of Environmental Science and Studies, who is also helping lead the launch of the Institute for Water and Environmental Resilience. She knows that unless Florida takes significant steps to conserve, reuse and look for alternative sources, the state's freshwater supplies will not meet the needs of its ever-growing population.
Anderson also knows that every drop of fresh water taken out of the Floridan Aquifer only draws more salt water into it.
"Stetson is in a perfect position geographically to provide leadership on Central Florida's freshwater issues and other pressing local, regional and global environmental matters," Anderson explains. "Stetson is uniquely situated in DeLand, a city along the middle stretch of the St. Johns River. The university's faculty and students can easily access dozens of relevant sites to investigate research questions."
Moreover, the university is developing a Water Resources Education Center at Lake Beresford that will be a site for faculty and student research, a place where K-12 students learn about fresh water and wetlands, and a spot for the general public to learn about Florida's freshwater systems.
By Bill Noblitt
Note: This is an excerpt of an article that originally appeared in the Spring 2016 issue of Stetson University Magazine. To read the entire article, go to Page 16 here. The next issue of the magazine is scheduled for publication this fall.