Stetson University in the News, June 17-23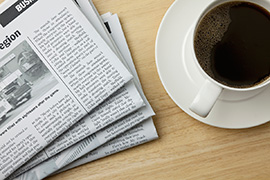 Top Stories
William A. Andrews, Ph.D., associate professor of management and chair of International Business, and K. C. Ma, Ph.D., professor of finance and Roland George chair of applied investments, were quoted in the article "Brits in Central Florida weigh pros and cons of 'Brexit,'" in Orlando Sentinel, June 22.
The construction of Stetson's new aquatic center was listed as one of the reasons why West Volusia tourism is growing in the article "West Volusia tourism chief Renee Tallevast to retire" in The Daytona Beach News-Journal, June 20.
Greg McCann, J.D., senior professor of family enterprise, was quoted in the article "After 80 years in business, owners of Hayward Brown Inc. weigh options," in The Daytona Beach News-Journal, June 18.
Law Professor Ciara Torres-Spelliscy is part of a Federal Election Commission forum on corporate political spending and foreign influence on June 22, according to the AP DC Daybook and Bloomberg BNA. The June 21 New York Times article, "Trump's Self-Funding Includes Payments to Family and His Companies," quotes Professor Torres-Spelliscy (No Stetson mention).
On June 19, Law Professor Peter Lake is quoted in the article in the Chronicle of Higher Education article, "2 High-Profile Cases Offer Glimpse of Future Trends in Campus Assaults."
On June 20, Law Professor Ellen Podgor wrote for the White Collar Crime Prof Blog on the RJR Nabisco v. European Community case and for the White Collar Crime Prof Blog on the Taylor v. U.S. case. On June 20, Professor Ellen Podgor's commentary on the RJR Nabisco, Inc. v. The European Community case was picked up by SCOTUSblog.
More News
Stetson student Alexis Simko, education major, had an article "Growing together: Community School students mentor Grace Place kids at summer camp" written about her volunteer work featured in Collier Citizen, June 22.
Stetson's "American Painting & Florida School of Art" exhibit in the Hand Art Center was listed by Orlando Sentinel as a place to visit in their article "Freebie Friday," June 17.
Incoming Stetson student Sara Tomarelli was highlighted in the article "5 Things To Do With Dad" because she performed a benefit for the Daytona Playhouse, in The Daytona Beach News-Journal, June 16.
A popular restaurant for the Stetson community, Brickhouse, is getting a makeover which includes a new menu and bar, according to BioSpace, Daily Herald and 24 other outlets on June 22.
According to the Largo/ Mid- Pinellas Democratic club website, Law Associate Dean Michael Allen is the speaker of the month for June.
Alumni News
Rev. Christopher Girata was voted unanimously by the vestry at Saint Michael and All Angels Episcopal Church to become their eighth rector in the article "St. Michaels Names New Rector" in Park Cities People and Preston Hollow People on June 17.
Gabrielle O'Boyle recently earned professional public relations accreditation, and received the designation of Accredited in Public Relations, according to Business Observer and pr.com, June 17.
Randy Ware was featured in the article "Clearwater company WestCMR buys unwanted surgical supplies and sells them around the world," in The Tampa Bay Times, June 20, as the owner of a company that is making bold business moves.
Edwin P. Morrow and Christopher J. Denicolo are guest speakers for an upcoming business webinar listed in the article "Estate and Trust Planning for IRA and Pension Account Assets" by Bloomberg BNA.
Norbert Dean, Chief Procurement Officer of SeaWorld Parks & Entertainment, was recommended to be voted into the Institute for Supply Management because he comes from "diverse economic sectors and backgrounds" and he can "bring unique qualifications and skills to lead our Institute." The voting information is available on their site.
Captain Tanya Mayes, honored for spearheading a legal clinic for Veterans, received a LAMP Distinguished Service Award. The story ran in multiple news sites including the June 20 BizWireExpress.
Walter Arevalo is quoted in Cronica Desde Washington blog "Dialogo Maduro-Kerry: Una excelente distraccion politica" (A dialogue between Maduro-Kerry: An excellent political distraction).
According to June 21 news that ran in multiple outlets, Katherine Hurst Miller is the new president of the Florida Bar Young Lawyers Division. Also, Stetson honored alumni and friends at the Florida Bar Annual Meeting in Orlando.
According to the June 23 PRLog, Kayla Richmond was honored by Stetson at the Florida Bar Annual Meeting in Orlando.
According to the June 22 Sun-Sentinel, Sandra Mullgrav Murphy, 51, of Pompano Beach passed away at her home on June 16. She was a member of the Florida Bar since 1992.
According to the June 22 BizWire Express, Law alumni were among "25 Henderson Franklin Attorneys Recognized by 2016 Florida Super Lawyers® and Rising Stars Magazine."
The June 23 1888PressRelease reports that Medisa Memic is the newest attorney at the law offices of McIntyre Thanasides Bringgold Elliott Grimaldi & Guito, P.A.