New Welcome Center Takes Shape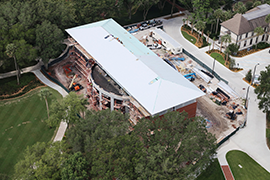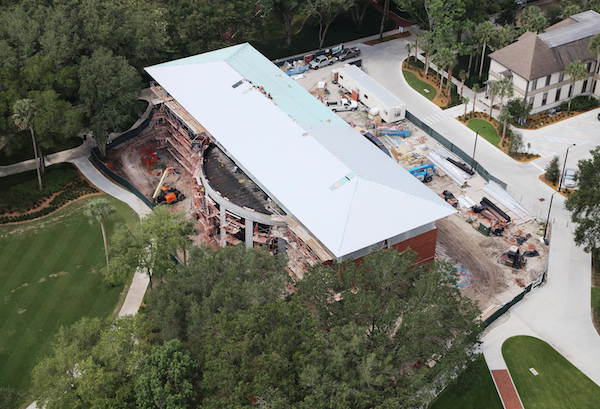 Al Allen is down to counting days. The project first hit his desk in 2011, two years after Stetson University President Wendy B. Libby, Ph.D., took office, when a comprehensive plan for the campus was first adopted. Since then, the Marshall and Vera Lea Rinker Welcome Center has been on his mind.
Allen, Stetson's associate vice president of facilities management, looks back at the past year and all the details of site preparation — ever so minute — flash through his head. To accommodate construction, a print shop had to be removed, as did a road in front of the adjacent Carlton Union Building. Utilities had to be redirected and storm-water chambers replaced. Just for starters.
Last fall, a building pad was put into place, with sand set and compacted, then digging began for the holes that would house foundational columns. In his office, a photo within easy reach shows those first columns.
"It seems like yesterday, but it also seems like forever ago because we don't see the columns anymore," he says with a smile. He pauses and adds, "It's been fun."
Allen can rest a bit easier these days, just a bit, because Stetson's new welcome center — essentially a monumental salute to the university's past, present and future — is taking shape. The three-story, 28,000-square-foot building will be completed by the time students arrive on campus. It will house everything from an alumni gathering area and a one-stop service center for students to a recruitment center for prospective newcomers. An official ribbon-cutting is scheduled for Sept. 24.
Allen's attention has turned to such details as drywall, paint, tile and air conditioning, which soon will begin dehumidifying the indoor environment. He also must decide which trees are selected for landscaping and where they'll be placed. Superior accessibility is another concern. Allen is intent on a sidewalk system that is efficient and effective without the use of railings.
The project has been fast-tracked through a design-build process headed by the Williams Company of Orlando, like Stetson a historical presence in Florida. Allen praises the company's collaborative efforts and expertise. His sense of satisfaction is "very high."
He sighs and offers a wish: "I want people to see a beautiful first impression for Stetson and a wonderful sense of revival for the campus."
The results of his work and his confidence are evidenced by a structure that Libby can barely wait to celebrate.
"You're always nervous about architectural integrity when putting a new building in the middle of a historic and traditional campus," Libby says, noting the vision was a traditional building but also one that looked to the future. "While I'd be kidding if I said I haven't had a few days where I've had butterflies in my stomach, in actuality I'm loving the way this building looks. It has all of the strength and power of our university, but it has all the motion and breaking-of-the-mold that characterizes how we have to be to go forward."
By Michael Candelaria