Stetson University in the News, June 3-9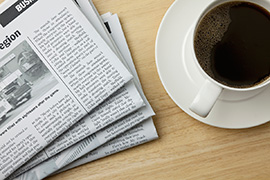 Top Stories
Other News
News of Stetson law school cancelling classes due to Tropical Storm Colin ran in local media including WFLA, Bay News 9, and others.
Stetson University, among other Volusia county colleges, were listed as the reason why retail growth is expected in the future in the article "Volusia poised for boom in retail projects" posted by the Daytona Beach News-Journal, June 3.
Stetson supports its students in the Roland George Investments Program by donating to their recent drone project, featured in the article "Stetson invests $100K in student-generated 'Drones 9' stock index," posted by the Daytona Beach News-Journal on June 5.
Jane Christeson, B.M., professor of music, was mentioned in the article "Springstead alum taking break from Broadway, returning home for 'Carousel'" Tampa Bay Times, June 6, as a performer in Carousel as Nettie Fowler.
Alan Green, Ph.D., assistant professor and chair of economics and director of africana studies, has been awarded a grant which will allow him to transport his students on virtual field trips anywhere across the globe. The details were published in the article "Stetson students to tour globe through virtual reality," posted by the Daytona Beach News-Journal on June 8.
Winona Brackett, Stetson student, has recently been awarded the R.L. Gillette Scholarship, a $1,000 fund given to two women enrolled in a four-year undergraduate program in literature or music. The news was posted on the Access World News website.
Alumni News
Jennifer Englert is highlighted as the 2016–2017 Director of the National Association of Women Business Owners on their website.
Lieutenant Colonel Sharlene M. Pigg, commander of the Army's Jacksonville Recruiting Battalion, was honored by Congressman Ander Crenshaw, Member of the House Appropriations Subcommittee on Defense for her 20-years of service. Read the press release on Ander Crenshaw's website, which was released June 8.
According to Tampa Bay Newswire, Law alumnus Peter A. Rivellini, a partner with the law firm of Johnson, Pope, Bokor, Ruppel & Burns, LLP, has been named president of Leadership Pinellas.
According to the June 8 St. Louis Business Journal, Law alumnus Mike Andrews is the new VP and general counsel for Enterprise Holdings in St. Louis.
LivePR reports that Law alumnus David Bulluck is celebrating 10 years with Bullock Law Group.
Law alumnus Aydin Bonabi is founder of Jurbid legal services company, according to the June 8 Law Sites article, "New Site Launches for Consumers to Bid on Legal Services."
According to the June 6 Tampa Bay Newswire, Law alumna Michele Leo Hintson spoke at the Pasco Economic Development Council's BizGrow 2.0 Conference at the Pasco-Hernando State College on May 12 on "Reading the Fine Print: Contractual Terms That Effect Your Business."
The June 6 Pensacola News Journal is reporting that Law alumnus Aaron Watson is opening his own law firm and expecting twin babies.
Law alumnus Raymond Gonzalez is joining Harrington Law Group according to WFMJ and multiple media outlets via the newswire.
The June 3 PRWeb reports that Law alumna Nicole Davis has joined the Ruth Law team.
The Tampa Bay Business Journal reports that Law alumna Rhea Law has won the 2016 Dottie Berger MacKinnon Woman of Influence Award presented by the Greater Tampa Chamber of Commerce.