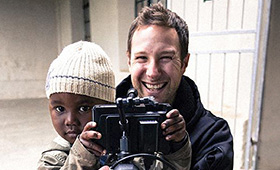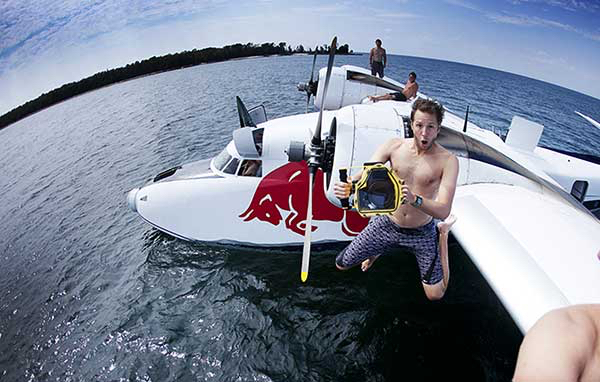 Matt Katsolis (Digital Arts, 2001) has been around the film studio a time or two in his career, and seemingly always doing something different.
Katsolis is an award-winning director and cinematographer who created inventive and diverse films before moving to commercials, television and branded content. At each stop, he has excelled.
First, it was developing story-driven cinematic film and television in the action-sports realm, which led him into feature-length documentaries. Shortly thereafter, he was awarded the Grand Prize of Panasonic's International Film Competition for "Moving On" and later won the 45th Annual Dove Awards Movie of the Year for "Fading West." Numerous other film festival awards and nominations for his documentaries followed.
Then Katsolis took on the world of commercials and branded content, working as both director and director of photography on national advertising and branding campaigns for big-name companies such as Nike, Universal and Red Bull Media House, as well as for numerous ad agencies and mainstream artists.
Also founder of Interpret Studios, the resident of Jacksonville, Fla., has continually displayed the uncommon and uncanny ability to shift from one genre to another, all the while commanding attention and winning recognition. (His wife, Dr. Jennifer Katsolis (osteopathic medicine), also is a 2001 Stetson graduate.)
In the following conversation with Stetson Today, Katsolis offers insight.
You were able to move in and out of different genres. What was the key?
"The secret is to take the work seriously but not take yourself seriously. Many of my clients work with very talented companies, much better than mine. Having said that, a lot of those companies have lost some of the passion for what they do and it became a job. The second that happens, it raises a red flag. If you aren't enjoying what you are doing, don't do it anymore or find out why it happened. It doesn't matter what situation we are faced with capturing, we treat the story and the client as the most important people on earth, because they are enabling us to do what we love."
What's your view on "getting an edge" out in the real world? (Education helps but what else?)
"Half the secret to success is showing up. You are as only good as your word. My father always instilled that in me. If you tell someone you'll do something, follow through and do it, despite how difficult it may be. A good leader shouldn't be above any task. One moment, they could be directing the talent, then look at the monitor and see trash in the background and run out and pick it up without screaming at a production assistant to do it. Leadership is exactly like film – show, don't tell. People are smart and very observant, so if you lead by example in whatever role you have, it won't go unnoticed."
Ever been knocked down and needed to get back up?
"Numerous times each year challenges present themselves. Some require much more effort to overcome, but those are the ones that lead to building character. I've been robbed of all my production gear twice to date, once in South Africa and once in Ecuador. Everything. I was so discouraged in those moments, where everything I had worked years for was stolen, and I dreamt about how easy it would be to quit and go get a job. But I couldn't live with giving up. Oswald Chambers once wrote, 'Crisis reveals character.' There is so much truth in that. It's quite easy to stay positive and creative when things are going smooth, but when you are faced with the tough times, those become the pivotal moments that define how you react under pressure.
"When you make a mistake, own up to it quickly and work toward a solution. Laugh a lot, mostly at yourself. Attitude is one of the biggest factors on set. When a client is having fun, the crew has fun and the results tend to be much better.
"When everyone collaborates through the hardest times, the talent and client can see the difference without a word needing to be spoken. It translates its way to the screen and that's when magical moments get captured. It's not something we put on paper or into our marketing, it just happens during the production process and when it comes to their next project they bring us back onboard."
Where do you draw your inspiration and motivation?
"My inspiration comes from being immersed in creation, traveling, immersing myself in new cultures, getting far outside of my comfort zone and trying not to lose my sense of wonder. Being on remote beaches, deep in the mountains or isolated in villages, I can't even find on a map remind me how small I am and it's not about me. The people I have met in my journeys across the world remind me we are all human. No matter how different people may seem on the surface, we all have hopes, fears and dreams, and I am inspired by finding common threads in uncommon places. I am so blessed to be surrounded by close friends, family and professionals who share the same passion and ethos that it constantly motivates me to keep telling inspiring stories."
by Michael Candelaria