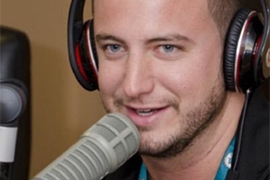 Brandon Kravitz just might be getting a new nickname on the radio in Orlando this fall: the Stetson Guy.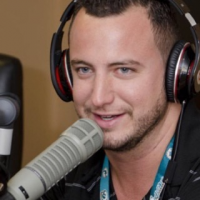 Kravitz, a radio host and producer on FM 969 "The Game" (and 740 AM), will be part of a three-man broadcast team bringing Hatter football to listeners. His broadcast partners are Pete Blais and Luke Mauro, both of whom have experience broadcasting Stetson sports.
Hatter games will air on 96.9 FM and 740 AM, as well as on iHeart Media, when scheduling doesn't conflict with University of Central Florida football games. The first Stetson football game that will be broadcast is vs. Warner on Sept. 10.
Notably, iHeart Media has approximately 250 million listeners. The company's radio stations (including FM 969 "The Game" ) can be heard on AM/FM, HD digital radio, satellite radio, the internet at iHeartRadio.com and on the company's radio station websites, and the iHeartRadio mobile app, among other places.
Weekdays from 3 p.m. to 6 p.m., Kravitz can be heard via 96.9 FM and 740 AM on his regular show, the Sports Rx.
Kravitz caught a few questions during a timeout in his day.
In terms of broadcasting, why the interest in Stetson football?
The more exposure we can bring to growing programs that are heading in the right direction, which is what we believe about Stetson, the better. And we're excited. Stetson has great appeal. It's a program that is trending in the right direction. Any time you can get your foot in the door in Florida, where college football is so huge, that's an absolute net positive for us. And that's what we see in Stetson.
Regarding play on the football field, do you see potential?
Absolutely. There are plenty of reputable FBS (Football Subdivision) programs that do really well in their particular market. I'll just go to the top – North Dakota State has been dominant in the FBS. You can have success, even if it's not the highest level of college football. If Stetson can get in that mix, they can carve out a niche. There are so many kids looking for a place to play college football. Sometimes really good players slip through the cracks. All-American Donald Payne is ranked 11th among defensive backs on Mel Kiper's "big board" (ESPN). That can happen.
Look how young the program is. Imagine 10 years from now you have two or three players like that. The campus is gorgeous; the area is beautiful; it's a good place to play.
What kind of broadcasting style are you planning?
When you have a three-man booth – and I come from a talk-radio background – the broadcast is like having a conversation where there's a football game going on that's at the forefront of your conversation. You'll feel like you are hanging out with us and watching a football game. That would probably be the best way to describe it: buddies watching a football game.
You've been on the radio for about six years. Stetson has been back in college football for five years. Now you're together. Coincidence or not?
Perhaps we are kindred spirits. Maybe we're soul mates. I haven't thought about that. Maybe this was all meant to be!
By Michael Candelaria