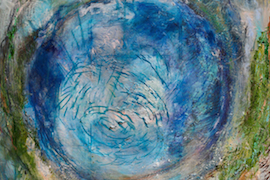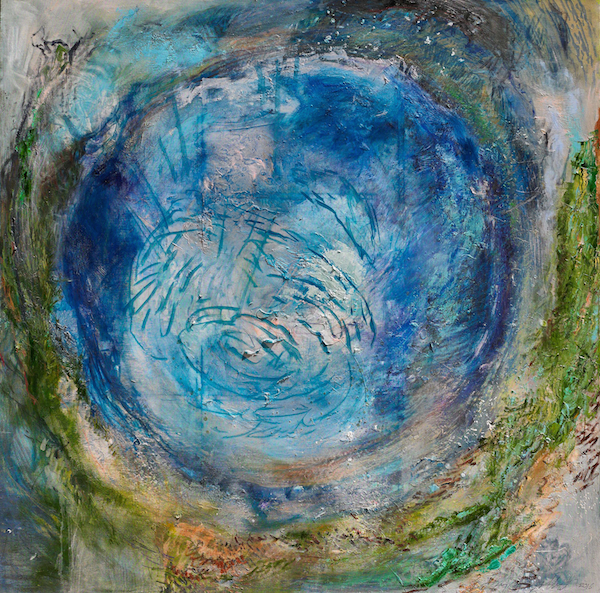 When Gainesville artist Margaret Ross Tolbert exhibited some of her paintings of Florida's springs several years ago – numerous works in which the water line consistently was portrayed four-fifths up the canvases – one patron became disturbed.
"One lady said, 'I have to get out of here – I'm afraid of water,'" Tolbert recalled. "I thought, 'Well that's it then. I did it!'"
What Tolbert did was successfully convey the awe-inspiring beauty, surreal nature and primitive essence she had witnessed in springs ever since she had moved from her native Virginia to the Sunshine State many years ago.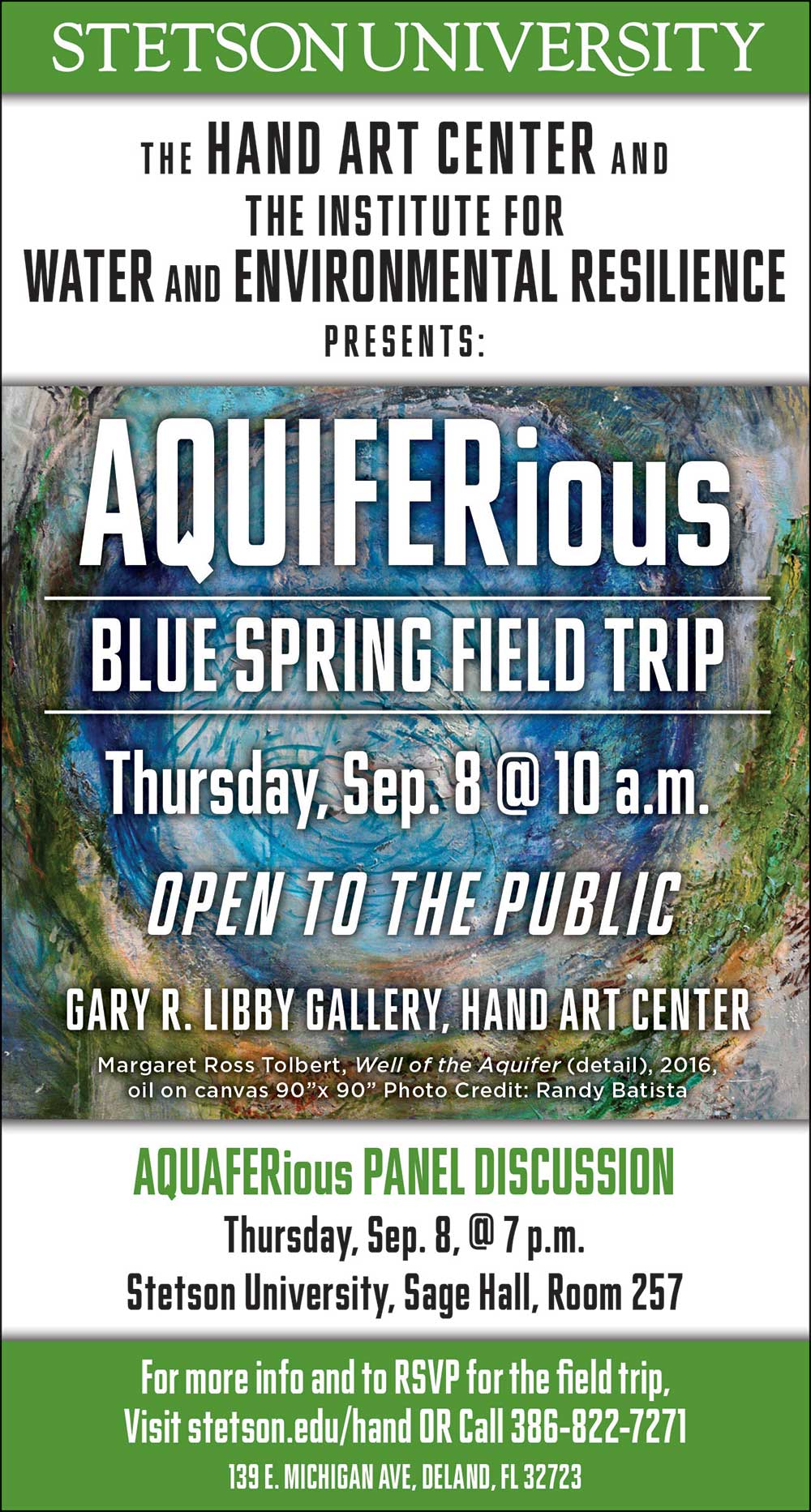 The mystic beauty of the springs – as well as some of the science, ecology and everyday recreational joys spawned by them – are captured in AQUIFERious, a multi-artist, multimedia exhibit. The show runs through Oct. 22 in the Gary R. Libby Gallery at the Hand Art Center on the Stetson University campus.
AQUIFERious, which was curated by Tolbert, includes a number of her gigantic oil paintings (more than seven feet by seven feet) as well as underwater photography by Jill Heinerth, Mark Long and Tom Morris, a looping video by Heinerth and springs cartography by Eric Hutcheson and Georgia Shemitz.
Tolbert first peered into Florida's springs as a 20-something in the early 1980s, when she went snorkeling for the first time at Ginnie Springs in the town of High Springs.
"It seemed like another world," said Tolbert, who finds springs more exotic than Turkey, Azerbaijan, Oman and other locales she has visited in pursuit of her muse. Indeed, her efforts to describe the springs' otherworldliness include references to Xanadu in the Samuel Taylor Coleridge poem "Kubla Khan," and even "Planet of the Apes."
Tolbert's first snorkeling adventure revealed "all these colors, purple and the whole rainbow spectrum," she said. "It's like being in a giant crystal or prism. Springs are one of the few places in the world where you can be suspended in a different element. It makes you question how reality is. It's quite a mystical experience for most people. I tried to learn all I could about the science of it, but science can't explain it all."
And so Tolbert picked up her paint brush and began to cast Florida's numerous springs onto canvas. Those canvases grew ever larger and larger "so you could feel like you could enter that space. It's the difference between looking at and being in."
Tolbert's fascination led to the 2010 publication of "AQUIFERious," a book that included her art and writings as well as photographs, artistic cave maps, essays and scientific articles from 13 other contributors. The book in turn led to the creation of the exhibition.
By Rick de Yampert
AQUIFERious runs through Oct. 22 in the Gary R. Libby Gallery at the Hand Art Center, 139 E. Michigan Ave., DeLand. Designated parking is available in the lots at East Arizona Avenue. Hours and information: 386-822-7270. Admission is free and open to the public.
A panel discussion with contributing artists will be at 7 p.m. Sept. 8 in Sage Hall, Room 257.
An artist talk with Margaret Ross Tolbert will be at 7 p.m. Sept. 27 in the duPont-Ball Library, Room 25L.