New Stetson Safety App Ready for iPhone and Android Users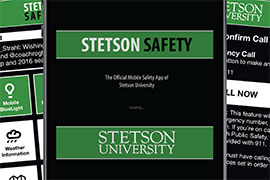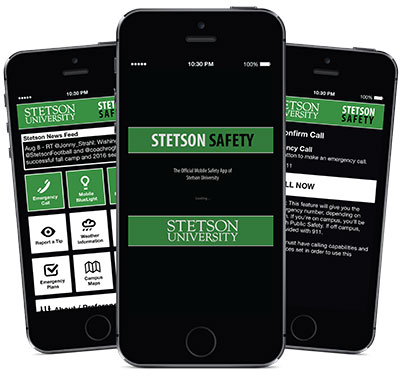 Stetson Public Safety has released a new app designed to help ensure the safety of students, faculty, staff and visitors on campus, as well as the parents of students.
Appropriately named the Stetson Safety App, it is free to download on smartphones.
With Stetson Safety app, which is available on both Google Play and the Apple App (at 12mb), users can:
report incidents or crime-prevention tips on and near campus, including via email, photos or video;
get geo-location in real time;
have a friend monitor your trip through Friend Walk;
use a mobile blue light;
receive weather information, emergency notifications and campus news;
obtain campus maps and emergency plans;
access a personal safety toolbox; and more.
Using the mobile blue light, for example, users on or near campus can call for security/police and send their GPS location. The personal safety toolbox enables users to talk with security/police, operate a flashlight and share the app, among several other tasks.
Parents have the ability to stay informed from across the United States about possible emergencies and incidents on campus, enhancing their awareness of activities that could impact their son or daughter.
The easy-to-use app puts all campus-safety resources in one place and provides assistance right from a smartphone, according to Bob Matusick, director of Public Safety and emergency management coordinator.
"There's no reason not to download this app. It's certainly there to assist everybody on this campus, no matter what their status is on campus. The information is timely and immediate," says Matusick, also noting the app is expandable, allowing more features to be continually added.
For more information about campus safety or the Stetson Safety app, visit the Stetson University Office of Public Safety.