Sen. Nyong'o Urges Students to Find Their Calling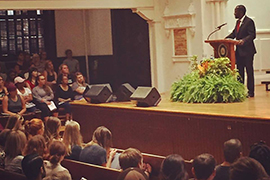 Kenyan Senator Peter Anyang' Nyong'o decided to fight for social justice as a young boy growing up in Africa.
He recalled being sent to a store at age 8 to buy a special kind of bread. It was the 1950s and the shop owner was shocked to see an African boy buying the bread. She took her lit cigarette butt and pushed it into his forehead, burning him.
"That incident stayed with me all my life – the discrimination," said Nyong'o, the keynote speaker at Stetson's annual Values Day on Tuesday. "That's why I became so concerned about justice and fairness in society."
Nyong'o urged Stetson students to find their calling in life and develop good leadership skills and values, allowing them to make a positive impact on society. A university professor, he has been involved in the struggle against authoritarian rule in Kenya throughout his academic career and was among the leaders who made a breakthrough into multiple party politics in 1992.
"You must have some expectations of yourself – something you are going to do or to become. Set your goals high," he told a crowd gathered in Lee Chapel in Elizabeth Hall. "Your calling in life – that calling may not be easy to discern at the moment, but you need to believe it is there."
Each year, Stetson organizes speeches, workshops and other events on Values Day to allow students, faculty and staff to focus on the core values of personal growth, intellectual development and global citizenship. Classes were canceled and offices were closed so the Stetson community could participate in events throughout the day.
"Today we are many voices, but we are one Stetson," said Stetson University President Wendy B. Libby, Ph.D., who introduced Nyong'o at Tuesday's event.
The Stetson Men and Concert Choir, along with student percussionists from the School of Music, performed a Kenyan folk song in honor of Nyong'o. The son of Nyong'o, Peter Jr., a senior at Stetson, sang with the choir in Swahili.
Nathan Bodger, a sophomore in religious studies, volunteered Tuesday morning at the United Way and helped prepare mailings for the charity. He holds dual citizenship in the United States and England, and said he wanted to emphasize global citizenship on Values Day.
"I think that's very important, especially in a multi-cultural world," said Bodger, a member of the Values Day planning committee.
Johanna McMillan, a senior from New Jersey studying pre-med and Spanish, was learning about opportunities to volunteer at the Global Citizenship Fair Tuesday outside the Carlton Union Building.
"One of the things that I really like from this site here is the foster care, where you can go and mentor children," she said. "That's something I'm really interested in."
– Cory Lancaster