Thrust into the Spotlight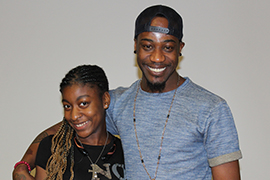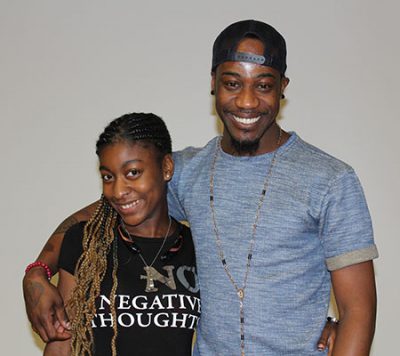 Demetrice Naulings went to a bar with friends on the night of June 12 and was thrust into the national spotlight when he survived the Pulse nightclub shootings in Orlando and his best friend became one of the 49 people killed.
 "Me and two of my best friends went to a nightclub like we always did, not thinking that our lives would change," said Naulings. "We were actually the last people to walk into that nightclub that night."
 Naulings talked about the ordeal during a recent panel discussion, entitled "From Tragedy to Advocacy," in the Stetson Room at Stetson University. The panel explored how ordinary people become swept into the headlines and often are transformed into extraordinary activists.
 "Movements start with a crisis, and the people involved are often placemarks in history," said Michael McFarland, PhD., Stetson associate professor of Communication and Media Studies, who helped organize the panel.
 Co-sponsored by the Communication and Media Studies Department, the Center for Community Engagement and the Cross Cultural Center, the event on Sept. 14 was mostly organized by Ryan Julison, '95, whose public relations work with attorneys puts him in contact with families caught up in high-profile cases.
 "All these people have been through very difficult situations, but not only did they do the right thing, they affect change in the world," said Julison.
 Naulings was one of the first survivors to speak out after the Pulse mass shootings in June, when a gunman opened fire inside the popular gay nightclub in Orlando. Naulings said he continues to work through his grief by talking about his best friend, Eddie Justice, who was murdered that night.
 "He always used to tell me, 'You talk so much.' So, I have to be his voice and continue to talk about these 49 people who lost their lives that night," he said.
 For Jane Clementi, the headlines never conveyed the truth about what happened to her son, 18-year-old Tyler.
 "All Tyler was known for was the headline, 'Rutgers University freshman jumps to his death,' and that was all, from his worst decision," she said. "We want to share who Tyler was."
 Her story begins in September 2010, when her son began his freshman year at Rutgers in New Jersey.
 "He was webcammed in a live sexual encounter with another man, and his roommate went about inviting all of his friends to watch. [Tyler's] reality became twisted, and he became very isolated," his mother said.
 On Sept. 22, 2010, he ended his own life.
 "Though my husband and I can't go back to change Tyler's actions, we've started the Tyler Clementi Foundation to prevent all online and offline bullying in schools, workplaces and in faith communities," she said. "It's been a long journey."
 On Thursday, they marked the sixth anniversary of his death.
 Clementi said she struggled with anger for many years before reaching a place of forgiveness and didn't speak publically about Tyler for 15 months.
 "I had to work through forgiveness on all levels — for myself, for Tyler and for God," she said. "Grief has held me for a long time."
 Media coverage about her son sparked a national conversation on bullying. That led to the passage of the New Jersey HIB Law (Harassment, Intimation and Bullying) in 2010, based on Tyler's story.
 For Pamela and Robert Champion, it's been a struggle to share with the media exactly who their son, Robert Champion, Jr., was. The Champions told the panel audience in the Stetson Room that he was much like them — an ambitious and passionate college student.
 In November of 2011, drum major Robert, Jr., was killed during a hazing ritual involving the Florida Agricultural and Mechanical University (FAMU) marching band as FAMU faced Bethune-Cookman University in the annual Florida Classic football game in Orlando.
 "His dream was to become a music teacher," said Mr. Champion. "What I got was a death certificate."
 "In November, it will be five years, and I still look at his phone," Mrs. Champion said.
 The Champions, both through their foundation, Be A Champion, and working with the U.S. Department of Education, have advocated against university hazing and pushed for accountability in their son's death.
 "We had a message to send to let people know that hazing is a violent crime. We went to every sentencing, every trial. We couldn't not go," said Mrs. Champion.
 Hazing was described as a "tradition" in FAMU's nationally renowned marching band. But Mr. Champion offered this important sentiment: "Don't let a tradition end your dream."
Veronica Faison