Stetson Rallies For 3-2 Win Over Bethune-Cookman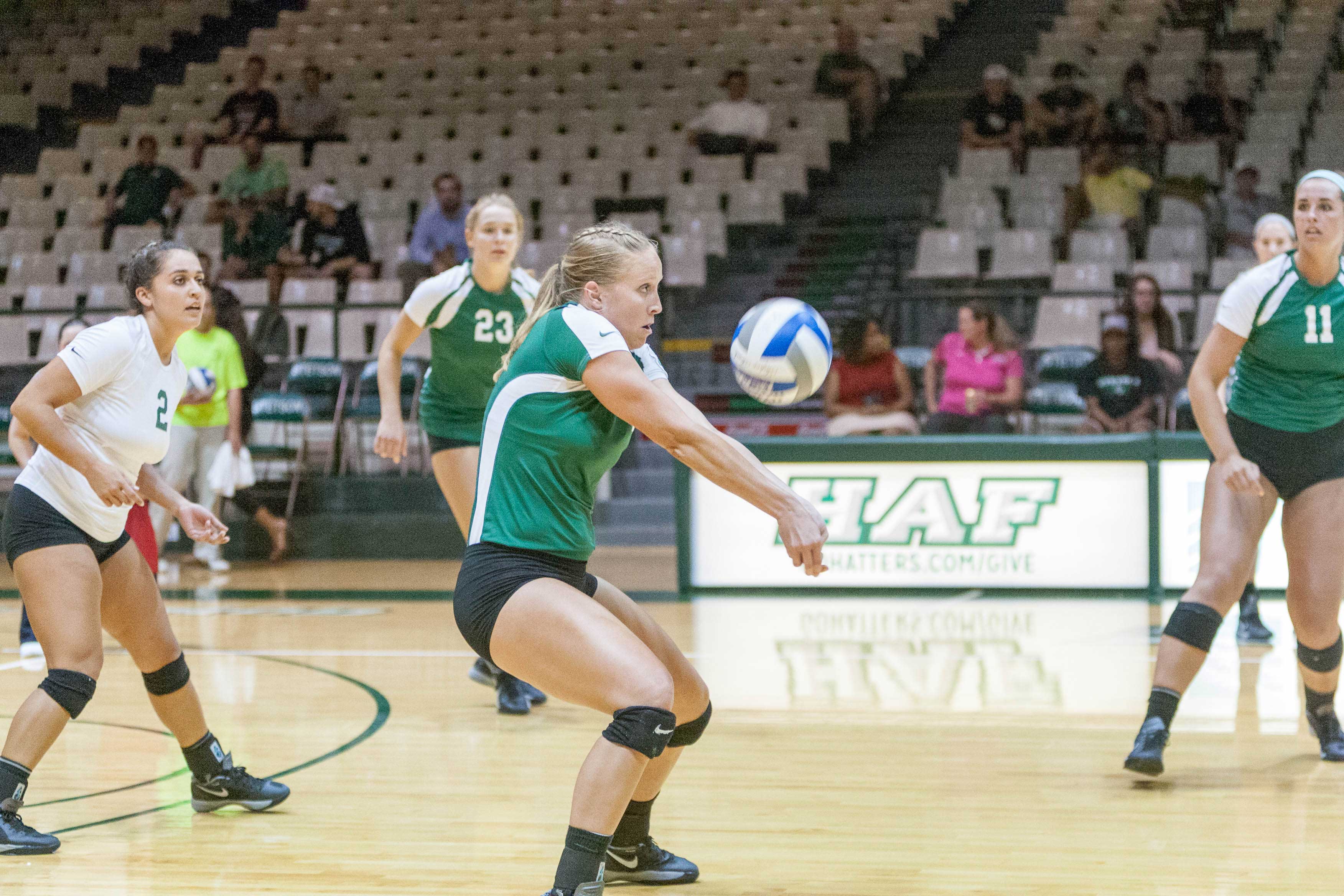 After falling behind 1-0 and 2-1 to cross-county rival Bethune-Cookman, Stetson rallied for a dramatic 3-2 victory over the visiting Wildcats at the Edmunds Center.
Stetson (3-12) took the decisive set 15-9 for their first five-set win of the year. The Hatters hit a combined .317 over the final two sets, committing just two errors on 63 swings.
"Our attacking was really good … in the fourth and fifth sets," Stetson head coach Kristina Hernandez said. "You could kind of feel the momentum going, and our offense was starting to gel. All of our hitters were involved in the offense. I am happy that we closed it out and finished with a good five-set win."
Freshman Eva Deisa led a strong offensive attack with a career-high 20 kills, including seven in the final two sets.  Senior McKenna Foster highlighted the defensive side with a career-high 27 digs. She also added 10 kills on offense.
"Everything was working really well together I think for the first time this season," Foster said. "It was really huge to have that going into conference this weekend."
Madison Akins, Olivia Duval also recorded 10 kills apiece, while Shelby Connors finished with nine kills and nine blocks, including the 250th block of her career.
Joining Foster with double-digit digs were Deisa with 15 and Marissa Salazar with 13. Roxy Lake collected 34 assists and Karmen Reivik dished out 22 helpers.
J'Nai Higgins led B-CU (1-12) with 26 assists and 24 digs.
In a tightly fought match that featured 33 ties, the Wildcats took the first set 25-20 and the third set 25-23.  The Hatters won set 2 25-23 and set 4 25-17.
The Hatters used a 6-0 run midway through the fifth set to take command.
"Obviously we have been struggling to finish sets, so it is almost like a little weight off of our shoulders," Hernandez said.  "Hopefully this gives us some confidence going into Saturday."
Stetson will open ASUN play at 7 p.m. Saturday at Florida Gulf Coast.