Collins Named NSCAA Player of the Week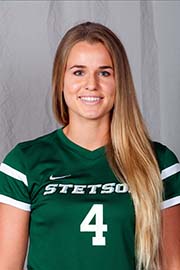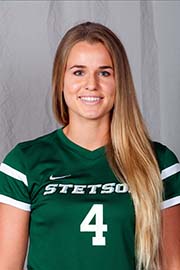 Stetson's Sarah Collins added another honor to her resume Tuesday when she was named NCAA Division I Women's Player of the Week by the National Soccer Coaches Association of America.
Collins, who Monday was named Atlantic Sun Conference Player of the Week, was an honorable mention selection to the TopDrawerSoccer.com Team of the Week.
In two games last weekend, Collins twice provided the game-winning goal. She scored the only goal of the match – in the 108th minute – in a 1-0 win over Campbell on Friday, then scored two goals and added two assists in a 4-0 victory against Wofford two days later.
"What a great and deserved honor for Sarah," Stetson head coach Manoj Khettry said. "Last year we had Cornelia named to the ESPN's Capital One Impact Performers of the Week and thus far this year we have Sarah being named ASUN Player of the Week and the NSCAA Division I Player of the Week; an honor that only one player amongst the 333 Division I women's teams receives weekly. She is helping build our program and the Stetson brand and I'm very happy for her and glad she represents this program."
Collins currently leads the ASUN in goals (7) and points (16), ranking 18th and 24th, respectively, in the latest NCAA statistical report.
Collins is rapidly climbing in the Stetson record books as well. She enters the week tied for fourth with 22 career goals, and is alone in fourth with 54 career points.
The Hatters open ASUN play this weekend when they visit defending champion FGCU, 7 p.m., Friday.