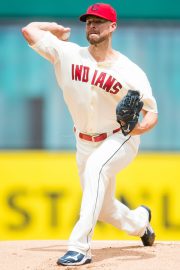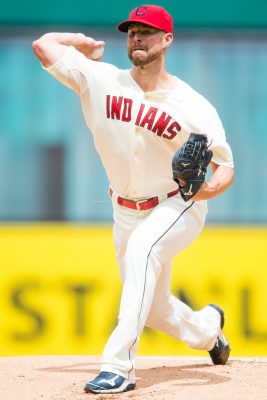 Corey Kluber is about to pitch the biggest game of his life.
Of course, there were times in 2007, when Kluber was a junior at Stetson, that the stage was pretty grand. He was emerging as one of college baseball's finest pitchers. He finished that year with 12 wins and two losses on the way to attracting the attention of Major League Baseball scouts and ultimately getting drafted. By season's end, his mound appearances alone had become something of an event.
Next Tuesday, though, Kluber will help lead the Cleveland Indians into the World Series — as the almost definite starting pitcher for Game 1. The opponent is undetermined, the Los Angeles Dodger or the Chicago Cubs. That's big.
The Indians haven't appeared in the World Series since 1997 and haven't won the title since 1948. If they are to be crowned champions in this seven-game series over the next couple of weeks, Kluber will have much to say about it. This season, the right-hander compiled an 18-9 record, the same ledger enjoyed in 2014 when he named as the American League's best pitcher.
The world will be watching, too. On average last year, more than 15 million people tuned in on TV for the Series. By the way, those fans witnessed another former Hatter, Jacob DeGrom, who pitched for the New York Mets. DeGrom, like Kluber a rising MLB star, last played on campus in 2010.
Call it Stetson significance.
Also call it an underdog story. While pitching in high school in Coppell, Texas, Kluber developed a stress fracture in his elbow that required the insertion of two screws. He went undrafted and was lightly recruited by colleges. He landed at Stetson by virtue of standout performances at a baseball tournament following high school. As the story goes, a Stetson assistant coach was there to look at another player. At no point was Kluber on Stetson's list of prospects until that time.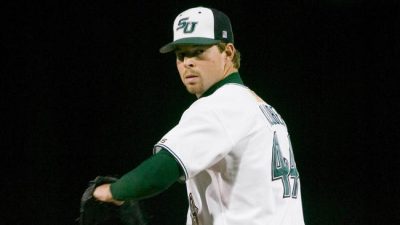 Then Kluber began his Hatter career as a relief pitcher before, with steely focus and uncommon precision, steadily rising up the ranks. A fastball that clocked in the high 80s and low 90s (miles per hour) didn't hurt, either.
Pete Dunn, now entering his 37th and final season as the baseball coach at Stetson, remembers well, beginning with his assistant's surprise assessment of Kluber as the "real deal" all the way to eventual stardom.
"His demeanor is the same," says Dunn. "What you see on TV – the 'Klubot' and all of that – is the same he had on the mound with us. He was very intense internally, but you didn't see that emotion outwardly."
Kluber is affectionately called Klubot in MLB circles. Recently, Indians teammate Jason Kipnis told the New York Post: "In between the white lines, man, that guy is robotic in not only his preparation, not only in his facial expression, but in his routine and how seriously he takes it and how much precision he goes about on where he wants to locate his pitches and how he goes about competing."
Not coincidentally, Kluber continued to improve after leaving Stetson, adding what Dunn calls a "nasty slider" (a fast pitch with sharp, late movement as ball approaches the batter). His velocity is now up to the mid and high 90s.
"He was awfully good when he played for us, especially his junior year. … But he's reached the top of his profession now," Dunn says.
Indians' fans are thrilled. Hatter Nation should be pleased. Dunn is prideful. Two World Series, two Hatters taking center stage.
When the first pitch is thrown by Kluber in this World Series, what will Dunn, a Hall of Fame coach, be feeling?
"Obviously," he answers, "a huge sense of pride."
 -Michael Candelaria
Corey Kluber's Career Highlights
Made his big-league debut Sept. 1, 2011, at age 25 for the Indians after being traded by the San Diego Padres, who had drafted him in the fourth round in 2007.
Began to shine for the Indians in 2013, winning 11 games. He ended the season by going 8-1 in his final 16 starts.
Earned a place on the 2016 American League All-Star team, his first appearance. At the time, he ranked in the top five in strikeouts among American League pitchers.
Garnered the Cy Young Award in 2014 as the American League's best pitcher. He won 18 games and yielded 2.44 runs per nine innings while striking out 269 batters.
Has reserved his best for the present? He is the Indians' best starting pitcher (and perhaps the league's best) and is likely to start Game 1 on Oct. 25 in Cleveland.