Emerging Technologies: A Good Investment?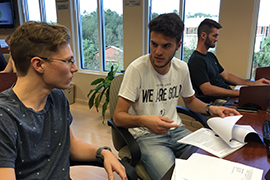 Follow-up note: At the Board of Trustees meeting, Stetson University's Roland George Investments Program added two new indices designed to invest in cloud computing and virtual reality technology.
Stetson University senior Thomas Kaufmann is hunkered down in the Roland George Trading Room, perfecting his pitch for the program's $3.5 million portfolio to invest in emerging technologies, like self-driving cars.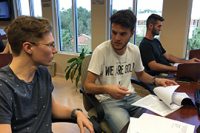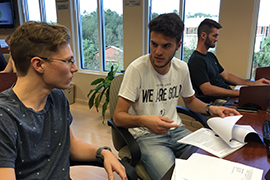 Kaufmann, a student from Brazil, will be one of five students recommending stocks to the Roland George Investments Program's Board of Trustees at a public meeting Monday, Oct. 24, at 5 p.m. The program's stock picks are closely watched inside and outside of Stetson University because they consistently beat market-performance benchmarks.
"The emphasis for this meeting is the emerging technologies, like virtual reality, the cloud and self-driving cars," said K.C. Ma, Ph.D., C.F.A., Director of Stetson's George Investments Institute, and the Roland and Sarah George Chair of Applied Investments for the program.
Ma expects the Board of Trustees – comprised of four students and three faculty members – to approve maybe half of the students' 15 recommendations. That puts pressure on Kaufmann and the other students to make their presentations as strong as possible – "you need to be insightful, original and analytical," Kaufmann says.
He and the other students have been working 12-hour days, staying in the trading lab until 1 a.m. some nights, working through the college's fall break last week and even Hurricane Matthew. For Kaufmann, the trading lab and Dr. Ma elevate Stetson to "one of the best programs in equity fund management in the world."
In 1980, Sarah George offered Stetson an endowment fund in honor of her late husband, Roland, with the condition that students – not professionals – manage the money with guidance. The fund started with nearly $500,000 and has since grown to $3.5 million.
Getting into the program is competitive. About 20 to 25 students are selected each year to work in the trading lab on the third floor of the Lynn Business Center. Large TV screens show the fund's stocks and track their real-time results. Financial news from Bloomberg, Reuters and other financial news outlets streams into the computers and on TV.

When the class starts each semester, students are asked to recommend whether the fund should hold or sell a particular stock in the current portfolio. Kaufmann researched Vestas, a wind-energy company, and recommended the fund hold onto it.
Next, the students are asked to recommend a stock to buy – carefully researching everything possible about the company. Kaufmann researched companies developing self-driving vehicles and will recommend two of them on Monday.
"You have to be able to find something unique that others couldn't find," said Kaufmann, 20, a double major in business administration and finance. "You have to predict something that others couldn't."
That, says Dr. Ma, is the formula for beating market benchmarks. He gave the example of average students, doing a Google search for a piece of information, who would stop after the second page, claiming they couldn't find it.
"Often, George students will go 30 to 40 pages into the Google search," Ma said. "How many of us will do that? We have to go where nobody else will go or how else will you outperform other people?"
Ma expects 400 to 500 people to attend Monday's public meeting. The program's Board of Trustees meet sixteen times a year, but only twice in public. That draws a crowd – not only of Stetson students, faculty and staff, but also the community who closely follows the program's stock picks.
For the last 20 years, the George stock portfolio has returned on average 8.8 percent, compared with 8.0 percent for the S&P 500. The bond portfolio has returned 5.5 percent, compared with around 4.5 percent for the PIMCO bond index, Ma said. His students have won 16 national championships for the funds' performance since 2001.
Not surprisingly, when investors do that well, others want in on the action. Over the years, so many people asked to get into the fund that a live cam shows the Roland George Trading Room 24/7, including the students at work, while another live cam shows a screen with the portfolio. Interest in the program also spawned the DeLand Investments Club, whose members invest their money exactly the same way as the Stetson students. Ma is the club's managing member and said he has a long waiting list of people wanting to join.
About 6,000 visitors walk by the glass-walled lab each year on tours, mostly from Admissions, Ma said. He talks to the visitors if he has time or they can watch a video about the program on a large screen outside the trading room, which is accessible only with an access code.
Monday's meeting will be streamed live for those unable to attend. Ma said he plans to introduce a little twist at the meeting "in the spirit" of the upcoming presidential election. After the Board of Trustees votes on which stocks to buy, for the first time, the audience will cast non-binding votes, on which stocks they like best – kind of like "American Idols," Ma said.
Ma got the idea because one category of stocks that will be recommended Monday are ones for companies that could fare well depending on which candidate – Trump or Clinton – gets elected.
"Following the spirit of the season, we're going to have a popular vote," he said. All of the stocks recommended by the students will appear on an overhead screen and audience members can text certain numbers on their cell phones to cast their votes.
Back in the lab, Kaufmann said he was feeling "overwhelmed" about making an important financial presentation in front of such a large crowd. But Ma says it's good training for being in the stock market.
"I tell the students, since you are responsible for investing real money, the stock market doesn't care who you are. It doesn't know if you're an old person, a young person, a man or woman, or the color of your skin," he said. "They don't care about excuses that you're a student or you overslept. They only see if it's smart money or not.
"You have to find some edge. You have to be willing to spend 25 hours extra a week in that room to find something out that others don't know. It's very hard work."
The meeting will take place from 5 p.m. to 6:30 p.m. Monday, Oct. 24, in Stetson's Hollis Center on Bert Fish Drive in DeLand. Due to limited seating, reservations are recommended. For more information, contact Dr. Ma at [email protected] or 386-822-7496.
-Cory Lancaster