Hurricane Matthew Updates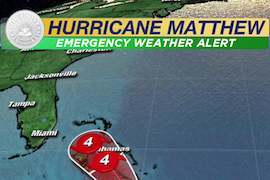 Update: Oct. 6, 8:40 a.m.
Classes at Stetson University's DeLand campus ended at noon, Wednesday, Oct. 5, and university offices closed by 5 p.m. Residence Halls are scheduled to close today, Thursday, Oct. 6, at noon. The Stetson University Center at Celebration ended classes at 5 p.m. on Wednesday, Oct. 5. Stetson University asked students to either return home to shelter with family or find appropriate safe accommodations with friends. Housing and Residential Life is working with a small group of students, including international students, to transport them to a Volusia County shelter to ride out the storm.
Students who are not able to leave the university will be sheltered at DeLand High School. This is 1 of 4 designated west-side shelters in this area. A bus from the City of DeLand will arrive in front of the CUB at 1 p.m. today for any students who need transportation to the shelter. The School Board will provide food for those at the shelter. They recommend snacks and items such as cards or books to pass the time.
"The safety and well being of our students and the Stetson Community are our primary concerns," said Stetson University President Wendy B. Libby. "We ended classes yesterday and are closing the residence halls today to give students and the community the time needed to prepare adequately and travel safely to shelter with family or ride out the hurricane."
Housing and Residential Life asks students to please fill out the Evacuation Information Form, even if they have already departed campus, and inform the university of their plans and anticipated location.
Some essential staff remain on campus to prepare facilities and buildings for the hurricane and several athletic teams are scheduled to leave Florida for events in other states. Stetson University's football team is scheduled to travel to Providence, Rhode Island for a Saturday game against Brown University.
All campus events have also been canceled through Sunday including Second Stage Theater productions, the Choral Festival Concert, previously scheduled for Friday and Saturday evening in Lee Chapel, and Sunday's baseball exhibition game against the Canadian Junior National Team at Melching Field.
Stetson University will remain closed due to Hurricane Matthew's anticipated track toward the Central Florida coast. Reopening day and time will be posted at www2.stetson.edu, www2.stetson.edu/today and on the university Facebook page facebook.com/stetsonu.
Update: Oct. 5, 5:59 p.m.
According to the National Weather Service 5:30 p.m. briefing, Hurricane Matthew is now forecast to either come close to the coastal area or even make a glancing landfall in and around Brevard or Volusia County in Central Florida. The expectation of high winds has increased farther inland, reaching across most of Orlando and into Lake County. There is a good possibility of sustained, hurricane-force winds extending from Cape Canaveral to Seminole and Orange Counties. There remains a threat of heavy rains up to 6-8 inches and flood watches will be posted Thursday.
As noted previously, Housing and Residential Life personnel will be on campus Thursday, Oct. 6, to work with students until the residence halls close at noon on Thursday, Oct. 6. 
Update: Oct. 5, 4:57  p.m.
Housing and Residential Life asks students to please be sure to fill out the Evacuation Information Form. To clarify, the university intends to work with international students and students without a destination to find safe and appropriate accommodations; however, students need to fill out the Evacuation Information Form to indicate their need.
Housing and Residential Life personnel will be on campus Wednesday, Oct. 5, into Thursday, Oct. 6, to work with students until the residence halls close at noon on Thursday, Oct. 6. 
The latest National Hurricane Center update indicates Matthew's northern progress has slowed, allowing a bit more time for students to get home or to safe accommodations.
Update: Oct. 5, 3:24 p.m.
From the Office of Housing and Residential Life:
Remember to pack essential items such as identification, medication, personal valuables and important documents.
Empty and unplug refrigerators. Unplug all appliances.
Move valuables up off the floor.
Take your animals with you.
Share your plans with your family.
Log into your Housing Central account and complete the evacuation information form as soon as possible.
From Athletics:
Stetson University Athletics does not have any home events scheduled this week, and indicated to the university that several teams and nearly 150 athletes are flying out Thursday, Oct. 6, for away games. The football team is heading to Providence Rhode Island to play Brown on Saturday, Oct., 8.
Stetson University President Wendy B. Libby, Ph.D., was scheduled to travel with the football team but is remaining in DeLand to monitor Hurricane Matthew and campus preparedness.
Update: Oct. 5, 2:34 p.m.
The Hollis Center will close today at 5 p.m. and will stay closed through closed through Sunday, Oct. 9.
From the Office of Information Technology:
In preparation for Hurricane Matthew, please turn off and unplug the power and network cable from your computer and printer before you leave today. Also, turn off and unplug the UPS (Uninterruptible Power Supply).
The IT department will also be powering down all computers in the labs across the DeLand campus on Thursday morning. However, vlab.stetson.edu will remain online and accessible.
If you have any questions, please contact IT at

[email protected]

or 386-822-7217.
Posted Oct. 5, 11:57 a.m.
With Hurricane Matthew heading toward Florida, Stetson University will cancel classes today, Oct. 5, at noon and asks students to head home and seek safe shelter.
Residence halls will close Thursday, Oct. 6, at noon. If students have no place to shelter, Stetson University will work with them to provide safe and appropriate accommodations.
Students are asked to fill out an evacuation information form, available to all residential students through Housing Central, accessible through mystetson.com. Students are encouraged to check in with their families and let them know their plans.
Essential personnel will remain on Stetson's DeLand campus. All events and classes are canceled from noon today, Wednesday, Oct. 5, through Sunday. Today's 1:30 p.m. faculty forum with a candidate for Stetson's Executive Vice President and Provost position will take place as planned in the Lynn Business Center's Rinker Auditorium and so will an open forum with staff, faculty and students there at 3:45 p.m. today. Other smaller planned meetings with the candidate will also continue as planned.
Students with pets can seek shelter with their pet at the Volusia County Fairgrounds off State Road 44, west of DeLand, starting Thursday, Oct. 6. Do not leave pets in residence halls.
University staff will work through the end of today. Thursday and Friday are paid days off. Staff should check with supervisors to see if they are essential personnel.
Stetson officials are closely monitoring information from the National Weather Service regarding Hurricane Matthew. Stetson will send messages to students, faculty and staff by email, and update Stetson Today and social media pages regarding any additional impact on school operations.
Volusia County and the east coast of Florida from Sebastian Inlet to the Volusia/Flagler County Line are currently under a hurricane warning for Matthew, now a category 3 hurricane with maximum sustained winds near 120 mph, the National Hurricane Center reported in its 11 a.m. advisory Wednesday.