A Pipeline to Stetson's Law School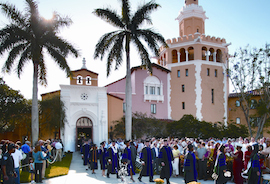 Students in Stetson University's Honors Program can receive direct admission to Stetson's College of Law and scholarships that cover 80 percent of the cost – or more, under a new agreement between the two schools.
The recent agreement allows students in the Honors Program who maintain high academic standards to attend the College of Law in Gulfport with "incredibly generous" scholarships that cover at least 80 percent of tuition and fees for all three years, said Michael Denner, Ph.D., director of Stetson's Honors Program and a professor of Russian Studies.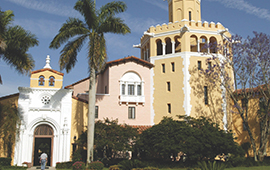 To receive direct admission to the law school, students must graduate from the Honors program in good standing, earn at least a 3.3 grade point average and score in at least the 50th percentile on the LSAT, according to the agreement. The Honor students can receive scholarships for law school tuition and fees, which this year totaled more than $41,000, including:
Scholarships that cover at least 80 percent of tuition and fees per year for students who score in the top 10 percent on the LSAT and earn a GPA in the top 10 percent, based on the credentials of the law school for the previous year;
Scholarships of at least 50 percent for students who score in the 75th percentile on the LSAT and with their GPA (based on the previous year);
Scholarships of at least $15,000 for students who earn median scores on the LSAT and with their GPA (based on the previous year).

Michael Denner
"Eighty percent is an incredibly generous offer," Denner said. "Our very best students will be able to get a J.D., a doctorate in law, from Stetson College of Law — a very good law school — and they will have amassed very little debt to do it."
Stetson Law School Dean Christopher Pietruszkiewicz said the agreement will provide a "seamless pipeline" for Stetson students to attend the law school, which has been ranked No. 1 in the nation in trial advocacy 18 times by U.S. News & World Report.

"We want to be able to create a seamless pipeline between the campus in DeLand and the law school in Gulfport," he said. "This is a way to increase the number of students interested in coming to the law school."
Stetson sophomore William Gillett is in the Honors program with a dual major in biology and psychology. He had planned to go to medical school, but news of the agreement and its scholarships have made him consider law school.
"I had not really considered law school until I read about this agreement," said Gillett of Orlando, adding he has a 3.8 GPA. "I'm still considering medical school, but when I saw the figures — about the scholarship amounts — I thought I should at least consider it. … It is quite a nice sum and it would be very welcome, given how high student debts are after graduate school."
Denner, Pietruszkiewicz and Honors Program co-Director Melinda Hall approved the agreement in about a month, allowing seniors in the Honors Program to take advantage of it to attend law school next fall, Denner said.
The agreement follows one recently between the Quanta-Honors College at Daytona State College and Stetson University for students who earn their associate degree and want to get their bachelor's degree. That agreement guarantees admission to Stetson for the DSC honor students and can provide a financial aid package that covers all tuition and fees at Stetson, valued at $43,240 this year, if the students are accepted into the Honors program and pursue pre-law or pre-health degrees.
Those students also could qualify for the sizeable scholarships to attend the College of Law, as well. The scholarships could open up more career opportunities for law school graduates, Denner said. With less college debt, those graduates could afford to work for nonprofit or advocacy groups on social justice issues.
"An 18-year-old applying to DSC can see the path and the cost from the time they step foot onto the DSC campus until the time they graduate seven years later with a law degree," Denner said. "We've knit together a path for engaged, academically gifted and disadvantaged students to complete an A.A. from DSC, a bachelor's from Stetson and then a College of Law degree."
-Cory Lancaster