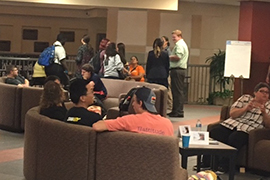 One day after a divisive election, the Stetson community came together to break bread and barriers.
Hosted by the Student Government Association's (SGA) Diversity and Inclusion committee, the Town Hall-style meeting, "Picking up the Pieces," brought students, faculty and staff to the Lynn Business Center lobby on Nov. 9 to engage, not in politics, but with each other.
"It's important to have dialogue between us and find commonality," said Patricia Medina, SGA chair of the Diversity and Inclusion committee and a senior religious studies major. "We all need some comfort food."
Pizza was provided and catered by Bellini's. Eating together was an important factor in this event.
"Sharing a meal together helps us recognize our shared humanity," said Lindsay Graves, assistant director for Interfaith Initiatives. "We all need to eat."
Attendance at the event included Stetson President Wendy B. Libby, Ph.D., Vice Provost Lua Hancock, Ed.D., and other members of the senior administration, professors from different departments, and students from various sectors of campus.
Medina noted that although we may not have chosen the same candidate, "We all chose the same school."
"It creates a sense of tolerance and respect for one another," said Vanessa Petion, Multicultural Student Council chair and a communication and media studies junior. "Sessions like this can create dialogue where we build understanding, not agreement."
"It's a challenge by choice," said Luis F. Paredes, Ph.D., director of Diversity and Inclusion. "There is importance to group dialogue when it's organic and grassroots implemented, but we do need to clarify the intentionality for dialogue."
Savannah-Jane Griffin, director for Community Engagement, viewed the event as a step to heal from the divisions created by a bitter election season. "Let's start with food and see where we go from here."
–Veronica Faison