'Cat on a Hot Tin Roof' Brings Dysfunctional Southern Family to Stage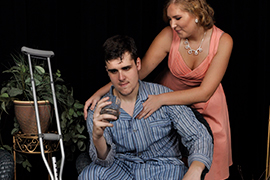 Stetson theatre major Alex Schelb has been battered and bruised – literally — during rehearsals for "Cat on a Hot Tin Roof."
"Poor Alex does take a beating in this play," said director Julie Schmitt, associate professor and director of Theatre Arts.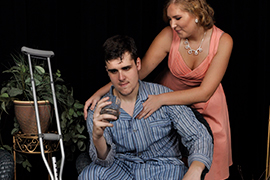 Schelb portrays Brick, the alcoholic ex-football star in Tennessee Williams' Pulitzer Prize-winning drama about a dysfunctional Southern family. Hampered by a broken leg, Brick hobbles about on a crutch. Sometimes he trips from a misstep. Sometimes he crashes to the floor after a family member has snatched his crutch.
"The bruises have healed up pretty much," Schelb said with a hearty laugh, days before the opening of the Stetson Theatre Arts production. The 1955 play runs Thursday through Sunday, Nov. 17-20, at Stetson's Second Stage theatre inside the Museum of Art – DeLand.
"The role was a lot more demanding than I thought it was going to be," said Schelb, a senior and Dayton, Ohio, native. "The first day I walked on the crutch for about 20 minutes and I was just dripping sweat and so tired. I laid down at the house and just went 'arrrrggggghhh!' "
But the members of Williams' dysfunctional Pollitt family inflict more psychological than physical torment on each other. The play takes place in the family's Mississippi plantation home as they've gathered to celebrate the birthday of patriarch Big Daddy (played by Nicholas Bouwmans). Big Daddy, a cotton magnate, revels in the clean bill of health he has just received from his doctor, but all of the family except him and his wife, Big Mama (Gale Chapman), know the actual diagnosis is dire.
Meanwhile Brick is reeling from the suicide of his friend Skipper. Brick's wife, Maggie (Delaney McGehee), grows as anxious as a cat on a hot tin roof as her husband continues to alienate her emotionally and romantically. While Big Daddy rails about "mendacity," his brood jockeys to inherit his fortune, and the family's many lies, deceits and secrets begin to surface.
"Williams is able to compress so much family strife and drama in such a short time," Schmitt said. "So much past history is going to get exposed and so many relationships are going to be severed and then possibly repaired, all on the night of Big Daddy's 65th birthday.
"Williams gives Brick a broken leg so he can't leave this space that's even smaller than the house – it's just his room. All of the family, because of that, are required to celebrate Big Daddy's birthday in this incredibly confined space. There's something really interesting about that dynamic. There's a lot of dramatic tension that's really intriguing."
Schelb noted his character Brick "is in a state of confusion. He has all these things about himself that he doesn't fully understand, and he doesn't know how to process those feelings. Of course, one of big things we play with in the show is the homosexuality aspect of his relationship with his friend Skipper. In my mind, it makes more sense for the character if he doesn't see himself as being gay. Whether he is or not is still up to the audiences who see the play."
McGehee, a freshman from Charlotte, N.C., who's pursuing a double major in business and Chinese, says her character Maggie "has been quite a challenge for me. I've been doing theatre since the seventh grade and she is one of the most dynamic characters I've ever played. She is on this emotional rollercoaster throughout this whole thing, these incredible ups and downs and everywhere in between. She has so many moments in the play that are so relatable for the audience, but in very different ways."
And how does a director helm a classic play that has been staged ad infinitum, and made into an iconic movie starring Paul Newman, Elizabeth Taylor and Burl Ives?
"My approach is that Williams is so gifted in making the dialogue conversational but actually poetic, so I hate to rely on what I think are sort of theatre tricks to get the audience to feel something," Schmitt said. "The dialogue alone should really bring about the empathy of audience members."
But Williams' play, which he once called his personal favorite, does have its challenges. For one, there's those deep Southern accents.
"There has been no official dialect coach, but it became part of the audition process," Schmitt said. "I was really trying to find actors who already had a nice ear for the Southern dialect."
She noted that a number of online tutorials provide "phonetic tricks," and that Williams provided pronunciation cues in his script. "But without question that's a big hurdle for everyone," she added.
"I love doing accents," Schelb said. "But most of the accents I've done are usually European and they're very thick. With Brick, originally I was thinking more of like an Elvis and Foghorn Leghorn kind of thing. I'm still tinkering with it and it's still a work in progress, but I definitely think it's there."
"I kind of auditioned on a whim," McGehee said, noting she found out about "Cat" auditions only the day before they were held. "I thought 'Whoa, I might as well try.' I sat down at my laptop the day before and I was like 'How to do a Southern accent.' "
And there was the challenge of making their characters relatable, if not likeable, to an audience, despite their characters' deep flaws and less-than-admirable qualities.

"Nick, who's playing Big Daddy, is a big teddy bear," Schmitt said. "Sometimes he sort of skirts around the course language and tries to soften it as he says it. I told him the other day you have got to lean into the chauvinism of this character. We really need to reveal the deep-rooted sexism that grounds so much of his thought process."
As for Brick, Schelb said, "He's just not letting Maggie in and he's purposefully being horrible to her. I just feel like a (mild expletive)."
As laughter exploded from the nearby cast members privy to the interview, Schelb continued his faux castigation of himself: "I'm doing lines and I'm like 'God, I'm being such an (expletive)!' "
As Schmitt's faculty bio reveals, one of her research interests is feminist studies – an interest that has factored into her direction of the Williams classic.
"It's one of those things that you're familiar with the play at one time in your life and then you go back and revisit it," she said. "As I was considering this play and then analyzed the text again, I thought, 'I remember Big Daddy was very chauvinistic.' But then as I stepped back I was like, 'The play itself is really misogynistic.' Even as chauvinistic as Big Daddy is, and he is, I think sometimes the way Williams wrote these women is that quite often there isn't a lot of redeeming quality to them, which almost sort of supports Big Daddy's impression of them.
"I think that's a really problematic aspect of the play. One of the ways we are trying to address that, as best we can, is to paint a larger back story to Maggie and who she was before she met Brick and why she might be so desperate to make sure as a couple they hold on to money — what her impoverished background was like."
For McGehee and Schelb, portraying such iconic characters, however unlikable and however formidable the acting challenge, has been an enthralling experience.
"I love theatre so much," McGehee said. "I have a deep-rooted appreciation for anything theatre-wise. Maggie has been incredibly fun to experiment with and figure out where she's at during certain moments in the play. I've gotten to learn and grow a lot as an actress myself. It's been an enjoyable process."
"I'm a huge Paul Newman fan and the fact I'm playing a Paul Newman character is huge," Schelb said. "A bunch of great professional actors have played Brick. It's really an honor to play the same character."
If You Go:
Stetson Theatre Arts presents "Cat on a Hot Tin Roof" at 8 p.m. Thursday, Nov. 17, through Saturday, Nov. 19, and at 3 p.m. Sunday, Nov. 20, on its Second Stage, located inside the Museum of Art – DeLand, 600 N. Woodland Blvd., DeLand.
Admission is $12 adults and $10 seniors and non-Stetson students; free for Stetson students, faculty and staff with valid ID. Tickets will be available at the door. For information or reservations, call the Second Stage box office at 386-822-8700. Reserved tickets must be picked up 15 minutes prior to show time. The play contains adult language and content.
— Rick de Yampert