New Stetson Baseball Coach Starts Jan. 2
Stetson University Director of Athletics Jeff Altier introduced Steve Trimper as the 23rd head baseball coach in the 116-year history of the Hatters baseball program this week at a news conference in the Hall of Fame room at the Edmunds Center.
Trimper, a native of Newton, New Jersey, has agreed to a four-year contract to coach the Hatters. Terms of the contract will not be disclosed. He will begin his duties with the Hatters on January 2, 2017, and will make his coaching debut in Stetson green on February 17 against Southern Illinois.
"Our goal was to find a coach that had experience with our mission and vision, and embodied our core values," Altier said. "We wanted someone who appealed to all of our constituent groups. I am proud to announce that our search committee did just that. We found a coach who embodies our uncompromising commitment to winning championships, acting always with integrity while demanding daily excellence and someone who will honor this history and traditions of Stetson baseball and someone who develop leaders in our student-athletes.
"Today, I am proud to introduce to you that person, the newest member of the Stetson Community – Steve Trimper. Steve is the complete package. He is a coach, a leader, a motivator and someone who embraces our history and traditions. He is someone who is committed to taking this program, our program, to the new heights."
Trimper completed 11 seasons as head coach at the University of Maine where he compiled a 309-292-2 overall record, including a 140-115 mark in America East Conference play. He took his team to the conference tournament nine times, winning the event to advance into NCAA Regional play in 2006 and 2011.
"Wow, is the first thing I can say on the comments Jeff just made," Trimper said. "This is very humbling, to say the least. First off, I'd like to thank President Libby, Jeff, the search committee and all of the people I met on the interview process who had such great passion and energy for Stetson University, DeLand and Stetson Baseball. I want to thank everyone who gave me such a great feeling.
"Throughout the process, I kept getting the feeling how much Stetson cares about this program and where they want to take it. To be able to follow Coach (Pete) Dunn is probably the most humbling thing in all of this. It is such a responsibility. Coach Dunn, all of his former players and former coaches who have moved on to coach other places and do great things, that is the biggest thing I have to work for. This isn't about Steve Trimper in any way. This is about Stetson baseball and trying my best, with unbelievable energy and effort, to keep Stetson baseball on a national stage."
In 2013, Trimper was named America East Coach of the Year after leading the Black Bears to a mark of 37-22 overall, 20-9 in America East conference play. Maine was the top seed in the 2013 America East Tournament before falling in the title game to Binghamton.
During the 2012 season Trimper's Maine team put together a 14-game win streak and advanced to the title game of the America East Tournament before falling to Stony Brook. That Stony Brook team advanced all the way to the College World Series in Omaha.
During his career, Trimper has coached 18 players who were selected in the MLB draft – nine during his time at Maine and nine while coaching at Manhattan. In addition, he has coached 10 freshman All-Americans.
"When I look at that field and this school, I see the energy and vision to host regionals, to have that place packed every night," Trimper said. "Winning all those games on Tuesdays and Wednesdays to be the best in the state, and there is some great baseball in this state, but small minds can't understand big dreams. I am not going to come in here and think small. I am going to think as big as we can.
"With that said, I can't do it alone. It is going to take a tremendous amount of help from the department, our alums, our donors and on and on. The fans and community have to be a big part of this. Something else that stood out to me was this is a college town, and a town that loves its baseball."
Trimper has spoken at numerous national conventions in recent years. He addressed the 2005 ABCA National Convention in Nashville, Tenn., and the 2013 convention in Chicago. He has also served as a clinician at numerous conventions, including the Ohio State baseball coaching convention and the World Baseball convention in Connecticut.
Trimper is the Northeast Chair of the American Baseball Coaches Association.
In 2011, Trimper's Black Bears posted a 33-24 record, which included an 18-6 mark in league play. Maine raced through the America East Tournament, defeating Albany in the title game 10-1 to earn an NCAA Regional bid. Maine traveled to North Carolina for the NCAA Regionals, where the Bears earned a victory over #20 Florida International.
The Black Bears won 14 of their last 15 games of the regular season in 2011, including a stretch of 11 consecutive wins. The win over FIU marked the first NCAA Regional win for Maine since the 2005 postseason. Early in that 2011 season, the Black Bears recorded a 5-3 victory over North Carolina, ranked 11th in the nation at the time.
In his first season at Maine, Trimper led the Black Bears to their second straight America East Tournament Championship with a 5-3 victory over Stony Brook in the title game. Maine advanced to the Chapel Hill Regional of the NCAA Tournament where they fell to sixth-ranked North Carolina, a team that finished as NCAA runners up, despite holding leads of 4-1 and 6-4 in the game.
"I have a ton of energy right now and I am ready to start making calls," Trimper said. "My number one priority is to talk to our student-athletes because we want to win, right now. I had a chance to talk to the guys when I was here before, but my number one priority is to talk to those guys. I have already had a chance to talk to the coaching staff and learn from them. Then I want to start making those calls. I want to reach out to as many people as I can – from our season ticket holders and alums to our donors. The need to learn a little about me and I want to get out there and share as much as I can and introduce myself to those people.
"After that, it is recruiting. That is one of the things that I pride myself on. I get out there and recruit, it is something I love to do. I love to meet new people. In the state of Florida, I need to get to know everyone. I have a good pocket of people who I have been getting texts from in Broward and Dade Counties who are excited because I am at Stetson. I didn't know how many texts you could get in a 24-hour period, but I have received more than 900. I am excited to get out there and recruit and build those relationships so that we can get the players in that we need, who will represent Stetson baseball, both academically and on the field. I am just going to be ecstatic to be able to show someone a field in January without having to brush the snow off. There is so much to sell and promote here at Stetson University."
Prior to his time at Maine, Trimper served as head coach at Manhattan College for seven years (1999-2005), leading the Jaspers to the MAAC Tournament in each of his last three years. While at Manhattan, Trimper led the Jaspers to 20 or more wins in each of his seasons, including a school-record 32 wins during the 2002 season which earned him MAAC Coach of the Year honors.
In 2005, the Jaspers finished 27-21 and 15-8 in MAAC play. The team earned a berth in the 2005 MAAC Tournament for the third year in a row. In 2004, the Jaspers advanced to the championship round of the MAAC Baseball Tournament for the first time in program history.
Trimper compiled a record of 172-174-2 in his seven seasons at Manhattan. He ranks second on the all-time wins list and posted a record of 93-83 in MAAC play.
Prior to his time at Manhattan, Trimper served as an assistant coach at the University of Vermont (1994-98), where he helped lead the Catamounts to three America East Conference Tournament appearances while posting a record of 92-79 over four seasons.
Trimper served as the associate head coach at Wentworth College in Boston (1992-94) and also served as head coach of the Eastern Tide of the New England Collegiate Baseball League in the summers of 1996 and 1997.
Trimper is a 1992 graduate of Eastern Connecticut State University with a degree in physical education. He played baseball for three years and was a member of the Warriors' 1990 NCAA Division III National Championship team under legendary coach Bill Holowaty. He transferred to ECSU after one year at Elon College, which reached the NAIA national tournament and finished 36-9 in his lone season there. Trimper earned his master's degree in administration from Vermont in 1997.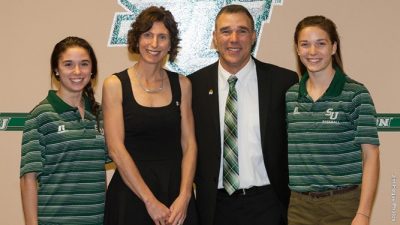 Trimper and his wife, Lisa, have twin daughters, Ally and Morgan (16), who are sophomores at the Taft School in Connecticut where they play ice hockey.