Stetson Recognized as Model for Student Debit Cards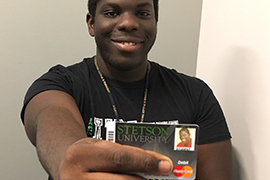 The federal Consumer Financial Protection Bureau has recognized Stetson University as a model for its use of prepaid debit cards for students' college-sponsored accounts, which save students from paying costly banking fees.
In a report to Congress this week, the consumer protection bureau urged colleges and universities to stop approving marketing deals with banks for college-sponsored accounts that come with "risky features" for students who can "rack up hundreds of dollars in fees per year." Many colleges and universities sign such deals and may share in the revenue with banks, according to the agency.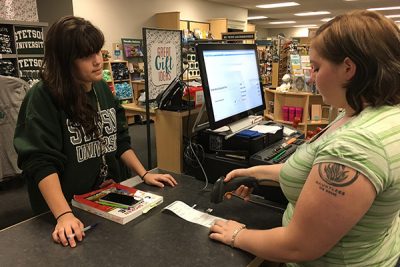 But Stetson administrators specifically avoided those deals when it introduced the Hatter1card in 2013 through its exclusive banking arrangement with Fifth Third Bank. Stetson students use reloadable, prepaid MasterCards that carry no fees. The Stetson agreement was cited this week in the agency's report, Student banking, Annual Report to Congress, as an example for other colleges and universities to follow, and also was mentioned in a story in The New York Times.
"Stetson is concerned about the financial well-being of its students," said Jeff Margheim, Associate Vice President of Finance and Risk Management at Stetson. "We are glad to be recognized as an example of a university that's putting its students' financial interests first."
Students at Stetson use the reloadable, prepaid MasterCards for a variety of purposes – as their student photo ID, a meal plan card to swipe in Stetson Dining Services, a security key to access select residential halls, and as a MasterCard debit card.
There is no monthly fee to use the card and, because it's a prepaid card, students can't rack up overdraft fees in their checking accounts. Many colleges and universities require students' cards to be linked to a checking account, which brings high fees for such things as overdraft protection and out-of-network ATM withdrawals.
Stetson solicited proposals in 2012 to be the exclusive bank of the college. As part of the arrangement, it asked for prepaid debit cards without any fees for students. Stetson administrators knew the federal Department of Education was cracking down on the marketing agreements between banks and colleges and universities.
"We said we don't want to get involved in those agreements,"said Margheim said. "We wanted to make sure the card had no fees."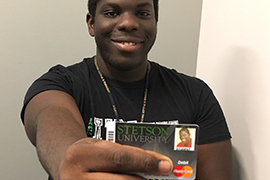 Under the agreement, Stetson students can opt to link the prepaid card to a checking account, but that's optional. Since the debit cards began, 13 percent to 21 percent of students have linked the card to a checking account. The checking account does not have any setup fees or annual service fees.
Margheim said he received a call Wednesday from an official in the federal Consumer Financial Protection Bureau, who said a report would be issued that day citing Stetson for having a "well-crafted agreement."
"He said it's a standout agreement in that other schools could look to ours as a well-crafted agreement," Margheim said. "I was pleasantly surprised."
A note on page 16 and 17 of the federal report says: "See Stetson University agreement with Fifth Third Bank, https://www.stetson.edu/other/hatter-onecard/media/fifth-third-campus-card-agreement.pdf (in which the agreement includes a provision requiring that the student identification cards serve as 'reloadable, prepaid card,' as opposed to cards linked to checking accounts. Prepaid cards typically do not permit overdraft.)"
The Stetson agreement was the first of its kind for Fifth Third Bank, said bank spokeswoman Laura Trujillo in Cincinnati. And the bank has only one other pre-paid account agreement with a college — with William Peace University in Raleigh, North Carolina.
"Fifth Third was pleased to be cited by the Consumer Financial Protection Bureau as a model way that banks can work with universities to help best meet the needs of students," she said. "It is a smart option for students, allowing them to use the card anywhere MasterCard is accepted as well as keeping them from over-drafting their accounts. Our pre-paid card is a good way to help students learn to budget without worry of overdraft."
Stetson senior Andrew Noel says he loves the Hatter1card and has it linked to his checking account, which makes it easy to transfer money into his college account. He said he's never had to pay overdraft fees.
"My mom taught me well," he said about budgeting his money. "This is a blessing. It's so easy to use."
-Cory Lancaster