Developing Digital Technology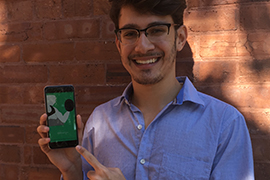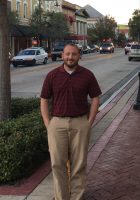 When Stetson University graduate John Cossu and his team launch Sale Cents, a digital community marketing tool, they're not just taking a step forward for their own futures but they're moving downtown DeLand and Stetson further into the spotlight.
Cossu, a 2014 Stetson computer science graduate, is among a small but growing number of Stetson students and graduates who are developing computer products, applications and services with commercial potential. Many are looking to existing and new technology to make life easier for the community while building a business future for themselves.
"What we're doing here is we're boosting the local economy," Cossu said of Sale Cents, which will launch in the coming months. "It's an application that's been designed for the local businesses and not allowing those national brands to cloud the opportunities that these local businesses are missing. "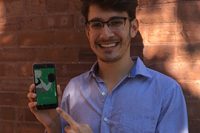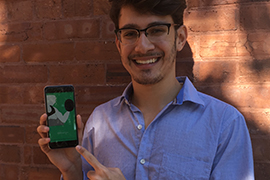 Christian Valderrama graduated last month with a Bachelor of Science in Computer Information Systems and a minor in business. He counts himself as an up-and-coming entrepreneur who is banking on his newest app – iWorkout Now – as his breakout start-up project. The app, in beta testing, helps fitness buffs track and customize workouts to avoid distractions during training. With the app running, he's looking to Stetson professors and alumni for marketing advice.
Valderrama, who hopes to move to California, has no plans to search for immediate employment. Instead he is dedicating all of his attention to launching his app.
"It's great to have Stetson helping out with their alumni and also the professors being able to guide me as much as they can," the 21-year-old said. "It's still my work but at least getting the knowledge – I appreciate that."
Other up and comers include former Stetson student David Sawyer and Stella Parris, a Stetson international business student, who together started TSOLife, which is short for The Story Of Life. It's a web-based service that allows users to record personal narratives, in audio, video and text, for sharing with friends, family and future generations as longtime remembrances and keepsakes.
Sawyer, 24, said his time as a finance and entrepreneur student helped facilitate moving to an online business he sees blossoming.
"I've always been an entrepreneur at heart," he said.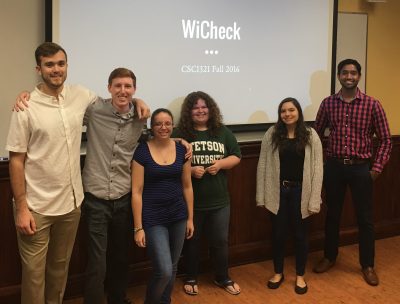 At a recent software development class, students – tasked with developing technology that could be a viable business model – presented their idea for Wicheck, a service that tests Wi-Fi for problems at a user level. During their presentation, the students outlined the idea originally conceived by Don Burrhus, Stetson's director of user services in the office of Information Technology.
Stetson Associate Professor of Math and Computer Science Dan Plante, Ph.D., said the class allows students to develop products and reap the benefits. Wicheck has such potential, he said.
"Students in this class, if they choose to, can move forward with this," he said.
For Cossu, 32, the implementation of Sale Cents has been more than two years in the making. He and his team of five, most who are Stetson grads, hope to support the local economy with the app that will bolster relations between businesses and their customers, posting information and promoting the businesses' sales and deals. The goal is to keep local money in the community and inspire "local economic vitality," he said.
Cossu, a software engineer at NASCAR and Marine veteran who served two tours in Iraq, said his time at Stetson helped him meet the right people and bridge the gap between the development and business sides of new technology.
"We have a team that is going to make something really fun and we get so excited when we talk about it. It's a passion for us," he said. "We've made a million small steps to come to a big future."
-By Amy R. Connolly