Retired Chaplain Fronk Honored with Surprise Room Dedication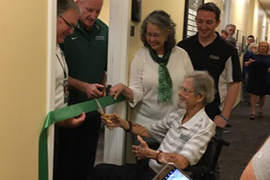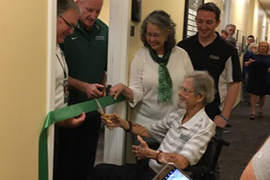 A celebration was held for retired Stetson University Chaplain Michael Fronk on Jan. 21 and the Stetson community dedicated a room in the Athletic Training Center, naming it the "Fronk Offense Staff Room."
Known for his passionate (and admittedly boisterous) love of Stetson football, Rev. Fronk — or "Chap," as he's called — has made an impact on Stetson. He retired as Stetson Chaplain effective Nov. 1, 2016, due to health issues. 
Roger Hughes, head football coach at Stetson, noted that Rev. Fronk was part of the team, and recited the team chant: "One heart, one spirit, one Stetson."
"Stetson is a special place," said Rev. Fronk ('74, Religious Studies) to an emotional audience. "As a student, it was a place I was lucky to get into."
Jeffrey Hahn, political science senior and Student Government Association president, was among the friends who gathered and recalled his first interaction with the Chaplain while working at the CUB front desk. "I'd always wanted to speak with him, but never could do it.
"He pulled out a huge bag of candy from his bag, looked at me and said, 'If anyone ever asks, you and me, we're like this,'" said Hahn, crossing his fingers.
Rev. Fronk's humor was the center of the celebration where the walls were covered his sayings —or "Chapisms" — which filled the rooms with laughter.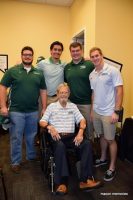 "You taught us to laugh when we thought we couldn't laugh again," said Rina Tovar Arroyo, assistant vice president for the Office of Development, and whose wedding was officiated by the Chaplain. "The one to say a joke at the end of a prayer."
Rev. Fronk was described as a "Chaplain for all," respecting the value of multiple tenets of faith, even coming to the Buddhist faith himself alongside his Baptist values.
"Today we celebrate your legacy, and that is a legacy of love," said Tovar Arroyo. "You are a chaplain to all."
A 1974 Stetson graduate with a major in Religious Studies, Fronk went on to earn a Master of Divinity degree in 1979 from Southern Baptist Theological Seminary. He started as Stetson Chaplain in 2004.
-Veronica Faison