Stetson University in the News, Jan. 27 – Feb. 2, 2017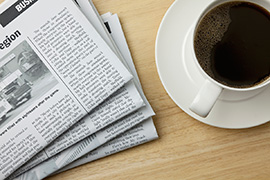 Top Stories:
Noel Painter, Ph.D., was featured in several media outlets after being appointed Stetson University's new executive vice president and provost. Painter has been a notable faculty member since 1999, and served as associate dean for the School of Music from 2007-2016, posted by Daytona Beach News-Journal Online on Jan. 23, the Orlando Sentinel on Jan. 27 and My Palm Beach Post on Jan. 29.
David A. de'Silva, Ph.D. will give his lecture "Grace: the Free Gift that Costs Us Everything" at Stetson University on Feb. 2. The author of 25 novels, de'Silva is the Trustees' Distinguished Professor of New Testament and Greek at Ashland Theological Seminary in Ashland, Ohio. The lecture, free and open to the public, will be held in the Carlton Union Building at 7 p.m., posted by Capital Soup Jan. 26.
K.C. Ma, Ph.D., professor of finance, was quoted in the article, "Here's Why the Tesla Model 3 May Not Debut in 2017." Ma commented that Tesla Motors retracted its statement that the Tesla Model 3 would be released in late 2017 for marketing suspense, posted by Yahoo and other sources Jan. 26.
K.C. Ma, Ph.D., professor of finance, was quoted in the article, "Can Facebook Start 2017 With an Earnings Bang?" As analysts anticipate a decrease in Facebook revenue overall, Ma said new user-engaging tactics will increase ad revenue, posted by U.S. News & World Report and other media Jan. 30.
K.C. Ma, Ph.D., finance professor, was quoted in the article, "7 Stocks That Could Save Your Portfolio." As tobacco prices continue to soar annually, Ma explained that pricing adjustments for addictive products are made at the discretion of the company, making them resistant to changes in the economy as a whole, posted by Yahoo Finance and other outlets Feb. 1.
Jil Gossard-Cook, four-time Emmy winning producer, was covered in the story, "Jil Gossard-Cook Is the Only Full-Time Female Producer in the NBA. Here's What She Wants You to Know." Stetson alum, and former member of Stetson's golf team, Cook acknowledged that during her time at Stetson, she landed an internship with the Orlando Magic that changed her life, posted by Glamour Magazine on Feb. 1.
K.C. Ma, Ph.D., professor of finance, offered his opinion on Facebook Inc. stock in the article, "Facebook Inc. (FB) Stock: Q4 Earnings Crush Expectations." Facebook stocks are currently at an all-time high, having risen 15% since Jan. 1. Ma sees secondary Facebook outlets like Instagram and WhatsApp as the source of the long-term growth, posted by Yahoo Finance and other outlets Feb. 1.
Other News:
Law adjunct professor and overseer Art Rios spoke with the Bay News 9 for a Jan. 30 broadcast on President Trump's Immigration ban. Rios also did an interview with ABC Action News on the immigration ban's impact on Florida residents for a Feb. 1 broadcast.
Law Professors Theresa Pulley Radwan and Louis Virelli spoke with the Tampa Bay Times for the Jan. 29 article, "St. Pete entrepreneur Bill Edwards dogged by lawsuit seeking to freeze assets." Professor Virelli also did a live interview with the RadioActivity program on WMNF and with 970WFLA Radio on Feb. 1 about President Trump's nominee for Supreme Court justice.
Law Professor Louis Virelli also did a Skype Interview  with Bay News 9 regarding the nomination of Judge Gorsuch to the Supreme Court. It aired Jan. 31 at 6, 7, 9, 10 and 11 p.m. and on the Overnight News.
The Jan. 31 24-7 press release service reports that 10 Stetson Law students won clemency for their clients. Story was picked up by several local news outlets.
News of Stetson students winning the Chester Bedell competition ran in several media outlets via the 24-7 press release service.
St. Petersburg College Veterans Services posted news of the upcoming signing of a Memorandum of Understanding for a new Medial Legal Partnership Program with Stetson University College of Law, the Veterans Administration, Bay Area Legal Services, and Gulfcoast Legal Services.
Secretary of Labor nominee Andy Puzder wrote an article in the Stetson Law Journal in 1984, according to the Hill on Feb. 2.
Alumni:
Author Jacquel Clark was featured in the piece, "Book of the Week: The Lethal Equation (Jacquel Clark)." A double Hatter, Clark had a successful career as an accountant for over twenty-five years before retiring to pursue a career as an independent writer, posted by No Shelf Required Jan. 26.
Nicholas Pearson was featured in the piece, "'The Seven Archetypal Stones' author Nicholas Pearson." As an undergraduate student at Stetson University, Pearson discovered his passion for mineral studies while pursuing a degree in music. For the past two decades, he has dedicated his life to studying stones, and has published several notable works, posted by Blog Talk Radio Jan. 26.
Frank Bell was recently covered in the piece, "Profile of Frank Bell Founder & Chair of Intellinet." After earning his bachelor's degree in marketing from Stetson University, his deep interest in the technological era prompted Bell to found Intellinet, a software development firm, which has been praised for its innovation since 1993, posted by Plus Company Updates Jan. 26.
Louis DeJoy, president of LDJ Global Strategies, LLC, was acknowledged in the article, "Elon to honor Louis DeJoy for entrepreneurial leadership." A former Hatter, DeJoy will be honored by Elon University with the University Medal for Entrepreneurship on March 1, posted by Elon University on Feb. 1.
TampaGov reported on Jan. 31 that Mayor Bob Buckhorn appointed Law alumnus Sal Territo as the next City Attorney. The news was reported in several media outlets.
According to the Jan. 27 Commercial Property Executive article, Law alumnus William Gulliford was promoted to senior managing director for CBRE North Florida.
The Florida Bar reports on Jan 26, "Public Interest Law Section has selected attorney, Law alumna, Pamela Wiener Dubrule, a resident of Pinellas County, to receive the 2016 Jane Shaeffer Outstanding Homeless Advocate Award."
A Tampa Bay Times Jan. 30 article reports "Pinellas County Attorney and Law alumnus, Jim Bennett, is set to retire after 33 years."
Law alumna Kristin Grove has joined JLL as VP of National Retail Leasing according to Chain Storage.
Law alumnus Michael Dolce wrote an opinion article for the Jan. 31 Hill, "Say no to restorative justice for sex offenders."