Stetson University in the News: Jan. 6-12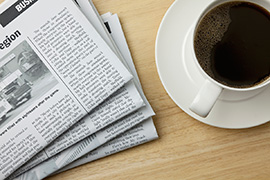 Top Stories:
Alan Green, professor and chair of the economics department at Stetson University, wrote a column for the Tampa Bay Times on Jan. 10 entitled, "How to fix the health care market." He writes that repealing the Affordable Care Act would be "shortsighted and destructive," and would make millions of Americans "suffer without health insurance while the wealthy save money on their taxes."
K.C. Ma, the Roland George Chair of Applied Investments and Director of the Roland George Investments Institute, was quoted in TheStreet on Jan. 10 in an article entitled, "How Investors Can Generate Yields from MLPs." Ma said when oil prices and interest rates are low, master limited partnerships (MLPs) can provide attractive dividend yields.
New York Online's Science of Us wrote an article, "There's a Problem With a Bunch of Psychology Textbooks," that cited a paper in Current Psychology, co-authored by Stetson Associate Professor and Co-Chair of Psychology, Christopher Ferguson, about his study of introductory psychology textbooks that found many contained references to urban legends that had been debunked or controversial ideas that have been called into question, such as a connection between media violence and real-life behavior. Other online media have reported on the study, as well.
Valrie Chambers, associate professor of Accounting at Stetson University, co-authored a guest blog article for American Institute of CPAs Insights entitled, "Earlier Date for Information Returns Brings Penalty Risk," on Jan. 6 about a new Jan. 31 deadline "for filing Forms W-2 with the Social Security Administration and 1099-MISC (when reporting nonemployee compensation payments in box 7) with the IRS. The earlier deadline will allow faster matching of W-2 and 1099 information with tax returns, which helps combat identity and refund theft."
Art & Antiques Magazine ran a number of painting by Oscar Bluemner and credited the Vera Bluemner Kouba Collection at Stetson University in DeLand. The magazine wrote a story, entitled "Oscar Bluemner: The Vermillionaire," which profiles his life and artistic style.
Law Professor Tim Kaye is quoted in the Jan. 9 Tampa Bay Times article, "Driving death of football star Holloway showcases bar's responsibilities."
Law Professor Ciara Torres-Spelliscy is quoted in the Jan. 11 Bloomberg BNA article, "'Soft Money' Era Not Back Yet as Few Companies Contribute."
Law Professor Michael Allen is quoted in the Jan. 11 WFSU Radio story, "FL House Begins Mulling Death Penalty Changes." Professor Allen is quoted in the Jan. 10 Florida Politics story, "Former death row prisoner appears before House panel."
Law Professor Peter Lake is quoted in the Jan. 12 Inside Higher Ed article, "Higher ed leaders muted in response to Texas bathroom bill."
Other News:
Virginia Monte, co-founder of the two-year-old theatrical company, WallByrd Theatre, in Rochester was profiled in Rochester City Newspaper on Jan. 11. Monte, who graduated with a degree in fine arts from Stetson, has directed a number of its plays.
Jacob Behara has joined the 2017 coaching staff for Minor League Baseball with the Greeneville Astros. Behara has previously worked with Stetson University as an assistant strength and conditioning coach, according to a news release in OurSports Central, which covers Minor League sport news, and other media outlets.
W.D. Crowder, who received a B.A. in History, has helped write an online Financial Dictionary that recently reached the milestone of having 600 financial terms. The website says the site is updated weekly and provides "the most common financial terms plan and simple explained." A news release about the milestone appeared on tickertech.com on Jan. 11 and was carried by multiple media outlets.
The Jan. 6 24-7 press release service ran news via the wire about Stetson Law's upcoming part-time law school open houses that appeared in multiple media outlets.
The Jan. 10 Plus Company Updates reports that Greta Van Susteren, who holds an honorary doctor of law degree from Stetson, has joined MSNBC.
According to the Jan. 12 University of West Florida Voyager, UWF will host the sixth annual mock trial tournament sponsored by Stetson Law.
Alumni in the News:
William Randall, "Randy," Walford, who graduated from Stetson University and played on the baseball team, died Jan. 7. He met his wife Sylvia Blake at Stetson, and they were married nearly 57 years, according to the Tallahassee Democrat.
Robert A. D'Angio, Sr., who received his received his undergraduate and graduate degrees from Stetson University, passed away Jan. 9. He was a was a long time educator and coach in Palm Beach County, according to the Palm Beach Post.
The Jan. 5 Florida Bar reports that Law adjunct Kathlyn Mackovjak and Law alumna Adriana Dinis of the Immigration Law Group of Florida are receiving a commendation for their pro bono work. The Florida Bar also reports that Law alumna Jennifer Edwards is the recipient of the 2017 Florida Bar Young Lawyers Division Pro Bono Service Award.
Law alumnus Jay Wolfson is featured in the Jan. 11 BBC News discussing the future of healthcare in the U.S.
The Jan. 5 Florida Weekly-Naples features Law alumnus Mike McDonnell in the article, "A life well lived: Mike McDonnell loved his family, the law and music."
According to the Jan. 6 Tampa Bay Newswire, Law alumna Anisha Patel, an associate at Hill Ward Henderson, has been elected to the Florida Bar Young Lawyers Division Board of Governors.
The Jan. 6 News-Press features an article about Law alumnus Representative Julio Gonzalez, "Legislature wants power to overrule judges."