Check Out 'Books' in the Human Library on Feb. 24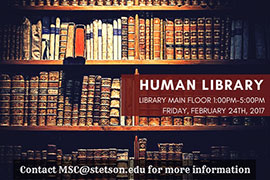 People are often like books: Closed to some and open to others, unique and charged with character development. On Feb. 24 from 1 p.m.-5 p.m., the Multicultural Student Council will encourage the Stetson community to take part in a Human Library.
People are encouraged to check out "books" in the duPont-Ball Library and hear volunteers tell their stories in an effort to debunk preconceived notions and prejudices.
"This is an opportunity for people to 'check in' to the reality that their fellow classmates, staff members and faculty face," said Vanessa Petion, Multicultural Student Council Chair and junior Communication and Media Studies major.
Cecil Chik, the newly named Director of Diversity and Inclusion, is one of the chosen 10-12 "storytellers" who will be sharing their personal accounts on facing stereotypes.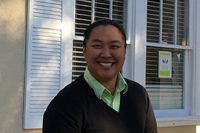 "There are things about me that I've never had an opportunity to talk about," said Chik. "Being born in a different country, being a first generation student going to college, and coming out as gay in middle school—those intersecting identities are often times not commonly discussed."
The speakers are not there to represent entire groups based on their identity, but to "give a look into another person's world," said Petion.
Chik's parents left Hong Kong to navigate the culture and language of a foreign country in the pursuit of giving their daughters the opportunity for a quality education in the United States.
"I want to continuously get educated because that's originally why my parents wanted us to be here," said Chik. "My parent's willingness, almost thirty years ago, to move to another country is my motivation."
Unlike a traditional panel or forum, the Human Library has no stagnant audience. "People can come and go as they please," said Petion. "No one is telling the same story."
Once people check in, they will receive a map, detailing where each storyteller is on the main floor of the library. However, instead listing their names, the map will have a key word from story that's being told, encouraging participants to choose a person the same way they choose books — by its title.
"This event gives students the chance to see and hear people we don't necessarily know," said Petion. "This is the opportunity to see what the word 'diversity' actually is."
Chik hopes participants will leave this event with a deeper connection and greater perspective. "Maybe it won't change their entire world, but maybe the next time they encounter someone new, they'll make some more connections beyond themselves — beyond their own views and biases."
-Veronica Faison