God of War Composer Gerard Marino Returns to Stetson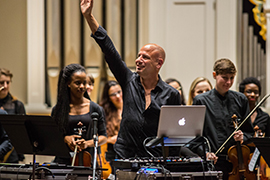 Gerard Marino played in a rock band in the '80s, and thought he would attend Stetson University's School of Music to learn to write orchestra music "properly."
Instead, he learned he could bring rock 'n roll rhythm and energy to the orchestra "to great effect,"applying heavy metal guitar riffs to the cello, for instance, or keyboard lines to woodwinds.
Marino used this blend of rock 'n roll and orchestral music to compose the award-winning soundtrack for Sony Playstation's God of War video game in 2005. He won Best Music Award from the Academy of Interactive Arts & Sciences and a number of other awards, and was named one of Stetson's "Outstanding Young Alumni" in 2004.
He followed up with scores for God of War II and III, and Spider-Man: Edge of Time, among others. His God of War music has been performed by orchestras on six continents, as well as by the LA Philharmonic at the Hollywood Bowl and the National Symphony at the Kennedy Center.
"I bring the rock 'n roll. I bring the energy of popular music that gets people either banging their heads or dancing to the orchestra," he said by phone from Los Angeles where he lives. 
Marino will perform Friday, Feb. 10, at 7:30 p.m. in Lee Chapel inside Stetson's Elizabeth Hall as part of the Sounds New XIV concert series. The concert is free and open to the public.
"I was going to be a rock star before I was going to be some kind of composer," he said, adding he plays keyboards, sings and knows a little guitar and ethnic flutes. "So in the 80s, I played in rock bands – punk, new wave, dance bands, funk bands. I was always looking to do something very much pop-oriented and most of the time it was some sort of rock steady, and the '80s metal just has a lot of energy.
"So, if you look at most of the stuff in God of War in particular – the action parts of the game – all the solo lines are totally rock 'n roll approved. You could put that in the hands of Metallica and it would work. … I'm not the only one who does that or the only one with that story. But it's worked out. It's a different way of looking at the orchestra."
For Friday night's performance, he arranged some of his music from video games and movies for 24 string musicians in the Stetson Chamber Orchestra. "Some of these pieces have never been played by a human before, and every single one of these arrangements is debuting for the first time here," he said.
The show's opener will feature Marino unveiling a creative project that's been in the works for a few months.
"I've been working on a DJ mashup set that mixes iconic moments from recent orchestral video-game music with current electronic music. I'm doing these mixes live and performing additional keyboard lines on top of them. This will be the first time I attempt it in public, the first time I've even let anyone know I'm doing it," he said.
The last segment of Marino's portion of the concert will see him incorporate this "electronic mayhem" with the Stetson Chamber Orchestra, and trade solos with Stetson music student Kristian Gonzalez-Derano on electric viola in "a shred contest," he added with a laugh.
"Again, it's bringing actual rock 'n roll and the orchestra together and doing it live. This is the first time for all of this, so I'm filled with that sweet adrenalin you can only experience when facing a 50-50 chance of either rocking mightily or failing spectacularly," he said, laughing again.
After Marino's performance, two Stetson faculty members will close with a composition by Sydney Hodkinson, Stetson's Almand Chair of Composition, entitled, "Panels: Songs without Words" for the soprano saxophone and piano. Written in 2015 and 2016, the work features 10 miniature sketches that will be performed for the first time, with Stetson adjunct music Professor Daniel Ferri on saxophone and Kristie Born, who coordinates and teaches accompanying and functional piano in the School of Music.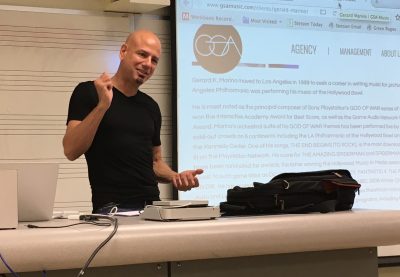 Hodkinson said one of the movements is dedicated to Ethan Frederick Greene, Ph.D., a former Stetson faculty member in the Creative Arts Department who passed away in September 2015 at age 32, leaving behind a wife and young son. Hodkinson said he was working on the seventh sketch when Greene passed away at Florida Hospital in Orlando.
"Some of the little pieces are light; some more serious in nature. Some are short and some of them are lengthier," said Hodkinson, who has written more than 280 works in a variety of genres and also coined the term, Sounds New, for Friday night's concert series that features contemporary music.
The concert will be Marino's first performance at Stetson since he graduated magna cum laude with a bachelor's of music in theory and composition in 1998. Marino said he's looking forward to "a trip down memory lane," sitting in on the Composition Forum class on Friday and "going to smell the practice rooms once again."
Wanted to be a Rock Star
Marino fell in love with music in the fourth grade when he saw "Star Wars," and was blown away by the pairing of music and pictures. By the time he attended high school in Orlando, he was playing in rock bands, singing and making "all sorts of cool sounds" with his stacked keyboards.
He decided to attend college in his mid-20s and visited every campus in Florida with a music school. At Stetson, he clicked with the composers in the School of Music. "There's a certain Stetson vibe when you walk around and you see all the brick and smell the trees," he said.
He expected to learn to compose music the "right way" for an orchestra as opposed to the "haphazard pop writing" that he'd picked up on his own. But soon after he arrived at Stetson, he realized that wouldn't be the case.
"I went to school to learn how to do it right and I learned there's no right way to do it," he explained. "I learned that they weren't going to be able to teach me how to be a good composer. If I was going to be anyone, it was already there, and though I could definitely make it better, I wouldn't be learning something external.
"I learned a lot of cool other things, and I learned a lot of technique but on a philosophical, meta-level, that's the most important one and they started pushing that on me the first month," he recalled.
His music comes from the sum total of his life experiences and musical experiences, projected through his unique personal prism, which makes it original in a world "where everything's already been done," he said.
"What I found was that you shouldn't leave anything outside of your writing. Whatever it was, however you grew up, you could find some way to make that experience part of what you do for video game writing or pop writing or whatever it is.
"You can certainly use the techniques you learn in school and from getting multiple degrees, but the good ideas – you can't educate that at all. You can point people in the direction — perhaps thinking in a way that opens the door to them — but if they could teach good ideas, it'd be Star Trek and a perfect world."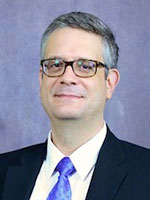 In college, Marino knew he wanted to return to what had inspired him when he saw "Star Wars" – the pairing of music and movies. 
"Gerard brought a lot of energy to our program and was determined to reach his goals. He knew that he wanted to write soundtracks and he was already writing them while he was here," said Stetson Associate Professor of Music and Director of Composition Manuel de Murga, Ph.D. "We featured his projects regularly when showcasing the very best work of our program."
Marino remembers working closely with de Murga and said he regularly uses what he learned.  "I still use quotes from his classes today," he added.
 An Explosion of Video Game Music
After graduating from Stetson, Marino moved to LA in 1999 to write music for movies, and earned an Advanced Studies in Scoring for Motion Pictures and Television Graduate Certificate from the University of Southern California.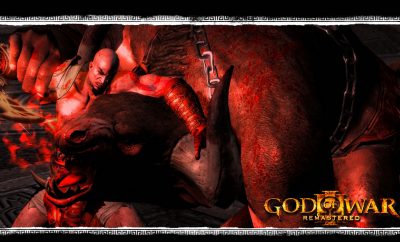 He has scored eight feature films, including the gangster movie El Padrino (2004) with Faye Dunaway, as well as TV shows, commercials and movie trailers. But he became a breakout star for his soundtrack for God of War, a video game that features a giant warrior in mythical ancient Greece who fights minotaur and other creatures.
Marino has witnessed an "explosion of live music related to video games." Video Games Live, the live orchestra concerts that perform music from video games, has played his music many times, such as in 2005 when the LA Philharmonic played God of War at the Hollywood Bowl.
Two years ago, he arranged for the Stetson orchestra to play at a Video Games Live concert at Hard Rock Live in Orlando, and he conducted his God of War music for them. Already, there are plans for the Stetson orchestra to perform again at the concert next year, he said.
His latest personal project is an outgrowth of this explosion in video game music, he said. Young people these days go to clubs to hear mashups of popular songs with Nintendo-game-style music that came out years ago. He wants to reach this burgeoning niche market with his "orchestral video game music, plus EDM (electronic dance music), mashup," a recording that digitally combines and synchronizes music from different songs.
"That's one thing I want to do more – I want to perform more. I think this is a way for me to do it," he said.
His music will tap into a self-titled "nerd culture" that he was surprised to find when he hosted the Orlando Nerd Fest in 2014 and attended such events as Comic-Con International in San Diego, the convention of comic books, video games, science fiction/fantasy art and books, and independent films that attracts more than 130,000 people a year.
"I discovered that this kind of underground scene I was peripherally aware of to be much, much larger than I had originally perceived," he said. "This whole 'nerd culture' thing is nearing mainstream proportions. I want to play a bigger role in it, bring more attention to it, be a catalyst for its expansion, and do what I can for those of us in it to have a screaming good time."
-Cory Lancaster