Stetson's Mari Hanley Advances to Semifinals in Jeopardy! College Championship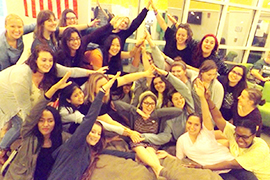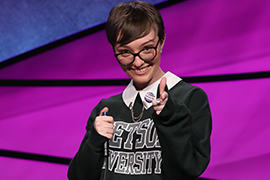 When Stetson University student Mari Hanley finished second on Jeopardy! during the episode that aired Wednesday, Feb. 15, the crowd gathered at a viewing party at the Hollis Center let out a collective "Oooooo" of disappointment.
Then Hanley announced that her $16,201 second-place total was good enough to earn her a wildcard spot in the semifinals of the 2017 Jeopardy! College Championship, which was taped in Los Angeles in January. The crowd of 80-plus students and several faculty burst into ecstatic cheering that quickly morphed into a group chant of "Mari! Mari! Mari! Mari!"
Hanley, a junior history major from South Florida, will next appear on Jeopardy! during the episode of the TV game show that airs at 7 p.m. Feb. 22 on WFTV Channel 9, the ABC affiliate in Orlando/Daytona Beach/Melbourne. A viewing party will take place at 7 p.m. that night in the Hollis Center Lounge on Bert Fish Drive on the Stetson campus.
Non-disclosure agreements prevent Hanley from revealing how she ultimately fared in the competition, but she is allowed to comment on any episode that has aired.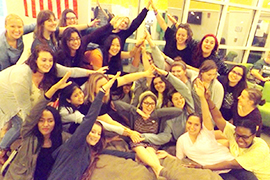 "I actually started praying for myself in Latin because I couldn't believe it was true," Hanley said at the viewing party, recalling her reaction to securing a wildcard spot. "I'm like 'I don't want to jeopardize this in English.' So I just started murmuring to myself in Latin. It was the first thing that came to my mind: 'Pater Noster.' "
The college tournament is scheduled to air through Feb. 24. The winner will receive a $100,000 cash prize. All of the tournament's 15 contestants will receive various cash prizes depending on how well they performed.
"I was shaking the entire time" during the taping of her first-round game, Hanley said. "Even though we had done a couple of practice games, Alex Trebek was looking straight at me and I made the mistake of looking into his eyes. Very bad idea."
With an impish smile, Hanley continued her tale of how the game-show host's gaze had thrown her off her game: "It's like looking into a black hole and seeing the depths of hell, and there's trivia there, and Ken Jennings (the renowned former Jeopardy! champion) is down there as well."
Heading into the Final Jeopardy round against her two opponents, Hanley was in third place with $8,200. Alex Bourzutschky, a junior at the California Institute of Technology in Pasadena, Calif., was in first with $20,000. Clarissa Santori, a senior at Northeastern University in Boston, was in second with $18,000.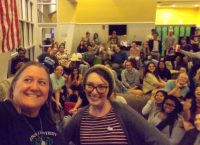 The Final Jeopardy category was U.S. Political Parties. The "answer" read by Trebek was "Shortly before its demise, it had split into 'conscience' and 'cotton' factions."
Hanley provided the correct question, "What is the Whig Party?" She had wagered $8,001, which thus boosted her final tally to $16,201. Bourzutschky likewise provided the correct response and ended with $23,599. Santori answered incorrectly and ended with $14,000.
But the tournament format provides for four wild cards to advance to the semifinal round as well as each winner of the five first-round games. Wild cards were determined by each player's cash total.
"I had to wait until the end of the day for the other episodes to finish to see where I stood," Hanley said, adding that her episodes were taped over two days. The nine semifinalists will be whittled down to three finalists, who will compete in two matches. The combined totals from both of those games will determine the champion.
Only one person besides Hanley knows how she fared in the tournament: Stetson sophomore Tyler Thomas, an international business major and Hanley's "little sister" in the sorority Kappa Alpha Theta. Thomas accompanied Hanley to Los Angeles for the show tapings, and she was there with her friend at the very moment when Hanley learned she had secured a wildcard spot.
"I was so upset I wanted to cry – I thought it was over for her," Thomas said at the viewing party, recalling the moment that Hanley finished second during her first-round game. "When I found out she would become a semifinalist, I was just elated — I can't explain how happy I was."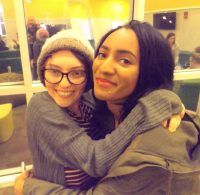 Kimberly Reiter, associate professor of ancient and medieval history and one of Hanley's teachers, attended the viewing party.
"I'm quite proud of her," Reiter said. "Whether she had come in last or first, she has represented Stetson well."
— Rick de Yampert