Stetson in the News, Feb. 10-16, 2017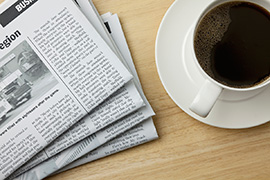 Top News:
Other News:
Law Professor Charles Rose is quoted in the spring 2017 preLaw article, "Top schools for trial advocacy, alternative dispute resolution, and international law."
Law Professor Louis Virelli appeared on the Feb. 14 Bay News 9 discussing the Florida Supreme Court stance on a school voucher case. Professor Virelli was quoted in the Feb. 9 LawNewz article, "No, Judge Gorsuch Shouldn't Attack Trump, Here's What He Should Do Instead."
Professor Virelli is quoted in the Feb. 15 10 News story "Could Trump's Overtures with Putin Mean Impeachment?"
Mark Powell, former professor at Stetson University, was featured in the article, "The Mark Powell Story," which focused on him as a writer and a new professor at Appalachian State University. Regarding his writing, Powell stated, "Writing is a response, a way to make sense of your life," posted by The Appalachian Feb. 7.
Dianne Jacoby, Road Scholar with Stetson University, appeared in Florida Today's "Best Happenings: Feb. 15-22." Jacoby will be accompanied by costumed interpreters in the historical presentation, "Florida: the First 450 Years" on Feb. 19 at the Franklin DeGroodt Library in Palm Bay, posted Feb. 12.
Dylan Fitz discussed his experience teaching Magical Fiction at Stetson University's HATS Program in his Jan. 30 blog article, "The Lessons of Magical Fiction" on The Real Mr. Fitz.
Pastor Charles "Chuck" Jacobson, former Stetson University student, passed away on Feb. 9. His funeral was announced on Swift County Monitor-News and will be taking place on Feb. 25 to remember and celebrate his life.
Stetson University was mentioned in the Feb. 11 Ormond Beach Observer article, "Citizens Led Charge to Save the MacDonald House in the 1990s" for being home to the art of ceramic artist Sang Roberson.
The Eugene Ionesco play "Rhinoceros" will be presented at the Second Stage Theatre at Stetson University from Feb. 23 to Feb. 26, posted by Wherevent Feb. 14.
Stetson Law Student Keongela Nortonis mentioned in the Feb. 15 The Gabber article, "Lunch Pals Volunteers Get as Much as They Give."
The Celebration Foundation New Urbanism Committee will be presenting a conversation with Rob Robinson, creator of the Celebration Pattern Book, on Feb. 22 at Stetson, posted by Orlando Sentinel Feb. 12.
Stetson University Opera Theatre and Orchestra will perform Albert Herring on Feb. 24 and Feb. 26 at DeLand High School Theater Center, according to the Feb. 15 article, "Stetson University Presents Comic Opera Albert Herring," posted by Capital Soup.
Alumni News:
Vicki Fey, organist and former Stetson student, was featured in the article, "Organ Trio: Organ and Trumpet." Fey will play the organ in an organ trio, posted by US Official News. Feb. 10.
Cindy Gardner, project manager of the Mississippi Department of Archives and History and former Stetson student, was featured in the article, "Mississippi History, Civil Rights Museum Directors Named." Gardner will serve as site administrator for two new museums opening later in the year, posted by Mississippi Today Feb. 13.
Jon Hopman, Hilton Head Prep's headmaster and Stetson graduate, was covered in the article, "New Extension Will Keep Hilton Head Prep's Headmaster into 2021." Hopman's contract has been extended for a second three-term year, posted by The Island Packet Feb. 15.
Law alumni Wil Florin, Thomas Roebig and Denis deVlaming were quoted and appeared in the 48 Hours program on Feb. 11 regarding their client in a wrongful death lawsuit.
Law alumna Terri Parker was recognized on Feb. 10 by the American Law Society.
The Kelly Kronenberg law firm announced on Feb. 9 that Law alumnus Stanley M. "Mike" Kurek III has joined the firm's Tampa office.
Law alumnus Mychal Katz is featured in the Feb. 15 Daily Legal News article, "More Changes announced at Roetzel & Andress."