5 Minutes with … Lt. Col. (Retired) Oakland McCulloch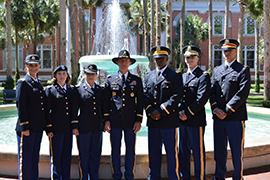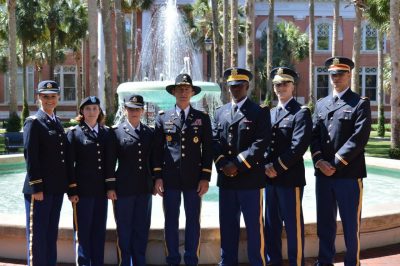 Tell us about your work at Stetson?
I am the officer in charge of the Stetson University Army ROTC program and the recruiting operations officer for the Eagle Battalion Army ROTC program. I work with young men and women who want to come to Stetson University and join the Army ROTC program. Once they are here in the program, I assist them in gaining a scholarship. I mentor them, teach them what it means to be an officer in the United States Army and eventually commission them as a Second Lieutenant in the United States Army.
How long have you worked for the U.S. military and at Stetson?
I served for 23 years on Active Duty in the United States Army as an Infantry and Armored Cavalry officer. During that time, I deployed three times: in combat during Operation Desert Shield and Desert Storm, in a peace enforcement role in Bosnia and in a peace keeping role in Kosovo. I also spent about eight years of that time in teaching at the post-graduate level at U.S. Army and Australian Army schools. During my time in the Army, I was able to visit 43 countries on five continents. I would never had been able to see the world like that if it had not been for my service to this country in the U.S. Army. I have been at Stetson University as a retired Lieutenant Colonel in charge of the Stetson Army ROTC program for six years.
What do you like most about your work?
I love being able to work with young men and women who want to give something back to this great country of ours. It is a pleasure to work with them and an honor to help them reach their goal of being commissioned as a Second Lieutenant so they can serve their country as an officer in the United States Army, United States Army Reserves or the National Guard. One of my favorite quotes is: "Great leadership handed down from generation to generation is what develops great nations." I believe that is part of my job here at Stetson in the Army ROTC program, to pass along my leadership experience to the next generation of leaders for both the military and this nation.
Where would you like to see Stetson or Stetson ROTC in 10 years?

I would like to see the ROTC program continue to grow and continue to be a valued member of the Stetson community. When I arrived here six years ago, there were 15 cadets in the program and no Army ROTC national scholarship winners. Today, we have 50 cadets in the program. In August, we will have at least four Army ROTC national scholarship winners join the program and three of those will be four-year scholarship winners — the first four-year national scholarship winners Stetson Army ROTC has had in a long time.
What do you enjoy doing in your free time?
My favorite way to enjoy my free time is to take my 14-foot john boat out into the mangroves in Daytona Beach Shores and fish. I also love to read and enjoy spending time with my wife of 30 years, my children and my granddaughter.
Bio
Education: Bachelor of Science in History from Northern Illinois University in 1987 and a Master's in Military Arts and Science in History from the United States Army Command and General Staff College in 2002.
Hometown: Kirkland, Illinois
Family: Married to the former Kelly Smyth from Wauconda, Illinois, for 30+ years and we have two children: Oakland V. McCulloch, 28, and Caileigh S. McCulloch, 26. We also have a 3-year-old granddaughter, Ryleigh, and a grandson on the way in May.