Pianist and Steinway Artist Michael Rickman Named Professor Emeritus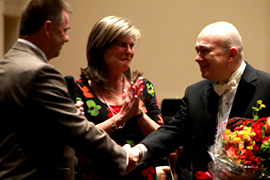 In honor of retiring Music Professor Michael Rickman, the Stetson University School of Music created the Dr. Michael L. Rickman Legacy Endowed Scholarship.
Stetson School of Music Dean Thomas Masse announced the scholarship fund on Friday night, April 28, 2017, after Rickman gave his final performance, before his retirement, to a full house in Lee Chapel. Rickman also was named Professor Emeritus at Stetson upon his retirement. 
http://
Stetson University senior Ryan Kramer played a beautiful rendition of Claude Debussy's "Pagodes" on the piano as Music Professor Michael Rickman offered gentle words of guidance – keep up the rhythmic energy; work the pedals a bit more.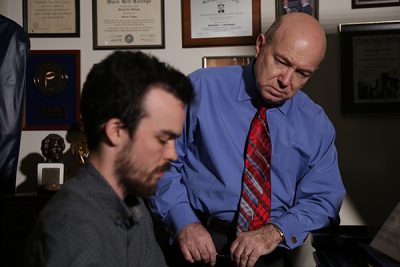 Rickman has taught Kramer for seven years, ever since he was in 10th grade, a gifted, mostly self-taught pianist who was diagnosed with Asperger syndrome, a high-functioning form of autism. Now, Kramer is set to graduate in May with a Bachelor of Music degree.
"I may have not been at Stetson if not for Dr. Rickman," said Kramer, who's weighing his options after graduation, including grad school. "If I ever have trouble understanding an assignment, he provided the special attention to help memorize what I needed to learn, not to mention how on the piano he's helped me shape my performances."
As Rickman readies to retire in May, he said working with outstanding students like Kramer is one of the highlights of his 34-year teaching career at Stetson. Yet, he added, he never intended to go into academia.
"On a very candid and personal note, through my career, I've had bouts of thinking I should have never done this. I should have stayed on the road," said Rickman, D.M.A., with a laugh. "But ultimately I have realized that to be a teacher is far greater than being just a performer because you impact the student and then that student will influence and impact the next generation, so you have this ripple, this wake, that doesn't stop.
"To be a teacher, I think, is the noblest calling."
Rickman has thought about retiring for a few years, he said. He wants to retire now while his "quality of life is superb."
He plans to spend more time with family – two grown children, four grandsons and spouse David Dysart, Ph.D., a former German professor at Stetson who retired last year. And he plans to travel and perform, with concerts already booked next year in California, Denver and Kansas City.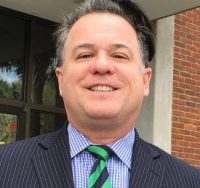 "I want to live life even more fully and I want to continue to play and perform while I'm still at the top of my game," he said, in his signature soft and gentlemanly tone.
Named a Steinway Artist in 2010, Rickman joined a prestigious roster of 1,600 great pianists worldwide, including Irving Berlin, George Gershwin, Lang Lang, Billy Joel, Daniel Barenboim and other immortals.
Thomas Masse, Dean of the Stetson School of Music, said Rickman brings a "tradition of excellence" to his teaching and performances.
"He has built a legacy and tradition of artistry here that has really sustained and driven the school artistically," said Masse, who joined Stetson in 2013 from Yale University. "It is very difficult to replace 34 years of artistry, teaching knowledge and fine collegiality – all of those things that we value so much in a faculty member."
INSPIRING STUDENTS
Rickman's reputation has attracted many students to the School of Music over the years, just for the opportunity to work with him, Masse added.
Cameron Michael graduated from Stetson in December with a double major in Music and Chemistry. He first met Rickman in the summer between his junior and senior year of high school in Jacksonville. His music teacher had given him a flier for a summer festival in the Italian Alps and encouraged him to apply.
Rickman will spend his 11th season this July as an Artist in Residence with the Orfeo Music Festival in Italy, an international event designed to mentor talented young musicians. The festival awarded him "tenure" last summer, and he intends to keep teaching there.
Recalled his former student, Michael: "I got to work with him at the festival over that summer. I really enjoyed his teaching style and, of course, he's an amazing pianist. I loved the way he was so relaxed about everything but was still able to push you through everything and get you going."
Before choosing a college, Michael visited every one with a school of music in Florida, including Stetson, Florida State University and Rollins College. He chose Stetson because of Rickman, he said.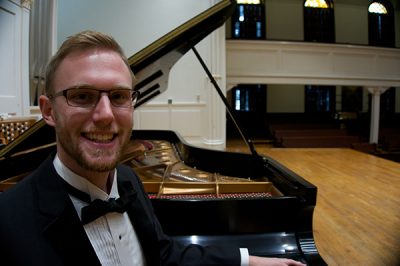 "He definitely makes known what the melody is when he's playing," added Michael, a collaborative pianist in DeLand who may pursue a career as a forensic chemist at a crime lab. "You can hear what he wants you to hear and you get the emotions behind what he wants you to feel. …
"The challenge of the piano, though, is you have to imitate the voice as much as possible and turn the piano into a singing instrument, so you can hear singing, and you have to emulate other instruments," he continued. "You have to have in your mind all the instruments, even though the music is written for piano."
For Rickman, this ability to communicate through the instrument defines the artistry of a musician.
"Being a musician means wearing many hats and, of course, the number one priority is to excel on the instrument, maintaining one's own artistry, setting the standard for the student, and serving as their role model," Rickman said.
Rickman has inspired students throughout his 41-year teaching career in academia, his colleagues say. His students have gone on to the best graduate programs in the country – Juilliard School, New England Conservatory of Music and Eastman School of Music at the University of Rochester, among others – enjoying successful careers of their own.
"Michael is constantly working on something new and beautiful and he's done that all through his life," said Mollie Rich, an adjunct professor of voice in Stetson's School of Music.
"He inspires his students to follow suit."
'JOHNNY ON THE SPOT'
Rich has known Rickman since he was 16 and growing up in Asheville, N.C. – "a very talented young man, even then, beautiful pianist, could read anything you put before him," she recalled.  She and her husband, Robert Rich, Ph.D., taught in the school of music at Mars Hill College, (now Mars Hill University) outside of Asheville, where Rickman later received his undergraduate degree.
"He played a lot in my voice studio for my voice people to give their senior recitals. It was always a joy to work with him because he was never unprepared – never – always good, right there, Johnny on the spot," she said.
Rickman graduated from Mars Hill in 1972, the same year her husband joined Stetson's School of Music as the Director of Choral Activities. Mrs. Rich started teaching at Stetson the following year. (They both retired from Stetson in 2002, although she remains an adjunct.)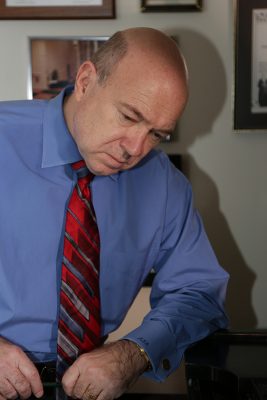 After Mars Hill, Rickman left for the University of North Texas, where he earned a Master of Music and Doctor of Musical Arts, and began his teaching career.
He was at Southeastern Louisiana University in Hammond in 1983, when Stetson's then-Dean of the School of Music, Paul Langston, asked Mrs. Rich if she knew a piano professor who was "as proficient at solo performance as ensemble playing," she remembered.
"And I thought, I know the perfect person who can do that – Michael Rickman."
She called, but Rickman was happy in Hammond and didn't want to leave.
But, as she says, "I was persistent," eventually convincing him to come just for a look.
Rickman recalled: "After coming over, visiting and meeting some of the professors, I began to realize that both personally and professionally this would be a step up, and I was right! This was a tremendous move for me. I've basically spent my entire career here.
"I've shared this School of Music and its wonderful programs here with tremendous colleagues, whom I hold in high esteem and who have spent their entire careers here, as well," he said, listing off fellow professors with 25, 33 and 34 years in the School of Music. Rickman, with 34 years, is the most senior member of the faculty, along with Stephen Robinson, D.M.
"It has been a positive to share that mutual experience with these fine musicians and people," Rickman said. "What I'll miss the most is collaborating with my colleagues."
A STEINWAY ARTIST
Rickman has played the piano all his life. "I don't remember a time when I didn't play," he said.
He was raised in a family of musicians, although he was the first to pursue music as a career. His father played also, his grandmother played the organ, and his uncle played trumpet and piano. "Music is in the Rickman DNA," he said.
His father retired after 42 years as a journalist with the newspaper in Asheville. "My father was a great role model in that it was all about work — the work ethic. There was no such thing as downtime. And, of course, that's the way I've been."
Rickman took his first sabbatical at age 50 and asked himself, "Okay, is this as good as I'm ever going to be?"
He practiced and practiced – and developed back problems – learning "the hard way" not to practice for long stretches. Now, he tells students: For every hour of practice, 10 minutes should be for rest.
From the experience, he learned about the Alexander Technique, named for a stage actor who developed voice problems and, when doctors couldn't help, set out to find the cure himself. Frederick Matthias Alexander discovered that people's habits of posture and movement can cause unnecessary muscular patterns of tension and he developed a way in the 1890s to teach people how to release that tension.
"The Alexander Technique is what saved my career, by the way, and put me on a new path," Rickman explained. "If you discover a tension in your leg or your back or arm, you must release it. … We have an Alexander teacher who comes here twice a semester. The students have the opportunity to take private lessons in body alignment, etc., and in releasing what you don't need."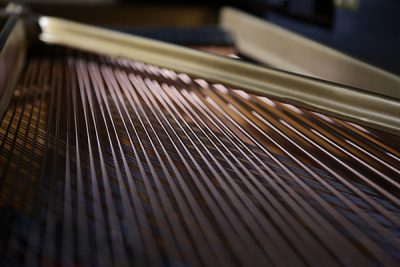 Ten years later, he received his "highest honor" when a representative from famed piano maker Steinway & Sons called and indicated he had been nominated for its prestigious list of Steinway Artists.
Rickman was asked to submit his credentials, including concerts and other performance activities. He also was asked to write a testimonial about the Steinway piano. A letter arrived in September 2010, announcing he had made the list.
"It's the highest honor that I could have received," he said. "The Steinway brand and product are the crème de la crème."
He has two, 7-foot Steinway Model B Classic Grand pianos in his corner studio on the second floor of Presser Hall. In his DeLand home, he has a 9-foot Steinway Model D Concert Grand, the same model used in Lee Chapel in Elizabeth Hall during concerts by Stetson's School of Music.
'I NEED TO DO THIS FOR MYSELF'
For his last performance in Lee Chapel as a faculty member, Rickman will perform Beethoven's Piano Concerto No. 5 (Emperor), "probably the greatest concerto ever written, summing up the Classic style of Mozart and paving the way for the great Romantic concertos," he said. The performance on April 28 at 7:30 p.m. will feature the Stetson Symphony Orchestra with Professor Anthony Hose conducting.
The public is invited. Concert tickets are $10 for adults; $8 for seniors; $5 area students; and free with a Stetson ID. A reception in Rickman's honor will follow in the Presser Hall courtyard with coffee, tea and cookies. The reception is free and open to the public.
After his retirement, Rickman plans to focus on his career as a performer, while still offering private lessons to a few outstanding students. "I need to do this for myself," he said. "I need to pursue this performance route as strongly as I can."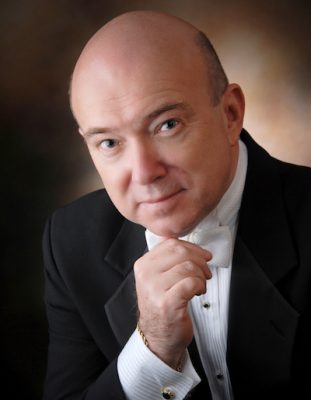 He already has concerts booked into next year and will continue to perform with the Daytona Solisti Chamber Orchestra, which recently named him as Artist in Residence. He hopes to travel and perform more.
"Now, I'm moving into a time in my life when I do have that flexibility, and I want to seize it while, as I say, I'm still at the top of my game."
To prepare for performances, Rickman aspires to practice about four hours a day — in total, not all at once.
"I'm practicing every minute that I don't have something else to do. … When I had small children, there was less time. And there are times in your life when the details limit your practice. … But I need every moment of practice that I can muster up; these are 66-year-old hands! Not the hands of a 20- or 30-year old. So the maintenance itself demands more."
The performances also require intense concentration.
"One must remove oneself from the audience and go to meet the music is what I tell the students. It's a matter of closing out, because in performance, it's so difficult to sometimes maintain the concentration level that's needed. The mind goes here. It's like, oh, did I unplug the iron? Did I do this? Did I do that? So it's this constant challenge to keep the mind focused."
The results are "brilliant," as music critics have said. Excerpts from their reviews are included on his faculty profile page, which also recounts his many honors. One critic said he had a "masterful touch," while another said he plays "with both body and soul."
"I think that what's given me the drive – the D words – the drive, the desire, the discipline, was the need to know all of this wonderful music – chamber music, music with piano and other instruments," he explained. "I had such an insatiable appetite and desire. … That has always been there, that need, and I think it's the Rickman gene that was bequeathed to me from that side of the family."
He calls the works of great composers – ones like Beethoven, Bach, Brahms, Liszt and Schumann — "a gift from the universe" and said that he is "so lucky, fortunate, happy to be a part of what keeps their legacy alive."
"The passion and ecstasy of music-making go so far beyond the pale of every day details. It's my life. It's my essence. From the beginning, it's all I ever wanted."
– Cory Lancaster
How to Contribute to the Dr. Michael L. Rickman Legacy Endowed Scholarship:
Mail checks to: 

Stetson University School of Music, c/o Dr. Michael L. Rickman Legacy Endowed Scholarship, 421 N. Woodland Blvd., Unit 8399, DeLand, FL  32723.

Contribute online. Follow the online process under "Make A Gift." In Step Two, designate that "I would like to choose from a list of areas to support" in the pull-down menu; select "School of Music;" then under subcategory, choose "Scholarships;" and under "Special Instructions," type "Dr. Michael L. Rickman Legacy Endowed Scholarship."
For questions, contact Maria Francis in the School of Music at 386-822-8950 or email [email protected].